DDI Wins HRD Learning and Development Award for Virtual Development Approach
DDI's virtual classroom helps organisations keep leadership development efforts from stalling during the global pandemic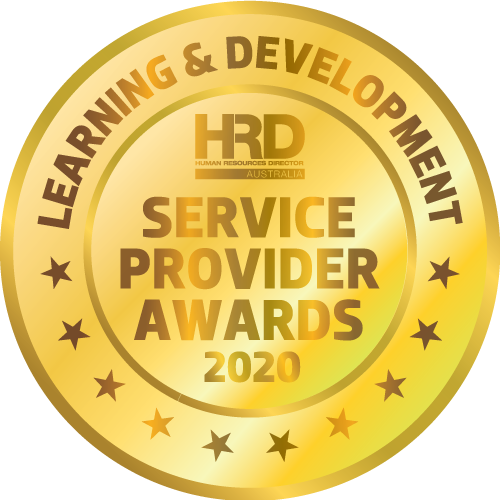 Human Resource Director Australia (HRD) named DDI as the top Learning and Development provider as part of its fourth annual Service Provider Awards.
The Service Provider Awards seek to recognise the top-performing organisations across eight key specialist areas, with the goal of helping HR professionals select dependable service providers. The awards are decided by a panel of independent judges of senior human resources professionals from a variety of industries.
"We're honored to win this award, but even more proud to know that we've made a difference for our clients during this challenging time," said DDI Australia General Manager, Shannon Lawrence. "The pandemic forced a lot of people to work remotely, and we've found a majority of leaders believe leading virtually is one of their weakest skills. Organisations couldn't afford to put their leadership development efforts on hold, and we were proud to be by their side with virtual options that enable their leaders to learn and connect with one another."
DDI's virtual classroom is a fully interactive, facilitator-led online learning experience. It provides learners with the experience of a traditional classroom in a virtual setting. It combines live audio and video with a variety of interactive features, including chat, live discussions, white boards, small breakout sessions and an opportunity to practice new skills with peers, regardless of their location.
Many of DDI's customisable sessions are available in the virtual classroom format. Each session offers pre-work, self-assessments, course journals, job aids, follow-up activities and more content. It is designed to provide a holistic mix of content to meet course objectives, and is delivered from DDI's Pinpoint, which is a cloud-based program delivery platform.
In Australia, DDI delivered 176 virtual classroom sessions between March and August 2020. That represents a conversion of 95 percent of its traditional classroom sessions to virtual classroom for that period of time. When asked for feedback, 94 percent of participants said they would recommend virtual classroom to others. After the session, 98 percent reported DDI's facilitators created an engaging learning environment, and 95 percent reported they left with practical ideas to apply what they learned within their organisation.
"Moving forward, we believe that virtual classroom will continue to be on the forefront of learning and development for people of every leadership level," Lawrence said. "Our goal was to make sure our clients had strong, effective development opportunities in a safe environment. Virtual classroom will continue to be important for our clients moving forward because they have the opportunity to upskill all of their leaders, without having to worry about any health risks or travel expenses."
About DDI
DDI is a global leadership consulting firm that helps organisations hire, promote and develop exceptional leaders. From first-time managers to C-suite executives, DDI is by leaders' sides, supporting them in every critical moment of leadership. Built on five decades of research and experience in the science of leadership, DDI's evidence-based assessment and development solutions enable millions of leaders around the world to succeed, propelling their organisations to new heights. For more information, visit ddiworld.com.