Global Leadership Forecast 2021
---
DDI's Global Leadership Forecast (GLF) is the most expansive leadership research project of its kind. We first began this stream of research more than 20 years ago to help companies hire, promote, and develop leaders who could meet their future business challenges. In the Global Leadership Forecast 2021, we worked with HR analyst Josh Bersin to publish an unprecedented report series, representing a new era of leadership, precariously positioned to meet ongoing crises.
The Largest Leadership Study of Its Kind
This report examines responses from 2,102 human resource professionals and 15,787 leaders, spanning 50 countries and 24 major industry sectors. Published in partnership with HR analyst Josh Bersin, the research summarizes best talent practices and provides key trends to guide the future of leadership.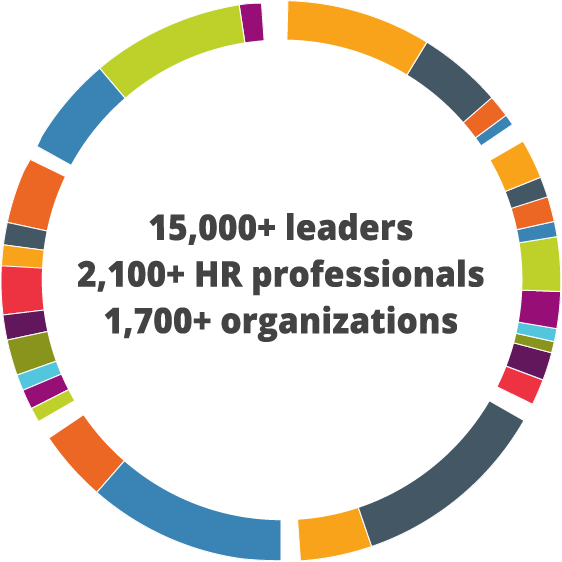 A New Era Driven by Crisis
When we launched the survey in February of 2020, we had no idea what our world would face. We were able to capture responses from both before and during a global pandemic. What came through clearly in this year's study is that companies are gearing up for an era of constant crisis, where if leaders want to succeed, they must also be ready to rapidly gain new skills and change.
In the Global Leadership Forecast 2021, learn what's keeping CEOs up at night, what companies can do to prevent burnout, how leadership will continue to change in a massively disrupted future, and more.
Key Findings
The Leadership Quality Gap Gets Bigger
HR doesn't think leaders are doing nearly as well as leaders say they are. 48% of leaders say their company has high-quality leadership, while only 28% of HR respondents say the same.
How Do Leaders Want to Learn?
Leaders say they want outside coaching and developmental assignments, followed by assessment and formal training, to most help them grow their skills outside of day-to-day work.
What Burnout Means for Retention
Among leaders who said they feel used up at the end of every day, 44% expected to have to change companies to advance, compared to 24% of other leaders.
It Matters How Leaders Spend Time
Leaders who spend more time managing than interacting are 32% less engaged, 1.5X more likely to feel used up at the end of the day, and 2X more likely to leave within 12 months.
Feedback Is Key
Organizations where leaders practice and receive feedback from managers are 4.6X more likely to have high-quality leaders and a strong bench.
Previous
Next
Download GLF 2021
Explore the Global Leadership Forecast Series Reports
HR Insights

CEO Leadership

Leadership Transitions

Diversity and Inclusion
5 Key Insights from the Pandemic
How did the global health crisis impact leadership? In this infographic, learn five key trends shaping the future of leadership development efforts.