GLOBAL LEADERSHIP FORECAST 2023
BY THE NUMBERS
Leadership Trust Is Broken
Building Trust Needs to Start at the Top, Especially in Hybrid Workforces
Whether an organization is managing change, driving digital transformation, improving talent retention, or all of these, trust is the critical foundation underlying the success of every business strategy.
According to our research, only 46% of leaders report that they definitely trust their direct manager to do what is right. More troubling, only 32% say they trust senior leaders at their organization.
In general, younger employees tend to be less skeptical of their leaders. For instance, 45% of workers under 30 say that their managers maintain high trust and confidentiality. Meanwhile, only 31% of workers over age 40 say theirs do.
Leaders who work remotely are 22% more likely to trust senior leaders compared to those who work in person.
Trust is also critical to the success of hybrid and remote work. In fact, leaders who work remotely are 22% more likely to trust senior leaders compared to those who work in person. This statistic suggests that this could be a question of "the chicken or the egg": does the option to work remotely create more trust, or are companies with a leadership culture based on trust more likely to allow remote work? Either way, it's clear that companies grappling with the question of in-person versus remote work may be struggling with mistrust.
WHERE TO FOCUS
Build 7 Behaviors to Boost Trust
Employees perform their best when they trust their leaders. We found that leaders who trust their senior leaders are nearly 3X more likely to develop novel ideas or solutions than those in low trust organizations. They are also less concerned with failing and try new ideas as an opportunity to learn.
Opportunities to strengthen trust happen in everyday interactions. We found seven behaviors that improve trust perceptions when leaders do them more frequently. In order of impact, these behaviors are:
Listen and respond with empathy.
Provide opportunities for team members' growth and development.
Share thoughts and rationale for decisions.
Genuinely acknowledge your own failures.
Inquire and care about employee wellbeing.
Encourage others to challenge old ways of doing things.
Recognize the success of team members.
In our analysis, 85% of employees who indicated that their leaders consistently did these things reported that they definitely trusted their managers to do what is right.
In addition to these seven leader behaviors, we found a relationship between trust and a leader's willingness to be vulnerable. When leaders regularly display vulnerability, their employees are 5.3X more likely to trust them. Furthermore, when leaders genuinely acknowledge their failures or shortcomings, they were 7.5X more likely to maintain trust over those that did not.
Leaders often fear that displaying vulnerability may be interpreted as weakness. But the data is clear that leaders who are self-aware about their imperfections build stronger relationships with their teams.
Data Dive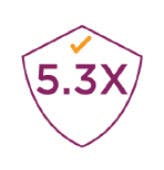 Employees were 5.3X more likely to trust leaders who regularly displayed vulnerability.