Ensuring your leaders have what it takes. Across 90+ countries/regions.
We help organizations hire, promote, and develop exceptional leaders. From first-time managers to C-suite executives, our commitment is to be by your side to help you tackle leadership challenges that impact your 480-minute workday. We invite you to spend a few minutes getting to know us, and our approach to leadership.
Tel: +(662) 254-2466-8
Email Us
Get Directions
Media Room
Welcome to DDI Thailand
DDI Thailand is an expert in Leadership Development. Over 300 clients covering all industries and more than 50% are Thailand's top companies listed in SET. DDI is the strategic partner of Thailand's top firms and many SOEs to assess and development top management, talent & successor pools, and leaders at all levels, both in transition and for development.
We're one of few truly global service providers in the Asia marketplace. We are your local experts with a global viewpoint—helping you select, assess, promote and develop better leaders wherever you do business.
60%
of learning professionals say they're shifting to virtual leadership programs
DDI Data, 2020
Do You Really Know the Virtual Classroom?
Great leadership depends on human connection. That's why it's so important that leaders learn together. And it's why the traditional classroom format has always been king for leadership development.
But you don't have to give that up when your workforce goes virtual. Virtual classrooms are so much more than webinars or online training. They're an engaging virtual environment where leaders connect and discuss. And they offer incredible flexibility to bring people together wherever and whenever works best.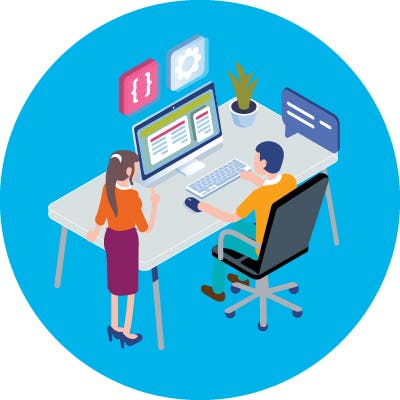 The Leadership Development Playbook
Explore trends and proven best practices to design powerful development experiences in a disruptive leadership development landscape.
Our playbook will help you:
Spot the trends disrupting leadership today
Understand common challenges leadership development teams face
Explore new perspectives to reimagine your approach to developing leaders
Tap into 5 best practices to deliver high-impact leadership experiences
Create blended learning journeys in multiple formats
Global Leadership Forecast 2021
DDI's Global Leadership Forecast (GLF) is now open! This is our largest research survey ever, and I'm particularly excited about our partnership with leading global industry analyst Josh Bersin.
By participating in the survey, you can get a free benchmarking report valued over $50,000 for your organisation, comparing your leaders' data to others in your region, industry, and top performers.
Participating is simple. The GLF is comprised of 2 surveys. You'll take the 10-15 minute HR Survey, then you'll automatically receive a unique link to the Leader Survey, which takes about 10 minutes to complete. Just send that link on to your leaders.
Take the 10-15 minute HR Survey
The program's results—the positive impacts to our business—are impressive, but I'm most excited by what I'm hearing from leaders.
— Andy McNeill, Global Talent Development Manager, Fugro
Meet Our Local Team
When you trust us to help your leaders excel today and tomorrow, you allow this team to keep your organisation's needs top of their mind.
Get to know our local leaders.
Suchada Chuensuksawadi
Vice President ASEAN
Suchada Chuensuksawadi has more than 16 years in human resource management as well as sales and marketing management experience.
Apisith Thanopajai
Managing Director, DDI Thailand
Apisith leads DDI Thailand in providing clients with solutions to their leadership development efforts, workforce effectiveness initiatives and human capital strategies.
Pattarin Titaraksa
Consulting Director, DDI Thailand
Pattarin has more than 20 years of experience in the field of human resources, as Training and Development Manager, Recruitment Manager and Vice President of Human Resources.
Additional Office Information
Bangkok, Thailand

DDI-Asia/Pacific International, Ltd. (Thailand)

62 The Millennia Tower 14th Fl., Room 1402 Lang Suan Road, Lumpini, Pathumwan Bangkok 10330, Thailand