Leadership Development Subscription
Make Leadership Development a Way of Work
Leadership development isn't a one-off event. It requires lifelong learning, practice, and growth.
That's why we created a better way to develop your leaders. Imagine being able to support leaders in their every moment of need, whether they're a first-time manager, resolving a workplace conflict, or coaching a new team member.
With our Leadership Development Subscription, we meet leaders where they are in every moment of leadership.
What's a Leadership Development Subscription?
A DDI Leadership Development Subscription offers you the keys (and a roadmap) to reimagine leadership development. It provides everything your leaders need as they face major obstacles, take on new roles, and tackle the everyday challenges of leadership—all in one place.
A subscription gives you flexibility to support your leaders' development in every moment, whenever and however you need to. You get everything you need to create a successful leadership development program that supports your business strategy for years to come.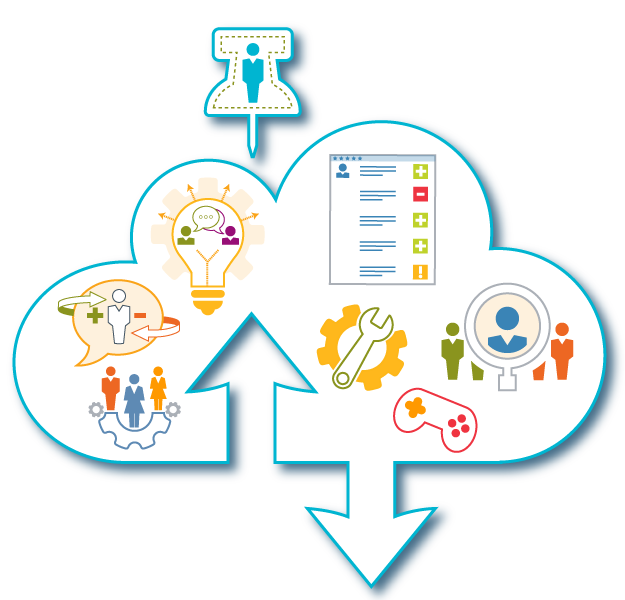 "When you work with DDI, it's like having a (learning and development) team of 25 because you get their thought leadership, content, and insights. With DDI, we can truly mix and match content and build leadership programs with ease.
What's Included?
A subscription contains DDI's award-winning content and includes:
In-person and virtual classroom courses
Online courses on demand
Microcourses
Insights to personalize development experiences
Competencies
Practice tools to extend and reinforce learning
And you get more than learning content. You also get a Strategic Learning Team to help you implement and design your leadership program and align with your business goals.
Think of us as an extension of your own internal team: We're not just here for product support. We're invested in your holistic success and will help you reach your goals.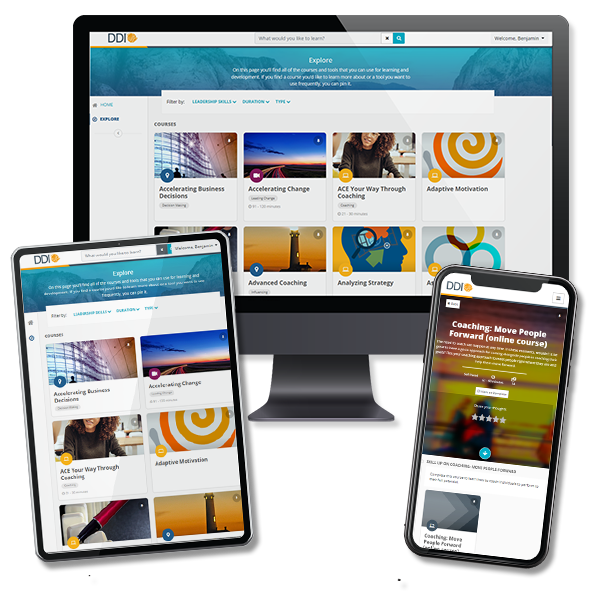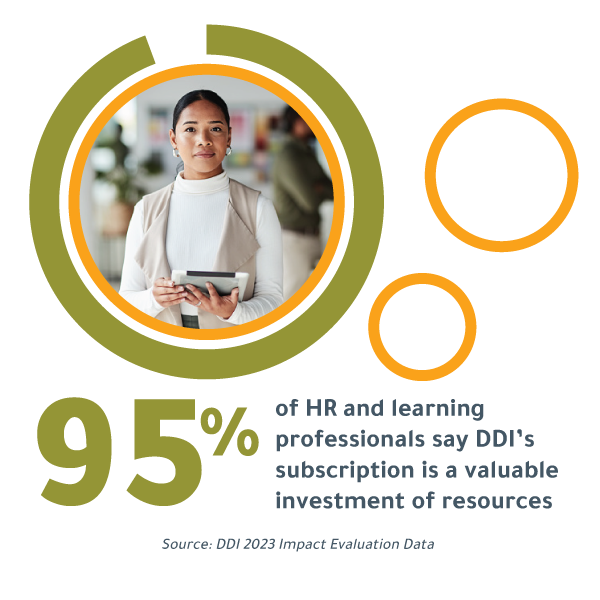 Leadership Development Made Easier
From start to finish, a DDI Leadership Development Subscription makes implementing programs a breeze. Why? Everything you need is at your fingertips.
Struggling to curate personalized learning experiences for leaders? Our Designer tool helps you quickly choose, create, change, and implement learning journeys with ease. Need to train leaders on a specific skill fast? Quickly search content by competency to deliver focused training.
Best of all, you have a Strategic Learning Team by your side every step of the way to make your program a success. Your team will help you hit your goals and see new opportunities to achieve leadership excellence.
Give Leaders "Aha!" Moments with Personalized Learning
Leadership development isn't effective if it doesn't engage leaders. With a DDI subscription, you can create captivating learning experiences that build leaders' commitment to learn and grow. Why? Because it's all about them.
Built on decades of experience and industry leadership, our subscriptions include a range of assessments that give leaders self-insight to personalize their learning experiences. These insights fuel self-driven online learning as well as live learning sessions with peers.
The result? Learning that sticks.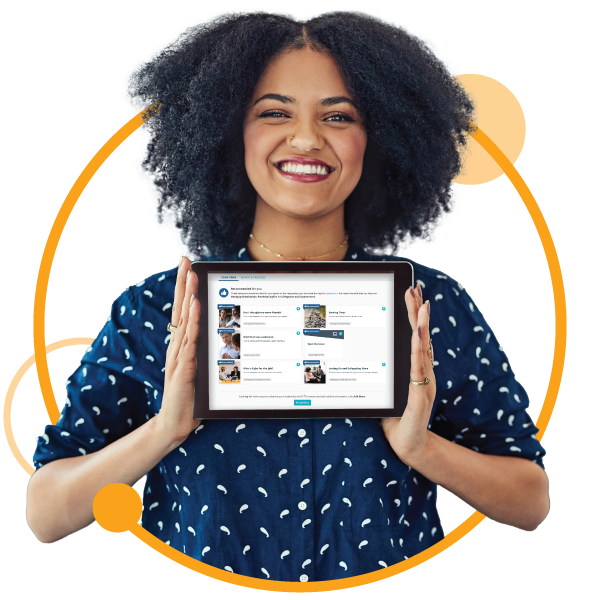 Choose a Subscription
Which Leadership Development Subscription is right for your organization?
Foundation
Everything you need to build core leadership skills in your frontline leaders
My Pathway: Leadership Core, a personalized learning experience
40+ Courses
55+ Microcourses
220+ Online Learning Tools
50 Frontline Leader Competencies
30 Business Drivers
MultiLevel
Includes all Foundation content, plus personalized development for advanced leaders
My Pathway: Leadership Core, a personalized learning experience
Leadership Personality Insights
60+ Courses
65+ Microcourses
290+ Online Learning Tools
114 Competencies Across Leadership Levels
59 Business Drivers
Enterprise
Best option to integrate DDI content into your in-house learning materials
Choose content from Foundation or MultiLevel subscription
Tailor DDI's content to use with your in-house learning programs
Includes DDI's library of behavioral interview questions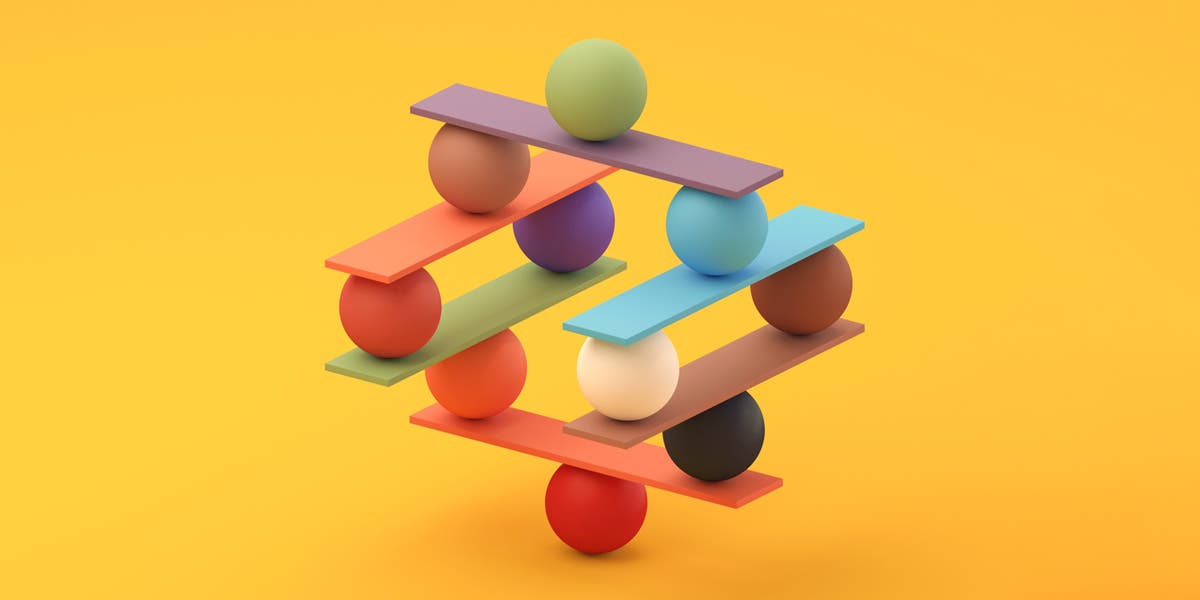 Webinar
Seeing Is Believing
Watch now to see how a Leadership Development Subscription can work for you.
Watch on demand