New Study Reveals Women Vying for CEO are Left Out by More Than Half of Organizations
DDI study reveals new data from more than 55,000 executives assessments that give insight into the current state of executive bench strength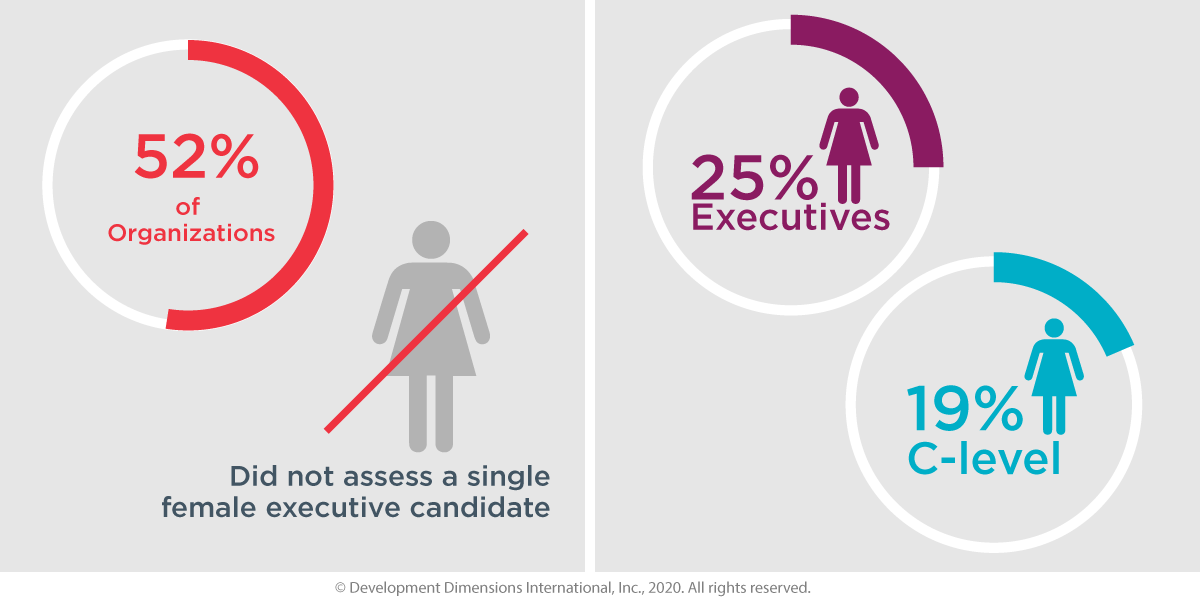 PITTSBURGH — More than half of organizations didn't assess a single female candidate when looking for their next CEO, according to a new study by global leadership consulting firm DDI.
When only one woman was in the CEO pool, she was never selected for the role. Furthermore, female candidates comprised only 25 percent of executive candidates and 19 percent of C-level candidates.
The findings come from the Executive Leadership Outlook 2020: Five Actions for Building a Stronger Executive Bench. The study collected data from more than 55,000 executive assessments, including 1,100 CEO candidates over a decade.
"The lack of diversity revealed in the Executive Leadership Outlook 2020 presents missed opportunities to identify and develop talent from new backgrounds and areas," said Stephanie Neal, director of DDI's Center for Analytics and Behavioral Research (CABER). "Organizations that want to unleash new capabilities and future talent need to seek out leaders who think and operate differently. They're going to need stronger, more inclusive pipelines to find these fresh perspectives and wisdom."
Along with diversity and inclusion shortcomings, the study revealed executives and C-level candidates are often unprepared to step into higher positions, lacking development in critical capabilities. Other key findings in the Executive Leadership Outlook 2020 include:
Executives and most CEO candidates are best equipped for present challenges but are less prepared for strategic challenges, such as building and entering new markets.
Less than 15 percent of executives exhibit strength in money skills, suggesting growth occurs after transitioning into an executive role.
Executives struggle most with influence, hindering their ability to fuel transformation and change initiatives.
New leaders often come into their roles unprepared, causing higher levels of scrutiny and an exponentially increased risk of failure.
Many organizations show questionable readiness to adopt and take advantage of a team concept for leaders.
Well-aligned senior teams handle change better and are 22 percent more likely to be able to effectively fill critical leadership roles.
"The Executive Leadership Outlook 2020 provides an inside look at who organizations consider for senior roles, and where their strengths and weaknesses lie," Neal said. "This data helps companies better understand where they need to focus to prepare leaders for their most important – and highest risk – roles."
For more information, including the full report, visit ddiworld.com/2020-executive-leadership-outlook.

###

About DDI
DDI is a global leadership consulting firm that helps organizations hire, promote and develop exceptional leaders. From first-time managers to C-suite executives, DDI is by leaders' sides, supporting them in every critical moment of leadership. Built on five decades of research and experience in the science of leadership, DDI's evidence-based assessment and development solutions enable millions of leaders around the world to succeed, propelling their organizations to new heights. For more information, visit ddiworld.com.

Available for interviews:
Stephanie Neal, director of DDI's Center for Analytics and Behavioral Research