Are Top Women Leaders Heading for the Door?
Women struggle to advance up the leadership ladder, currently filling only about a third of all leadership roles. Often, the problem is that they aren't given the opportunities they need to grow and develop. That's why more women than men say they plan to leave their current employers to find their next opportunity.
Can you afford to let these talented women head for the door? We'll help you create an environment and system where women leaders can thrive.
Why Women in Leadership Is a Business Issue
---
Almost half of women executives (45%) said they would likely need to switch companies to advance, compared to only 32% of male executives
DDI, Global Leadership Forecast, 2021
8x
Companies with above-average gender and racial/ethnic diversity are 8x more likely to be in the top 10% of organizations for financial performance
DDI, Global Leadership Forecast, 2021
20%
S&P companies led by female CEOs had a 20% higher stock price on average
S&P Global, When Women Lead, Firms Win
Develop Skills to Ignite Impact
Leadership skills don't know gender. But there are unique issues that face women leaders at all levels. We developed our Ignite Your Impact: Women in Leadership℠ series to help women tackle those challenges head-on.
Choose from any of our two-hour sessions to build your custom women in leadership program.
Declare Your Brand
Fail Forward
Influence Your Career
Leaders/Men as Allies
Radiate Confidence
Super-Power Your Network
Every session can be offered virtually or onsite. It's up to you how you want to bring your teams together.
After going through the program, one participant shared that she had applied and was offered a job within Sparrow she wouldn't have applied for previously because she wouldn't have felt like she was qualified.
— Teresa Znidarsic, Vice President, Human Resources Operations, Sparrow
Engage Leaders with a Powerful Keynote
Build excitement for your women in leadership initiative with a high-energy, interactive keynote. Our keynote is the perfect fit to kick off your program, or add to your conference. It can even be a lunch-and-learn session.
The keynote presents both the business case for women in leadership and offers real-world wisdom. Attendees will leave with practical tips to build their confidence, inner strength, and leadership value.
It's not just about developing themselves and developing each other. From a business perspective it also gives them personal challenges, but then it also helps us to think about how we grow CI as an organization.
— Lorraine Blair, Chief Talent Officer, CI Financial
Improve Inclusion with Virtual Reality
Many leaders today understand and support women in leadership. But often, it's only at a theoretical level. In reality, they may lack an emotional connection to the issue. After all, if they haven't experienced it, it can be tough to relate.
Enter the empathy machine: virtual reality. Through VR, DDI has developed a powerful experience that will help every leader understand exclusion. With a new understanding, they'll be ready for a whole new conversation about inclusion.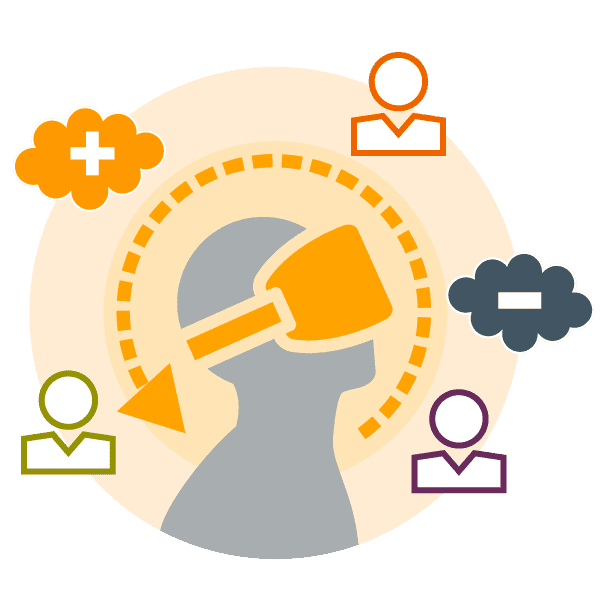 Activate Allies for Women Leaders
Empower executives, managers, and colleagues to be allies to women. DDI's allyship programs uniquely focus on what allies can do to champion women versus what they cannot do. Supporting gender equality is not a favor toward women, but a necessary step to improve life and work for everyone.