What does it take to be a good manager? It's one of the top questions we hear from clients and leaders alike, who are trying to define what good leadership looks like in their company culture. So they start trying to define the essential frontline manager competencies.
And it turns out to be a lot harder than they think. After all, there are a lot of great qualities you want to see in your leaders. How do you boil it down to the most essential behaviors your leaders need?
In this blog, I'm going to talk about how to identify essential frontline manager competencies. I'll also go over how to best use the competencies to get the most from your frontline leadership development program.
Why should leadership development be competency-based?
Before diving into the competencies themselves, let's start with why leadership development should be competency-based at all. First, let's talk about competencies themselves. A competency is a cluster of specific behaviors and capabilities that a leader needs to demonstrate to achieve success in a particular job.
Some companies don't include competencies when developing their leaders, using a more unstructured approach to learning about leadership topics. But that can create a deeply chaotic leadership environment. If every leader is doing something different, how do you define your leadership culture? How do you evaluate the success of your leaders and measure progress?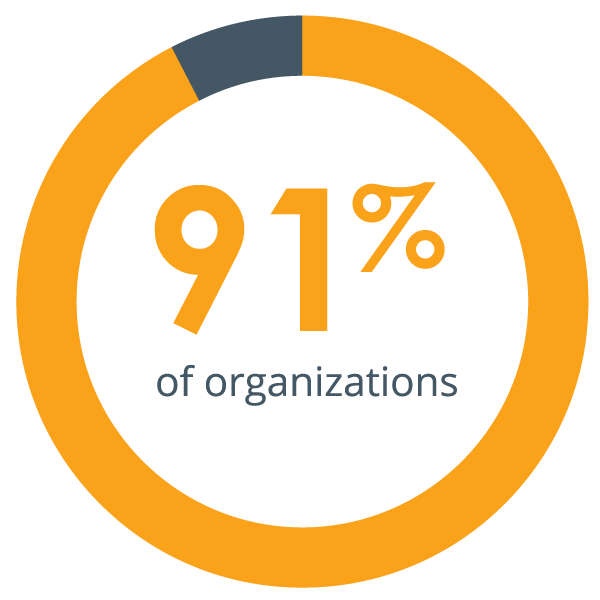 When talent development pros take the time to define the competencies needed for success, it can have a major payoff. According to DDI's Job/Role Competency Practices Survey Report, when competencies are the foundation of their HR processes, 91% of organizations report their training and development is more effective.
The caveat, however, is that you can't take too long figuring out what your competencies need to be. RedThread Research's Skills and Competencies Report 2021 issues a warning: "Identifying workforce development needs and priorities is one of the largest barriers to workforce development. And by the time an organization can understand the skills gap and deploy a development program, the skills are likely to be irrelevant."
In short—start working fast.
Criteria for Effective Frontline Manager Competency Models
While it's important to have competencies for your frontline managers, not all competencies are created alike. How can you tell a strong competency model from a weak one?
While I could write about this topic alone for a while, I'll briefly mention three important criteria when building a competency model for frontline managers:
Align to strategic business priorities. Too often, HR's strategy is divorced from the business strategy. For example, if your company strategy depends on driving innovation and expanding into new markets, but your competency model is primarily focused on behaviors linked to driving process efficiency, you won't achieve the business goals you need.
Differentiate for leader levels. Many companies try to use a single competency to reflect a certain skill. But the behaviors are different at each level. For example, effective communication at the frontline leader level primarily takes place in conversations, performance management, and some presentations. Meanwhile, great communication at the executive level looks very different. So when creating a frontline manager competency model, make sure the competencies are specifically geared toward frontline manager actions.
Focus on observable behaviors. This is a big one. Poorly defined competencies focus on outcomes and leave a lot open to interpretation. Instead, competencies need to be focused on clear, observable actions. At DDI, we call these key actions. You need to know exactly what it looks like to perform the competency well.
Competency-Focused Leadership Development in 5 Steps
So now that you understand what makes for an effective frontline manager competency model, what are the steps for designing a competency-focused leadership development program?
Here are five steps: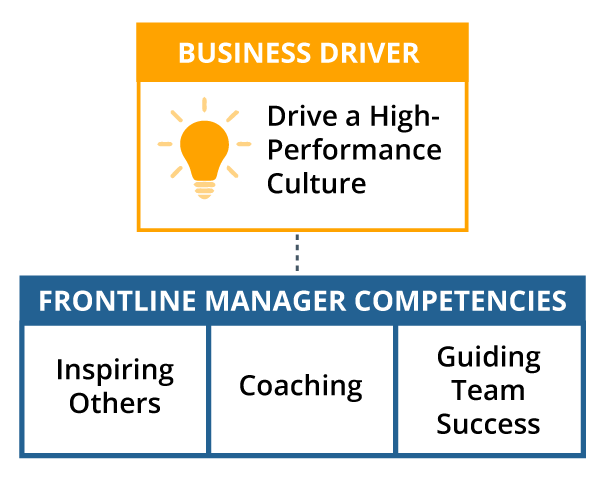 1. Identify business drivers.
Question to ask: What's the bigger picture?
At DDI, we refer to business drivers as the top 3-4 challenges that executives and senior leaders see as most critical for the future success of their organization. These might be things like driving innovation, creating a high-performance culture, building strong customer relationships, or similar high-level business objectives. While a lot of companies want to say, "We're trying to do all of these things," the goal is to narrow it down to your top 3-4 most important challenges.
2. Identify critical frontline manager competencies.
Question to ask: What drives leadership success?
Once you have these identified, each specific business driver is supported by competencies that support the strategy. For example, if one of your organization's business drivers is to drive a high-performance culture, the associated frontline manager competencies would be around inspiring others, coaching, and guiding team success.
In addition to these business-specific competencies, you may want to add some foundational and trending competencies that will be important to your leaders. More on this topic below.

3. Diagnose competency strengths and weaknesses.
Question to ask: What's strong and what's weak now?
Once you've identified the business drivers and their relevant competencies, you can then assess your frontline leaders' current strengths and weaknesses. If possible, try to use assessment data. If you don't have assessment data available, focus on data from performance reviews, culture surveys, or other organizational feedback. Armed with this data, you can choose which strengths to leverage and which weaknesses to bolster to achieve your organization's highest-priority results.
4. Focus development goals and action plans.
Question to ask: Which actions get the best results?
Help leaders create competency-based development goals and action plans. You could offer your leaders training, coaching, digital learning, and practice opportunities to build their skills. To accelerate and sustain their learning and motivation, you might also subscribe to learning platforms, research resources, or coaching services.
5. Set up support.
Question to ask: How do I maintain momentum?
Check in with leaders to understand how they're feeling about development. What can you do to make sure development sticks? Are leaders struggling to access learning, or are they struggling to practice key skills? Understand any challenges and strive to remove any barriers to development your leaders may be facing. And once your program is up and running, make continuous improvement a pillar. Ask your leaders what's working and what's not and take their feedback to heart.
Identifying Critical Frontline Manager Competencies
Now let's dive a little deeper into how to identify the frontline manager competencies you need. In the previous section, I talked about identifying some of the unique competencies that are aligned to your business strategy.
In addition, you may want to pull in some of the foundational competencies that nearly all frontline leaders need. Here are a few of the most common:
Communication
Building partnerships
Coaching
Decision making
Facilitating change
Execution
However, the context of the work environment and the stressors on the leader have changed (and will continue to change) drastically. These context changes increase the importance of certain leadership competencies within each of these domains. DDI's Global Leadership Forecast 2021 (GLF) offers some important leadership research trends and insight.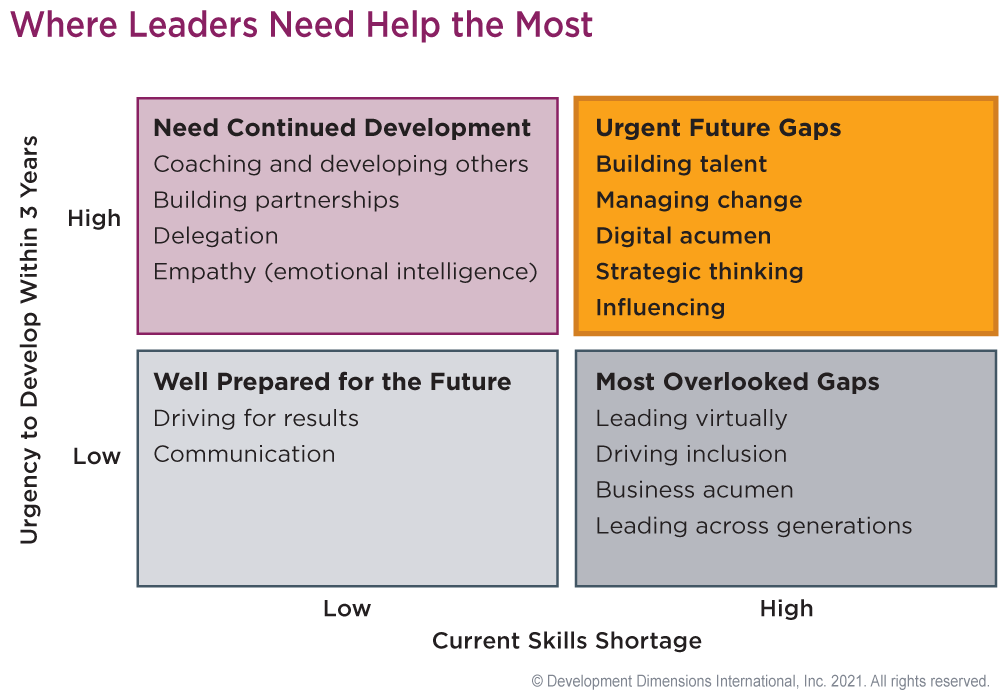 According to the report, leaders who succeed in times of crisis are those who can learn new skills quickly and embrace change and uncertainty. Additionally, organizations with leaders who were stronger in these skills were more prepared to meet the business challenges they faced:
Leading virtual teams
Coaching
Delegation
Empathy (emotional intelligence)
But based on an analysis in the GLF about which competencies leaders need help with the most, HR should focus on developing these essential skills as they rapidly adapt to meet new demands:
Managing change
Influencing
Building partnerships
Laser Focus with Competency-Based Development
Ultimately, your frontline manager competencies will serve as the guide to success in your organization. It helps you create clear development action plans that will help your leaders see what they need to do to perform well and advance to the next level. As a result, you'll also start to see other benefits, like lower turnover, stronger talent acquisition, better performance, and so much more.
And that's going to offer you the key to a better future for your business: a strong leadership bench. When you've defined your leadership culture and helped frontline leaders grow into their roles, they will be ready and waiting to step up to the next level.
Think of that as the ultimate competitive advantage.
Learn how DDI subscriptions can help you build stronger frontline leaders.
Ruth Moskowitz, Ph.D. is a senior consultant at DDI. She's inspired most when helping the sales force, consultants, and clients build better leaders for a better future using DDI's competency-based solutions. Nature, music, family, yoga, and travel are her favorite energizers.
Topics covered in this blog