There's no denying that 2020 has been a tough year. The stresses have exposed weaknesses, strengths, and the need for change in ways few could have predicted. In our research on leadership trends, we had an incredible opportunity to see just how COVID changed leaders.
Early in 2020, we had opened our survey for the Global Leadership Forecast, which is one of the largest studies in the world on leadership trends. Because of the timing of the survey (January – July), we had a unique and unexpected opportunity to look at differences in responses in three unique time frames: before COVID, as the crisis first hit, and as the world adjusted to a new normal.
As we looked at this data, we saw some interesting changes over time in how leaders responded. We rounded up several of our findings in a new infographic to highlight these changes.
In this blog, we'll cover a few of the highlights and what you can do to begin addressing these leadership trends.
Leadership Trend #1: The Bench Is an Empty Chair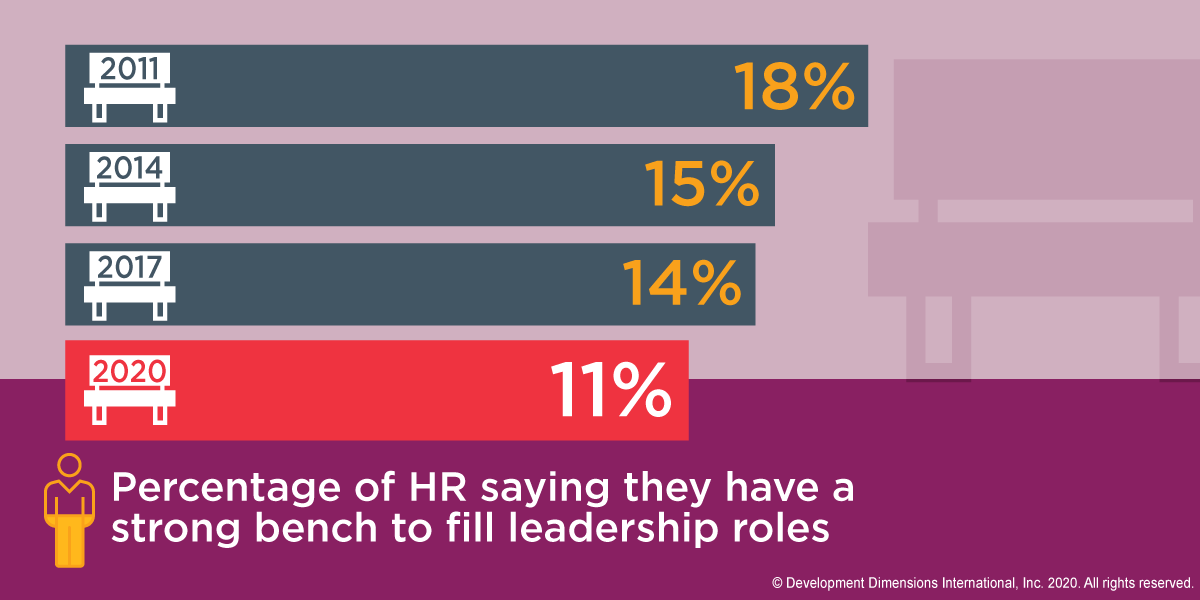 How ready is HR to fill leadership roles today? The short answer: not very. In 2020, bench strength dropped to an all-time low: only 11% of HR reported that they have a strong leadership bench. And our Global Leadership Forecast research over the years shows a steady decline. For example, in 2011, 18% of HR said they have a strong bench, and 14% in 2017.
But why are companies still struggling with bench strength? There are two reasons. First, the demands of leadership jobs are getting even more challenging. The jobs are getting bigger, and we're constantly asking for more from a very stressed group of leaders.
Second, when we talk about ready leaders, we also have to consider, "ready for what?" What we're seeing in this leadership trend is not just that leaders are doing poorly, but HR doesn't think their company's leaders are ready for the context ahead. Their leaders aren't ready to tackle upcoming challenges.
3 things to do:
Identify your company's business drivers. Define what success looks like at your company. What are the leadership skills that will drive your company's current and future strategy?
Get data around how ready your people are to execute against those business drivers. Leadership assessments are a great tool to get objective data on your leaders of all levels.
Don't leave leadership development to chance, especially executive leadership development. Once you know where your leaders are strong and where they need to grow, give them personalized, intentional development to close gaps. And pay special attention to executive development. Why? The transition to an executive role is one of the most challenging career moves. Far too many executives are failing, even though many of their struggles are preventable.
Leadership Trend #2: Skills Crack Under Pressure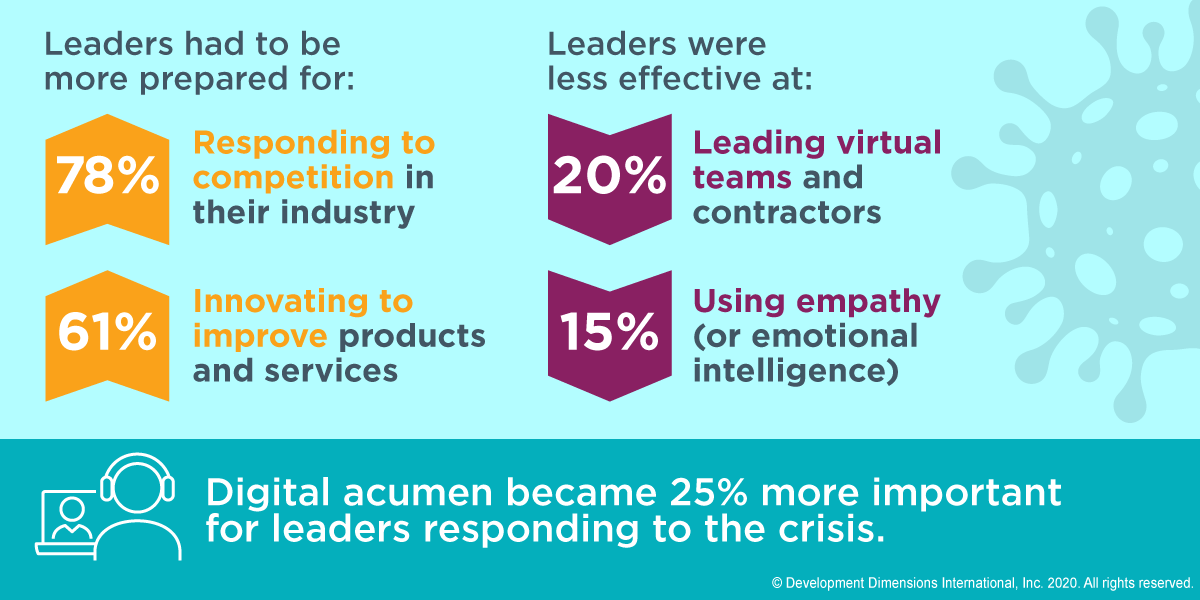 COVID hit and in a matter of days many companies shifted to completely remote work. And while everyone had to learn to work virtually, leaders faced new challenges. They had to learn to lead virtual teams overnight.
Leaders also faced new demands brought on by the pandemic. First, leaders felt more urgency to respond to competition and innovate to improve products and services. In responding to the crisis, 78% of leaders said they had to be more prepared to respond to the competition in their industry. And 61% of leaders said they had to be more prepared to innovate to improve products and services.
This reflects how rapidly and radically businesses are shifting in response to the pandemic. Leaders are expecting that their teams will also have to rapidly adapt and lead change.
Likewise, the pandemic caused a rapid shift in where leaders felt confidence in their leadership skills. As the crisis hit, we saw scores drop rapidly for how effective leaders felt. And as already mentioned, leaders realized how unprepared they were to lead virtual teams. In responding to the crisis, 20% of leaders reported they felt less effective at leading virtual teams.
They also lost their confidence in their ability to show empathy. Fifteen percent of leaders reported they felt less effective in using empathy. This is normally a skill where leaders rate themselves well. But this drop shows leaders are much less sure of themselves when they are put to the test, especially virtually. Demonstrating empathy on a video call takes much more finesse than doing it in person!
3 things to do:
Give your leaders a strong foundation in emotional intelligence. And do this even if they think they're doing okay already. Why? Our data shows this is a skill that cracked under pressure when the crisis hit. In particular, leaders need specific development around how to do this effectively in a virtual world.
Support leaders in brushing up their virtual leadership skills. Give them the communication and coaching skills to connect in a work world that relies even more on chat and email. Teach them how to overcome the challenges of being misunderstood in these channels. And don't forget to give them the interaction skills they need to build trust and be inclusive of everyone while they're leading virtual meetings.
Prepare leaders with the skills they'll need to lead change. As everyone comes out of emergency mode, 2021 will show how the post-pandemic market has been forever changed. Make sure your leaders are prepared to lead this change.
Leadership Trend #3: Uncertainty Creates a Craving for Learning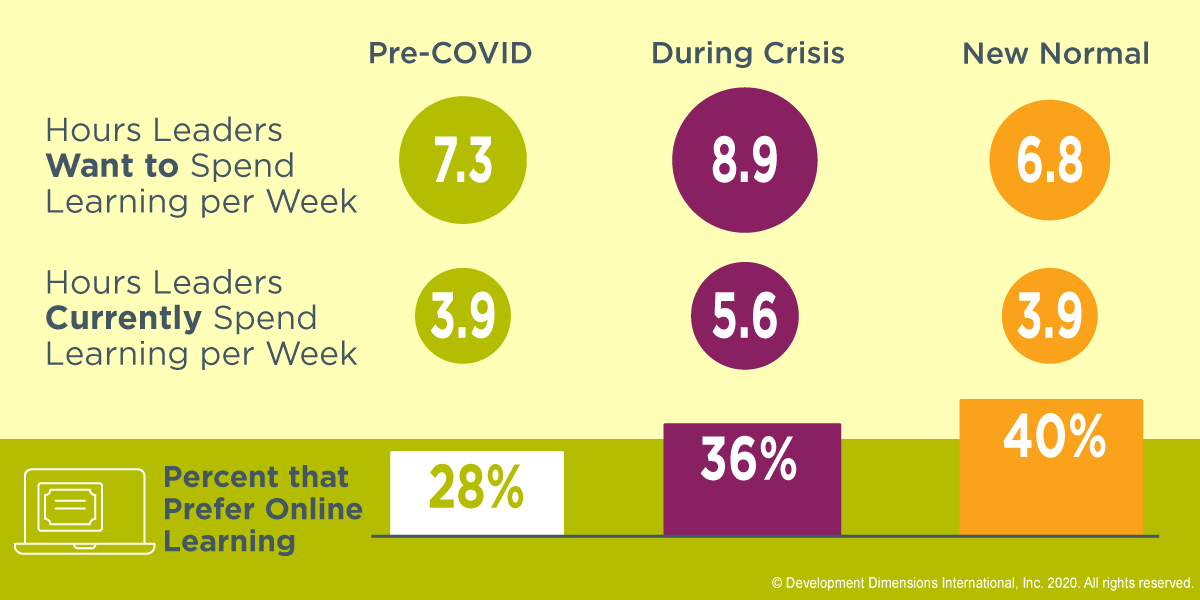 During the height of the crisis, leaders said they spent a little under six hours per week learning. But, they told us they actually wanted to spend nearly three more hours more than that per week. Why the jump?
In some cases, leaders may have temporarily had a lot of time on their hands. But more realistically, it's the fact that uncertainty often creates a craving to learn. When we're surrounded by the unfamiliar, we get desperate for a lifeline.
In addition, we saw a major jump in willingness to learn online. Over and over, leaders tell us how important it is that they learn together and make connections with each other. But just as many of us have adjusted to a virtual workplace, they adjusted to learning online.
Many of them also found out that "online" learning doesn't just mean self-paced web-based courses. Rather, they could engage in a virtual classroom with their peers and still make those incredibly valuable connections.
3 things to do:
Ensure you have leadership development available to deploy quickly when crisis hits. Those are the moments when leaders need it most.
Get your leaders comfortable learning in the virtual classroom. What is a virtual classroom? It's more than a web-based course leaders click through or a webinar they can listen in on. It includes real conversation and participation in activities, just like you get in the traditional classroom. Your leaders need (and crave) exposure to this type of learning, especially while working remotely.
Give leaders personalized learning. Leaders don't have a lot of time to browse through huge learning libraries of content. Give them exactly what they want with access to only the learning they really need. And give it to them how they'd best like to consume it—whether it's more traditional course-based learning or skills-based practice with a chatbot.
Onward and Upward
These leadership trends show the many challenges and shifts in leadership brought on by the pandemic. But often when there are shifts and shakeups, there is learning. Learning what works and what doesn't. Use 2020 as a springboard for what your leadership development program really needs to succeed in the new year.
Looking for more leadership trends? Join us for our on-demand webinar to explore other trends and get even more practical tactics to revamp your leadership development program in 2021. You can also view our Global Leadership Trends 2021 infographic to dive deeper into the data.
Nathan Calland is a leadership consultant based out of DDI's London UK Office. Having quite a blended role, Nathan is lucky enough to get involved in a range of activities from relationship management, program design and facilitation, right through to telling the worst jokes on internal calls. Having partnered with many multinational organizations over the years, he has developed a real passion for the impact that great leadership has in both the professional and personal realms. When not helping create better leaders for a better future, Nathan can be found pulling a fine cat cow pose on his kitchen floor, or playing/watching/reading about cricket, his favorite sport.
Kevin Tamanini, Ph.D., is the Director of Consulting in DDI's US Operations team. Based in Pittsburgh, Kevin has been with DDI for over 13 years and has worked across product development, sales, and consulting roles to help clients solve their leadership challenges. When Kevin isn't leading the consulting services organization or working directly with DDI clients, he can be found on either the golf course, at one of his kid's sporting events, or working on an endless list of home projects. If you have any leadership challenges and need creative solutions, or general tips on how to hit a the golf ball straight, please get in touch: kevin.tamanini@ddiworld.com.
Topics covered in this blog