Highly adaptable. Comfortable with discomfort. Ready to challenge their own assumptions and others. These are some of the key qualities that today's most promising young executives need to excel in the future economy.
Recently, we took a look at what some of these young executives are doing differently in the BOSS Young Executives competition, hosted by The Australian Financial Review. All under the age of 35, these young executives showed us that they have taken the pandemic in stride as just one of many challenges in their careers. In fact, few of them ended up in the careers they once envisioned.
What hasn't changed is their commitment to excellence and leadership. However, they are showing that the demands of executive leadership are changing quickly and dramatically.
A Major Shift in Demands for Young Executives
Having worked with the competition for 18 years in a row, it's no surprise that this year was unlike any other. We saw some major changes in the challenges that young executives are up against, and how the pandemic has forever changed leadership.
Originally, the competition started at a time (2003) when Australia was confronting the realities of an aging workforce. The pool of next generation leadership was small. Worse, companies needed a major shift in leadership capabilities to steer them through a new economic cycle. Despite Australia's relative prosperity, CEOs and executives were deeply concerned about whether Australian companies had a pipeline of the right future leaders.
While some of those worries changed and subsided over the years, the pandemic brought on a spike of new concerns in 2021. How would the pandemic change the motivation of future generations to pursue leadership, especially at higher levels? And how would their needs and skill sets need to change?
Fortunately, young executives showed us they are more determined than ever. In fact, this year, there was the highest number of BOSS Young Executives competition submissions in over a decade, with 150 applicants.
The competition is judged by prominent business leaders who take a holistic perspective of a candidate's leadership accomplishments. For example, their achievements in business, their community involvement, how they manifest a sense of purpose, and how they overcome challenges.
The short list of 10 candidates participated in DDI's immersive "day in the life" executive business simulation. DDI's executive assessors rigorously analyze the results, and give the candidates feedback about their strengths and weaknesses. This process not only identifies the strongest candidates, but enables us to give them powerful insights about how they can excel in current and future roles. They learn how they can behave differently to make decisions in an environment of complexity, interact under pressure, and influence their organization's strategies and values.
These insights enable participants to accelerate their development. But they are also highly predictive of future success.
The Leadership Skills You Should Be Developing
This group of 2021 winners demonstrated some skills that were magnified compared to previous years. These skills are also, at least in part, shaped by the winners' experiences leading during the pandemic.
1. Driving for Results
In terms of personal dispositions, these winners were highly ambitious. And their motivation tended to be intrinsic. Their goals were multi-dimensional and consistent with their heightened sense of personal purpose and social justice values. Similarly, their results orientation was as strong for their business as it was for their community endeavors.
2. Driving Inclusion
Receptivity to feedback and curiosity were demonstrated at high levels, especially in the pressure of the simulation. Additionally, the winners tended to demonstrate behaviors such as the use of open questions and a learning mindset.
These behaviors also resulted in higher levels of inclusion. And as a result, the winners showed more robust business strategy formulation and stronger execution alignment, accountability, and engagement of employees. This was hugely encouraging given the business benefits of inclusion and diversity.
3. Listening and Responding with Empathy
This cohort of winners listened and responded with empathy more consistently during the simulation. Subsequently, they showed skill at managing complex interpersonal interactions, influencing, and engaging and mobilizing others.
4. Leading Virtually
Both the judge's interviews and simulation for the 2021 competition were conducted virtually. This clearly showed the winners were skilled at virtual leadership.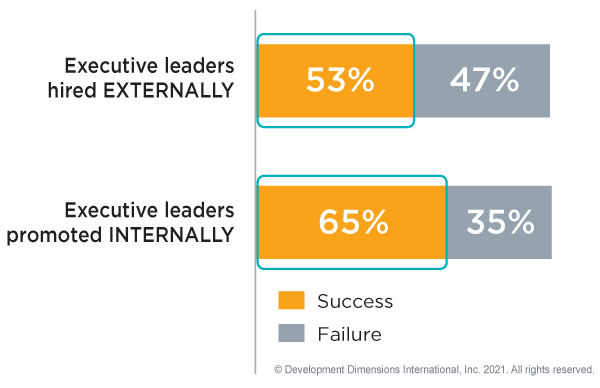 What the Research Says
DDI's Global Leadership Forecast (GLF), which sampled perspectives from 15,787 leaders worldwide, reported that the number one CEO concern is developing the next generation of leaders.
At the same time, these young leaders are highly vulnerable, especially at the executive level. As we dove into the data further in our Leadership Transitions Report 2021, we found that more than a third of executives fail when promoted internally. Worse, nearly half (47%) of externally hired executives fail.
In short, a lot of highly talented leaders are struggling. Why? Because they are so talented, HR and company leaders often assume these high performers will figure things out on their own. As a result, they often don't get the support, insight, and development they need.
These failures are disappointing, as many of the urgent leadership skill gaps identified in the GLF such as strategic thinking, managing change, driving inclusion, leading virtually, and using empathy are highly teachable. The results of this year's BOSS Young Executives competition highlights that it definitely pays off to start developing these leadership skills early.
How do you get your early executive leaders ready to succeed in their next big role or role challenge? Executive assessment, including immersive experiences, gives leaders a preview of what to expect in the new role. They also get feedback on what they can address to increase their chances of success. Assessment also provides rich data to help accelerate leadership development by pinpointing strengths and readiness gaps.
How to Help Your Young Executives Succeed
Do you know how your young executives are performing? Are your young leaders standout candidates from this year's young executives competition? Or are they among the young executives out there who are struggling?
You can help your young executives who may be struggling to get better. And ensure your standout leaders have what it takes for continued success. How? It's about having deep data on how they're doing: where they are excelling and where there are gaps. With these insights, your young executives can prepare for the challenges ahead and know where they need to focus to grow for the future.
Learn why your new executives are struggling in our eBook, The 4 Forces of Executive Pressure: Why Your New Executives are Drowning.
Bruce Watt, Ph.D., is a Vice President for DDI.
Topics covered in this blog