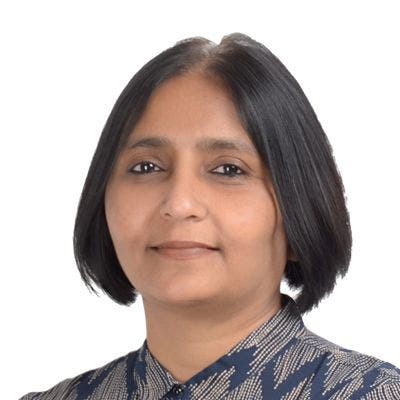 Dipali Naidu
Executive Consultant – India
Dipali has over 25 years of work experience in leading cross-border and cross-cultural assignments as an HR generalist, learning and development specialist, and executive consultant in MNC's as well as large Indian retail businesses. She specializes in the area of performance management, leadership development, succession planning, human resource management systems, and human resource strategy planning. She has partnered with executive leadership as a learning and development lead in the Asia Pacific, India, Middle East, and Africa region along with global human resource leadership to drive and implement successful human capital strategies for growth.
Dipali's contributions have been acknowledged in setting up learning academies for professionals, building succession plans, assimilating new strategic leaders, defining competency frameworks and aligning HR systems to deliver business results, driving and implementing performance transformation agendas in APIMEA markets, and increasing employee engagement through collaborative tools to drive simple thinking.
Key Capabilities and Experience
In her role as Executive Director – Human Resource, Greater India Region at The Nielsen Company, Dipali was responsible for aligning and driving key strategic initiatives for talent and business growth. She also served as the APIMEA L&D lead.
Dipali has contributed significantly to setting up human resource systems and processes for the specialty retail businesses of ShopperStop, Ltd. and also lead the talent acquisition, training, and talent development portfolios for DHL Worldwide Express.
As an independent consultant, Dipali has:
Designed and implemented the team building, leader assimilation and execution excellence programs for a client in Sri Lanka. Worked with middle managers to develop coaching skills and implementing meritocracy as a culture.
Developed the entire succession planning framework for the market research industry. Collaborated with senior leadership to improve assessment, feedback, development, and succession planning processes. Developed measurable metrics to track progress and effectiveness of initiatives that drive business results.
Developed a team of diverse HR professionals and coached business leaders across the APIMEA region to drive the frameworks for talent management and development and building a culture of "Leaders Developing Leaders" through design and implementation of leadership development programs, mentoring, and coaching.
Education and Credentials
Certified OPQ and OT Analyst, SHL
Certified for Belbin Team Roles
Certified and practicing Coach, Erickson Coach Certification
Saville Consulting International Accreditation – Wave & Aptitude
Certified NLP Practitioner, School of Excellence
Korn Ferry Leadership Architecture certification, Korn Ferry International
Certified Assessor and Assessment Centre Designer and Manager through Assessment Centre Certification Program, British Psychological Society delivered by Innovative HR Solutions, Dubai
Under Graduate Degree in Mathematics (H), Delhi University
Masters in Operations Research , Delhi University
Master's in Business Administration, International Management Institute, New Delhi
Connect with Dipali on LinkedIn