Future Proofing Your Organization's DNA: Can It Be Done?
Ma. Kathrina Mendita, Senior Consultant
Preparing the business beyond the next normal requires embracing change and agility. Along with the business's necessary transformation to survive, how can leaders help future-proof their companies?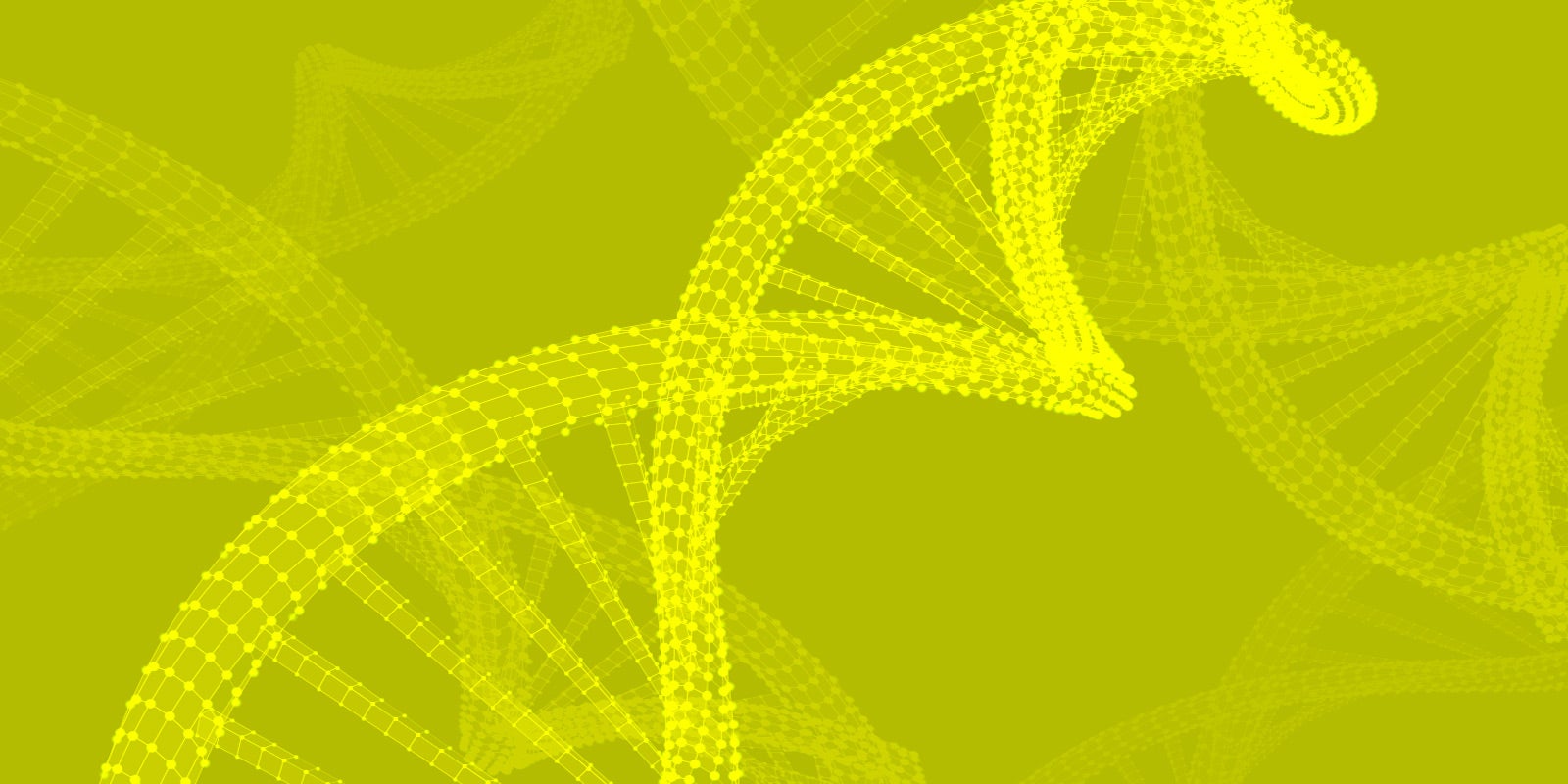 Future-proofing is a concept that has been in existence for quite some time. It talks about anticipating future events and planning out how to mitigate the effects and/or risks of change.[1]
Before the pandemic, it is most often used in select industries such as electronics, architecture, and industrial design. After COVID hit the world, more and more organizations in various industries are finding ways to ensure business survival and sustainability, effectively future-proofing their DNA for the years to come.
Change has never been experienced in a scale of this magnitude before. People all over the world had to step back and learn ways on how to deal with the impact of COVID not only on their personal life, but their professional life as well, while organizations had unprecedented transformations happen in such a short span of time. By the end of 2020, companies are going back to the drawing board to prepare the business and the people for more changes the future could bring.
So how does an organization future-proof its DNA? Is there an evergreen business model that could withstand the test of time, the pandemic, and the next normal? What can we do now to minimize the effects of shocks and stresses of future events?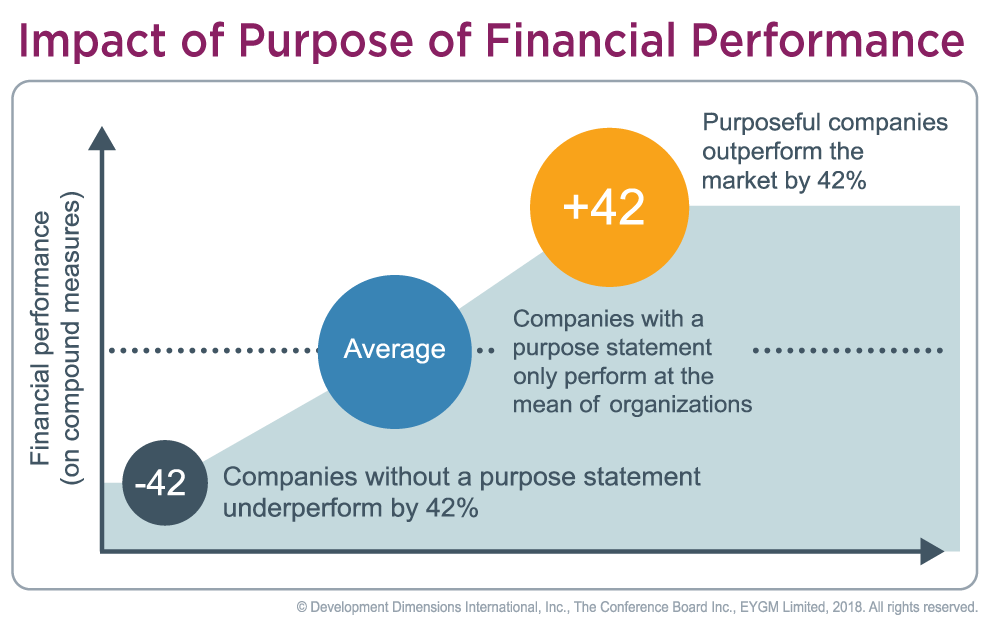 Choose Your Perennials Wisely
A person can go through various internal and external changes in a year that have little effect on their personality, their tendencies, and derailers. An organization could go through a massive transformation in its business model or value chain without altering much of their culture.
With more changes that COVID vaccination will bring to the workplace, the market, and customer behavior, it's important to retain a few essential constants in an organization to help keep people's feet on the ground. It could be the company's core values, a coaching culture, open communication lines across levels, or perhaps as simple as a shared purpose.
There is a growing body of evidence that articulating a clear purpose for your organization—focusing on answering the why questions—raises engagement, levels up customer experience, and guides decision making despite uncertainty.[2]
One major finding of our Global Leadership Forecast (GLF) 2018 report showed that purpose-driven leadership inspires and engages in a complex environment. Using purpose as a lens for every initiative (whether internal or external) helps align priorities across the organization and rally people to push forward. Integrating purpose into the company's DNA—reinforcing it to day-to-day customer and employee experiences—will help anchor everyone's actions and output amidst the stormy seas of change.
Practice Defensive Driving
Nobody can accurately predict what's going to happen next, especially after the pandemic threw a wrench in everyone's plans. The most that we could do is keep an eye on the horizon in an attempt to see potential threats ahead.
This reminds me of one of the key principles that my father taught me when he was teaching me how to drive. He has been a cab driver in his early twenties before he became a seaman and to this day, I have not met a person who could rival his sense of direction and navigation. One of his major lessons is the understanding that the road is volatile, with many factors (other drivers, pedestrians, etc.) affecting the safety one's journey.
He said that when driving, one's focus should not just be on the vehicle directly in front, rather 2 – 3 vehicles ahead. He said that seeing what is happening ahead—even before the effects reach the car in front—would allow for faster reflexes and quicker counter maneuvers. This defensive driving skill has helped me keep safe up to this day. How I see it, in future-proofing organizations, the principles of defensive driving [3] could provide leaders some vital lessons: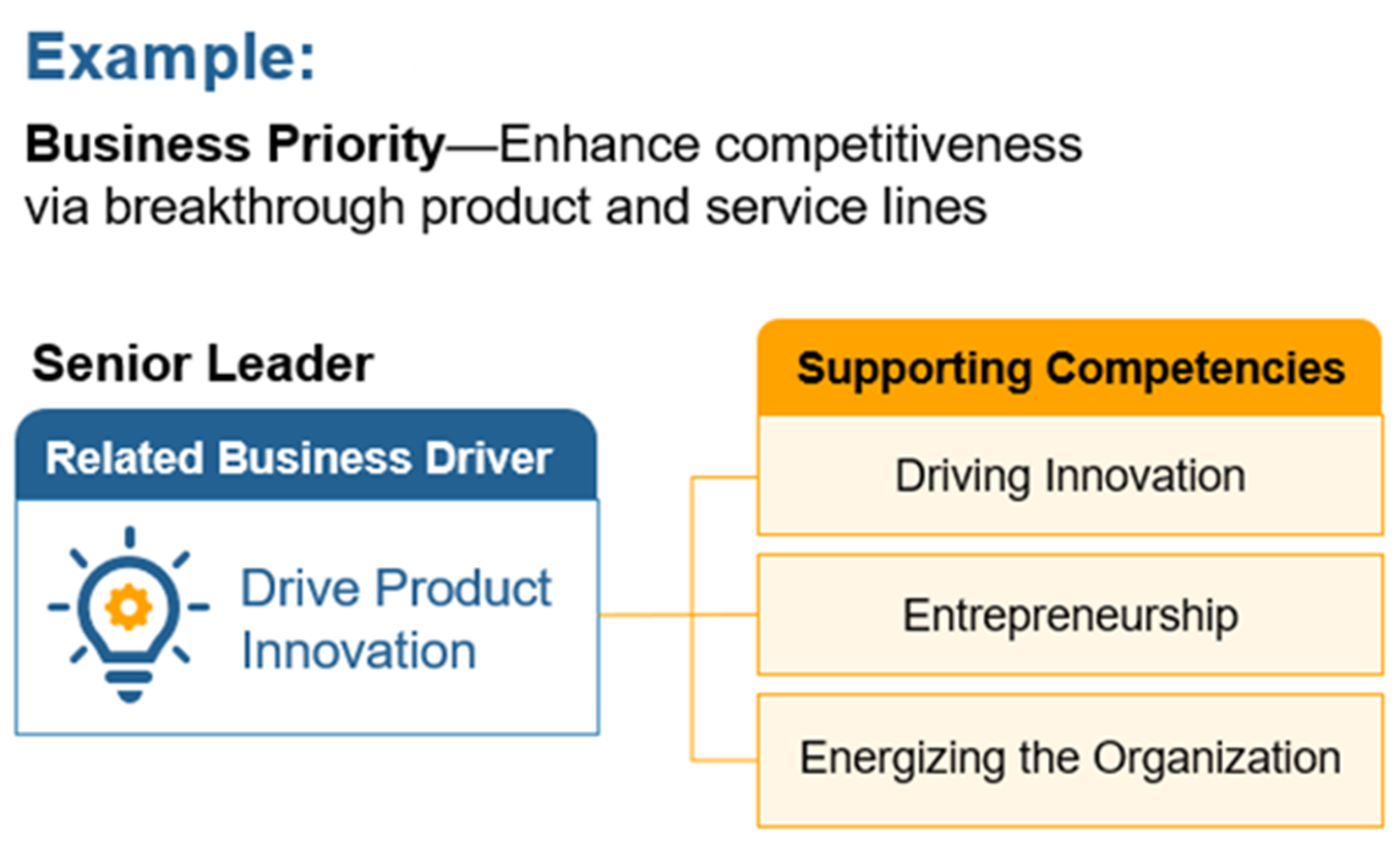 Look Ahead
Before the pandemic, many organizations could easily predict their challenges in the next three to five years, helping them groom leaders who could address these challenges. But as COVID has shifted markets and customer behavior, companies are experiencing the pressure to innovate and redefine their markets and their portfolio, needing leaders who are capable and prepared to lead through change and re-prioritization.
So as many companies are dramatically changing their business strategy, they may find that the leaders they have now, even the good leaders, are not ready for what's to come.
How can an organization ensure the capability and readiness of their leaders to face what's ahead? The key is connecting leadership skills and behaviors to business strategies.
Most businesses today are going through some significant shifting and transforming. Start with understanding how the business strategy is changing, then identify the key business drivers or business challenges that the leaders need to conquer to drive and successfully execute strategic and cultural priorities.
This will help you define leadership skills and behaviors that leaders need to acquire and develop, effectively readying your leaders for the future. It's crucial to note that this exercise is not a one-time event, rather, a continuous process that needs to be done to upskill and recalibrate your leaders as you push forward to your identified business horizon.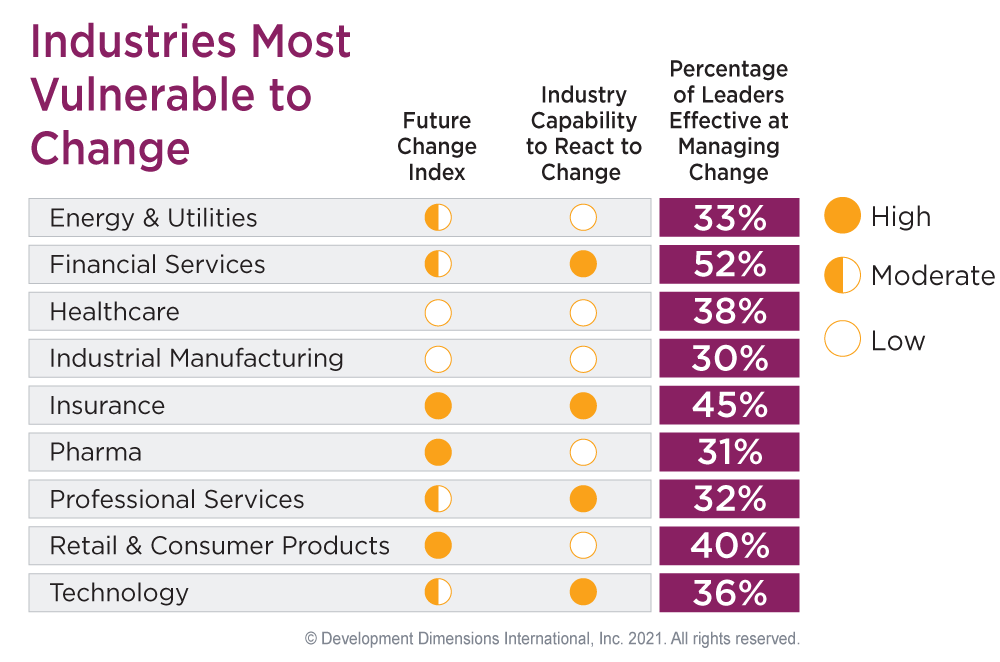 Look Around
While some companies are better prepared for change, many are not. In fact, many have not faced this level of change before. How prepared leaders are currently varies greatly by industry along with the anticipated pace of change, as seen in our Global Leadership Forecast 2021. Leaders in all industries will be challenged by a faster pace of change over the next 5-10 years, but CHROs indicate that some are less prepared than others.[4]
Identifying and adopting best practices from industries that are highly capable to react to change could strengthen an organization's capability to embrace and weather change. If the pandemic taught us anything in these past few months, it's that we are longer limited to options or choices that previously worked in one specific industry alone.
As industries changed, so did our norms. There is no limit to what we can learn and adopt from each other especially when it comes to preparing for the future.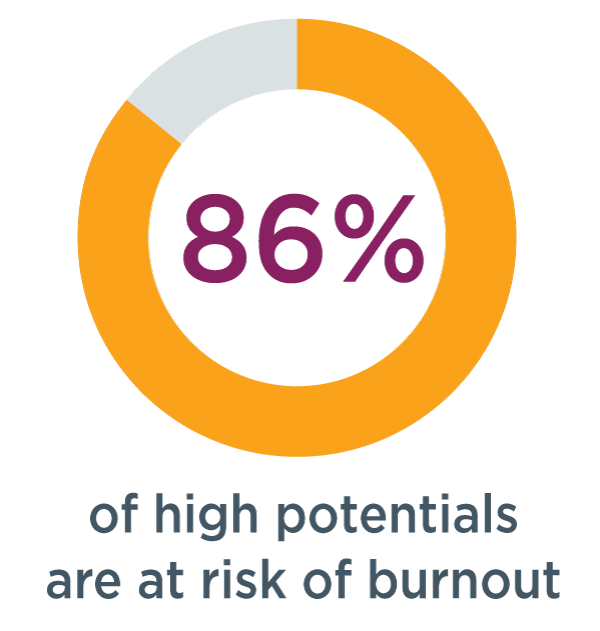 Leave Room
The start of the pandemic felt like a sprint. Adrenaline was high, leaders and employees alike responded with almost "heroic energy" to pitch in and unite the organization to keep the business afloat.
One year later, the novelty of the situation has worn off and the initial crisis energy has dissipated overtime. The sprint has now become a marathon, with engagement and motivation now the main challenges of leaders across industries.
The leaders themselves are running out of steam. Sixty percent of leaders have indicated they feel "used up" at the end of every workday, a strong indicator of burnout.
This stress was even higher for high-potential employees who aspire to leadership. According to more than 1,000 high-potential employees, 86% reported feeling used up at the end of their workday, a 27% increase over the past year. [4]
The most critical risk of this exhaustion is retention. So how do organizations manage burnout and prevent further exhaustion from oncoming changes resulting to attrition? Leave room for the following:
Human Conversations. Shifting from performance mentality to human mentality[5] could help ease the pandemic fatigue (and other potential burnout causes) and engage people at a more human level. Shifting the conversation in meetings by opening with "Are you okay? How's your family doing?" rather than diving straight into "How's the project going? Are we going to meet the numbers?" is a good start. When employees feel that their leaders see them and care for them as people, it's easier for them to connect and be engaged.
Empathy. Current research and past experiences in 2020 would show that the number one factor that influences burnout is the leader's ability to demonstrate empathy—the ability to understand people's perspectives. Common perspectives that will probably still ring true in the next 5–10 years would be fear of uncertainty, stress from new expectations or new productivity requirements, dread from stepping out of one's comfort zone, and upset about layoffs. Whatever the perspective of the employee, leaders must be able to understand and recognize them. Empathy, together with other leadership skills will help mitigate burnout[4].
Performance Alignment. In our 2018 GLF, we saw more value in spending more time focusing on development during performance discussions. Moving forward, given the ambiguity all organizations are facing, these discussions are going to be critical in avoiding burnout. Performance management will become Performance slignment. With so much change and uncertainty in the coming years, it's bound to happen that at some point what was a key priority indicator last month could no longer be a focus for next month. Having regular conversations will provide clarity and direction while ensuring that energy can be focused on what matters most. This will also provide a channel to give feedback about burnout.
Communicate
The future still looks unpredictable from where we stand right now. Dynamics around COVID, whether at a global or local scale, would bring anticipated and unimagined changes that will impact organizations.
How leaders handle critical conversations surrounding these changes are crucial in the stability and sustainability of organizations over time. And when the going gets tough, getting critical conversations right can make a world of a difference.
Focusing not only on the practical needs of the business (sales, customer satisfaction, production, etc.) but also personal needs (to be heard, to rest, to have clarity, etc.) will drive continued engagement.[6] With the high likelihood that work-from-home set up becomes a permanent facet of the future of work, workplace communication will remain nuanced and complicated in the absence of face-to-face interactions.
Critical conversations need careful thought and consideration to ensure that people feel valued, respected, listened to, and supported. Open and consistent communication will keep the organization aligned and engaged.
Maintain a Growth Mindset
Mindset expert Carol Dweck's research uncovered that people with a growth mindset perceive challenging situations and failures not as proof of foolishness or inability, but as a marvelous opportunity for learning and developing one's talents, skills, and intelligence.
With the challenges that will come in the years we are battling the pandemic and dealing with its impact, organizations must be comfortable, if not passionate, about stretching itself, even when it's not going as well as expected. This is the hallmark of growth mindset that allows people to thrive even during the most challenging moments of their lives. Adapting a growth mindset makes it easier for organizations to learn as they go and roll with the punches.
Future-proofing an organization's DNA is a continuous and relentless process. At the end of the day, organizations need to take stock of who they are and determine who they need to be not only to survive but thrive as the future unfolds. Evolution now is a conscious choice that organizations must make, or else they risk extinction at the dawn of the new world.
Sources:
[1] Rich, Brian. "The Principles of Future-Proofing: A Broader Understanding of Resiliency in the Historic Built Environment." Journal of Preservation Education and Research, vol. 7 (2014): 31–49.
[2] Development Dimensions International. 2018 Global Leadership Forecast
[3] Kuder, John. (March 8, 2017). Four Defensive Driving Principles. Avatarms.Com. https://avatarms.com/four-defensive-driving-principles/
[4] Development Dimensions International. 2021 Global Leadership Forecast
[5] How the Future of Work Will Transform Leadership | DDI (ddiworld.com)
[6] Critical Conversations: How to Get them Right | DDI (ddiworld.com)