When my bright and adorable nieces were five and eight years old, they and their parents came to visit me and my husband at Christmastime. All the way from Tennessee to Pennsylvania.
We four grown-ups would be sleeping in the main floor bedrooms of our one-story house. The two kiddies were bunking downstairs in the play room on a pull-out sofa bed. After a round of good night hugs and kisses, the darlings were all tucked in and ready for sweet dreams.
Or so we thought.
Not 30 minutes later, a sorrowful bleating emanated from below. It was the five-year old who had crept halfway up the stairs and was clinging to the bannister. She was crying her little eyes out.
"What's wrong?" her mama calmly asked. I observed more crying and incoherent babbling. You know. She's five.
Then her mom said, "I want to help you. Can you use your words to tell me why you are crying?" My small niece then managed, between sobs, to concisely and clearly explain, "I'm scared. I think I'm too little of a girl to sleep this far away from my parents."
A change in sleeping quarters was an easy fix. And what a marvel our girl is! Don't you think?
We all probably have encountered adults who couldn't identify their own emotions or express clear thoughts as well as this distressed child. As daughters of an artist/editor, my nieces had experienced plenty of guidance on words and speaking, so this caring parenting technique was amazingly effective.
Do leaders "use their words" effectively?
Of course, none of us would ever seriously tell an adult to "use your words." Once people have experience speaking in their native tongue for 20 years or so, they might take offense at a suggestion that they aren't adept.
However, DDI research shows there are overlooked aspects of communication that create an opportunity for many smart and well-intentioned leaders. For example, more than 50 percent of the frontline leaders covered in the study fell short in their communication abilities to:
Maintain others' self-esteem
Express understanding and empathy
Encourage and involve others
So, the opportunity is not about making oneself more clear. It's not about understanding more rules of grammar or vocabulary. It's not about becoming more enthralling. The most skilled leaders bring out the best in their people when they convey respect, empathy, inclusion, trust, and support with the words they use during their conversations.
For example, when making a change in a work process, a leader might tell her team, "Here's the new approach. We start doing it this way tomorrow." Not ambiguous. No animals are harmed in the production of such communication. No ill will is put forth. No one is being a jerk. That's good. But… Yet... Still... Don't we hanker for something more empathetic, more involving?
Words can be used to much better effect. Conversations can be more human. If you were on that team, wouldn't you be more energized to hear "After I describe the new approach, I'd like to hear about your concerns and ideas for making it work for us."?
The Missing Human Side
It's easy to lose sight of the heart, the human side behind business performance. The kind of communication skills that people call "soft" or "emotionally intelligent" don't make headlines and aren't featured in the annual report.
Your boss probably rarely asks how you recently used your conversations to focus and energize people. Most commonly, charts, metrics, and business plans track the non-human indicators of performance, such as revenue, profit, customer satisfaction, safety, and stock price.
This opportunity for better leadership through better communication is sometimes obscured by our love for the shiny raw intellect leaders can show.
We may believe that a leader's cognitive ability (IQ) will always win the day over their emotional intelligence (EQ). We might even think that emotionally intelligent communication skills are just a nice to have and are not necessary to get the work done.
Au contraire my friends! Both are needed (as illustrated in the graphic below), but when it comes to the most important duties of frontline leaders, namely leading teams and driving execution, EQ is the real key.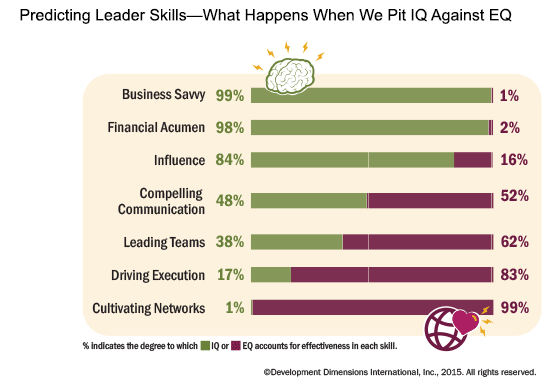 Successfully leading people and driving execution is more about inspiration than intellect. It's about how you make people feel in every conversation. And this makes perfect sense when you think about reasons leaders fail in their jobs. Isn't it more often a case of lacking sensitivity rather than lacking smarts?
Just as there are special ways to speak to children, there are ways of communicating that leaders can use to make every goal much easier to achieve. And rather than thinking of ourselves as lacking in our native language, we should think of ourselves as needing to become fluent in a second language, the language of leadership.
Discover why Interaction Management® is the most proven leadership development system.
Diane Bock is a senior consultant in DDI's Product Management Group and is passionate about helping organizations drive business results through people. She likes food to be French, shoes to be comfortable, and wisdom to be cheeky.
Topics covered in this blog