The Need
When subject matter experts moved into supervisor roles, Enbridge needed to focus on human-centered leadership and coaching skills to build effective teams.
The Solution
Enbridge rolled out frontline and high-potential programs that gave leaders the skills to lead safe and effective teams, with learning tools and content from DDI's leadership development subscription.
The Result
Effective key leadership behaviors increased nearly 20%, with the largest increases in communication and coaching skills.
A Transformation to Human-Centered Leadership
Enbridge is a multi-national energy delivery company based in North America with over 11,000 employees. The company employs a diverse workforce and promotes the values of safety, respect, integrity, inclusion, and high performance. Inspiring leaders are paramount to the success of Enbridge. They ignite purpose, empower people, and enable performance.
The Enbridge Leadership and Culture team knew they needed to support leaders in moving from a results-based, authoritative leadership style to a more human-centered leadership approach, as well as create an inclusive environment to increase employee engagement and maximize the retention of a diverse workforce.
"Inclusion takes listening and understanding. Any given people leader in our organization has this compound effect of how they need to lead," says Melissa Moye, Enbridge CHRIO. "For our business, being the first-choice employer, our leaders need to be accessible, visible, and in the moment coach to remove barriers so that employees and teams can do and be more autonomous."
Innovating Leadership Development at the Frontline
The development of first-level leaders and supervisors is the first step in creating this inclusive, high-performance culture.
Enbridge believed that establishing a culture of coaching would enable the company to successfully execute on their strategic plan through the collective actions of their employees. Coaching is viewed as a critical skill to leading an organization and enabling the full potential of their leaders and therefore became the foundation upon which all leadership development is built.
DDI helps us stay focused on delivering content that's important to our employees and makes the learning real for them.
Sara Sagarnaga Leadership and Culture Strategist at Enbridge Canada
"We intentionally build coaching capability at every level, including emerging leaders all the way to executive leaders," says Lisa Barrett, VP Talent and Inclusion at Enbridge. "Coaching capabilities allow leaders to be more inspiring, innovative, and inclusive."
The company found that many new leaders and supervisors were deep subject matter experts but didn't necessarily have the leadership and coaching capabilities required. Enbridge looked to their current leadership programs, and they realized that their learners demonstrated less behavioral change than expected related to coaching. Feedback from learners indicated that they wanted development to include real challenges faced on the job and more time to network with their peers. They wanted to grow as both leaders and as coaches.
Enbridge decided to partner with DDI to craft a frontline leadership development program focused on providing supervisors with skills to:
Coach team members (tell less, ask more).
Build trust to ensure psychological safety and workplace safety is strong and present.
Communicate effectively using DDI Key Principles, including empathy, involvement, and support.
They did this by using coaching techniques in DDI's experiential exercises, along with self-directed digital learning and peer problem-solving groups called Masterminds. The team was confident that these improvements to their development programs would drive Enbridge's goal of building a coaching culture from the ground up.
Over the course of two years, Enbridge launched two carefully designed blended learning certificate programs approximately five months in duration: one for supervisors and one for high-potential employee groups. Both leveraged DDI's leadership development subscription content and insights across various skill areas in the form of assessments, microcourses, simulations, classroom delivery, and peer coaching. Each skill area or module comprised three distinct phases that built on one another through short bursts of applied learning.
Moving to Interactive Blended Learning Journeys
With the help of DDI and after considering employee feedback, Enbridge focused on core changes to development initiatives for supervisors and high-performing employees. DDI helped build out learning scenarios to fit the unique experiences of employees and participants found value in learning from each other and were able to share both common and unique challenges they faced as leaders. They moved from a generic leadership program to one that met the individual and collective needs of supervisors across the company.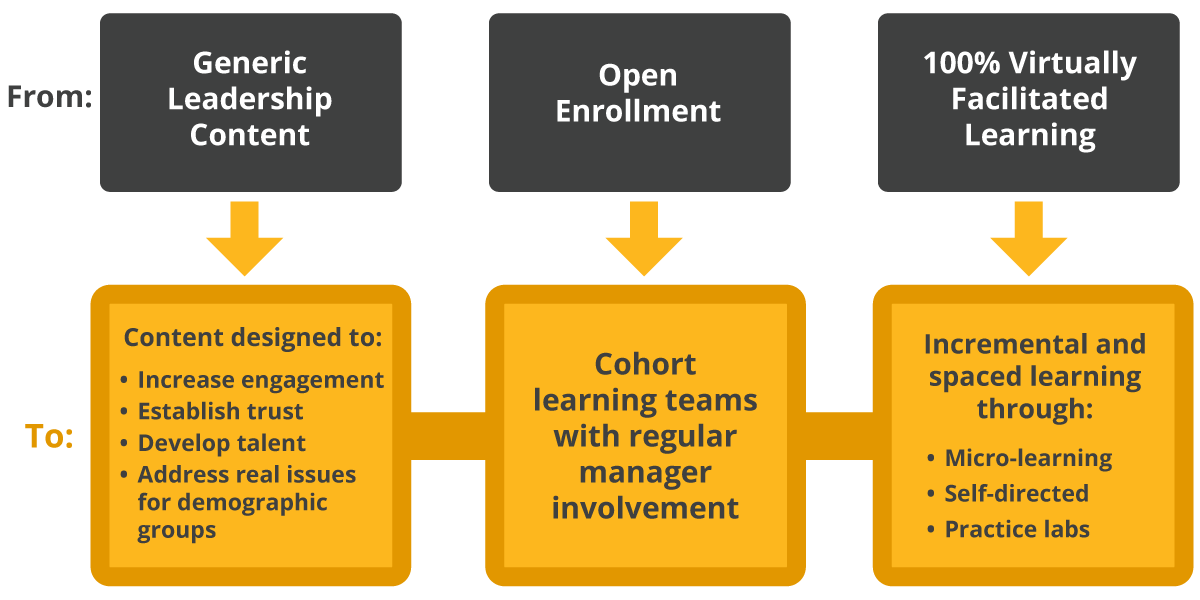 Improved Learner Engagement
Most leaders across both programs completed all self-directed learning and attended most labs. This strong participation was influenced by increased accountability from learners' managers as well as their peers. Learners' managers even participated in learning activities during the kickoff and at graduation. DDI's Leadership Habit Builder also provided formative insights into participants' behavior changes as reported by leaders and direct reports.
Measuring Real Behavior Change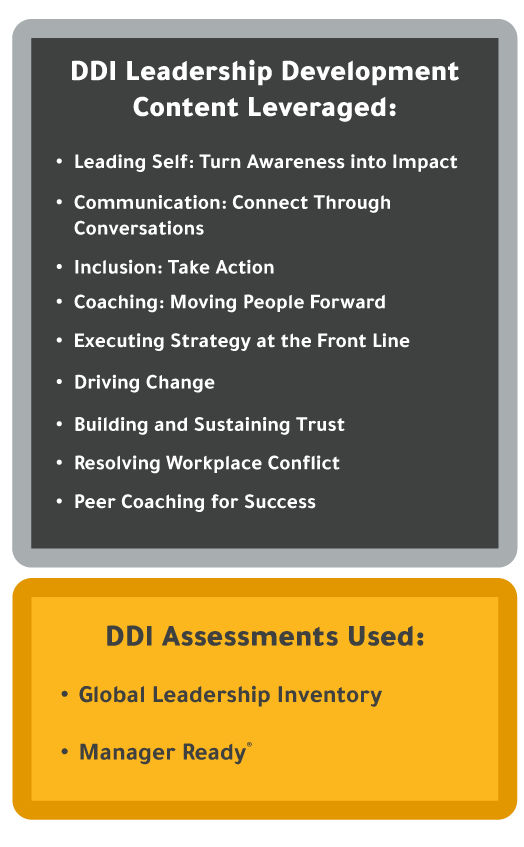 Enbridge and DDI worked together to produce an impact evaluation study on the success of both programs. The study showed that leaders were an average of 20% more effective on key leadership behaviors, as rated by their team members and leaders. The largest impact was how leaders communicated with and coached their team members. They were approaching work from a human-centered leadership point of view.
Other results indicated that learners' team productivity increased by an average of 86% compared to their productivity before starting the program. In addition, 91% of learners indicated that the development program increased their engagement in being a leader in the organization.
Program participants spoke of the richness of the conversations between cohorts and how the learning labs provided a great opportunity for them to apply learnings, share challenges, and practice new skills.
"Many of our leaders come into their roles feeling like they need to know everything, and they need to come up with the solution," says Jeanne Berdon-Wong, Talent Management Program Advisor at Enbridge. "But that's shifted since the program and many leaders are using their coaching skills to be open to the insights of their team members and empower them, using a people-centered approach to get things done."
Here are some additional insights the Enbridge team gained along the way:
Facilitate peer coaching groups to problem-solve challenges and offer real-time feedback so learners can pivot quickly and effectively.
Pair leaders of learners with peer partners to reinforce accountability and encourage support for coaching conversations.
Keep all program elements as short as possible, repeating and building on concepts in different ways.
Pair DDI leadership content and other safety or ESG educational training together. Leverage your DDI consultant to identify skills that support other development programs.
DEI training works best when integrated into leadership scenarios in a thoughtful manner, using learner examples and scenarios to make them relevant versus theoretical.
A Journey of Continuous Transformation
The transformation of supervisor and high-potential leadership development at Enbridge evolves and matures a little more each year. The Enbridge team found that creating a leadership development culture focused on human-centered methods requires an ecosystem of deliberate and repetitive learning design and managerial reinforcement along the way. It also requires buy-in from senior leadership.
"Our senior leaders are stakeholders for our programs and are very engaged with what we're doing," says Sara Sagarnaga, Leadership and Culture Strategist at Enbridge. "Building this trust with them has allowed us to gain buy-in for our leadership programs and has helped us build a great reputation for our programs throughout the organization."
Enbridge continues to develop inspiring, inclusive, and innovative leaders at all levels. They are a first-choice energy delivery company, building the energy systems of tomorrow.
Learn more about DDI's leadership development subscriptions.
Topics covered in this blog