Creating a coaching culture is a high priority for many HR teams. The problem? Some HR teams go about building a coaching culture in the wrong way. They coach and train top-level leaders about how to coach effectively and why a coaching culture is important. But to be successful, HR teams must take a broader organizational approach.
For example, I work closely with the performance management leadership team at a fast-growing insurance company. While this organization has internal certified coaches, they were angling for more budget to give VP-level leaders one-on-one coaching. What outcome did they want to achieve with one-on-one executive coaching? They hoped to solve specific leadership challenges and influence an organizational coaching culture from the top down.
In reality, coaching senior leaders about complex leadership and business challenges has little to do with supporting a shift towards a coaching culture. So what does a coaching culture look like and what models can organizations use to create it?
What Is a Coaching Culture?
Imagine a workplace culture where team members play to their strengths, help one another to be their best selves, and push forward awesome solutions. A coaching culture creates a safe space for these moments to blossom. In such a culture, learning can come from a variety of sources: peers, managers, direct reports, and external coaches. When everyone in a company can be a coach, everyone benefits.
In an organization with a strong coaching culture, everyone is equipped with core coaching skills. But it's an organization's leaders who drum up energy about the importance of coaching on their individual teams. They do this by encouraging their employees to continuously develop and change behavior. They give feedback of all types regularly and ask for it in return—especially from their direct reports.
Above all, they are constantly modeling positive coaching behaviors, including encouraging their team members to find solutions, while still offering support along the way and offering opportunities for team members to enhance their strengths. When team members see a positive coaching example from their leaders, they can become a group of good coaches to each other.
What a Thriving Coaching Culture Looks Like
Organizations that sustain a coaching culture approach it with a sense of purpose. They often consider coaching an organizational competency for leaders at all levels to develop. They select coaches carefully and measure behavioral change among coachees. Even under stressful conditions, coaching-focused leaders are supportive and collaborative versus directive in their leadership approach. They ask questions and empower coachees in the moment.
For example, one mid-level marketing leader I coached held staff meetings every two weeks, reserving 10 minutes at the end to ask two coaching reflection questions:
What did you really get out of this meeting?
How am I doing/What can I do better to support you?
As a coach, she expressed courage and vulnerability and set an example by encouraging her team to coach her back in the moment. Coaching-focused leaders give and receive feedback to help their employees be their best and accelerate toward goals they are passionate about.
What Is Common in a Thriving Coaching Culture?
Here are seven common themes I see in organizations with thriving coaching cultures:
1. Employees communicate candidly.
You might hear phrases like "How do you think that went?" or "What might you do differently next time?" These in-the-moment coaching opportunities create more openness around giving and receiving feedback than in organizations where you might hear "Let's schedule time to debrief" instead.
2. Employees open up to their leaders because their leaders empathize with them.
When leaders show empathy, they are signaling that they are genuinely interested in their employees' lives, including personal and work-related challenges. Empathetic leaders recognize the emotions of others and focus on building real relationships.
3. Leaders listen intently and balance seeking and telling.
Leaders take the time to listen to employee concerns, feedback, and challenges. They ask clarifying questions to make sure they fully understand and offer advice only after listening and clarifying.
4. Leaders coach people, not problems.
Leaders should draw from a mental toolkit of how and what questions to help them stay curious about their coachee and help the coachee build problem-solving skills. Coaches shouldn't simply offer solutions to the problem at hand.
5. Employees are committed to their development.
Coaching can help employees and leaders at all levels be excited about tackling new challenges and responsibilities, rather than feeling that they are executing another leader's agenda.
6. Leaders offer support without getting involved.
Instead of taking over responsibilities of tasks or projects for their employees, coaching-focused leaders allow their employees to own and execute their own responsibilities. Leaders may ask, "How can I support you?" but they don't remove responsibilities from their employees.
7. Leaders have a growth mindset and learn from their team members.
Everyone in the organization believes that they can develop new skills or improve existing ones if they work at it. Collaborating and coaching each other is a key way to expand abilities and solve difficult problems.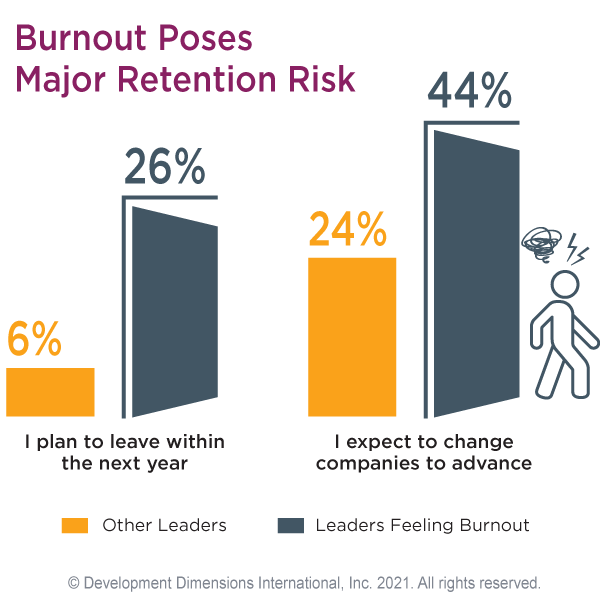 How Do Employees Respond to a Coaching Culture?
According to the 2021 DDI Global Leadership Forecast, managers at all levels are burnt out dealing with blurred lines of home and work while managing hybrid teams from remote locations. It's never been more important to make connections through a coach-based approach. It's also never been more important to praise high performers. Those spending their time doing really hard things need to be recognized, although they may be the employees who would never ask for praise.
In the recent HBR article "The Real Secret to Retaining Talent," Roger L. Martin discusses how to retain employees in this post-pandemic climate. You have to make your employees feel heard by listening to their ideas and helping them apply their skills. Be cautious not to inadvertently block your employees' development or make them feel like there aren't opportunities for development. People want to work in an environment where they can expand their skills.
Additionally, people want to be coached so they can see the path ahead. They want to be coached to grow and develop their skills. And they want to be given opportunities to practice new skills and take on different and more responsibilities.
The bottom line? When employees are part of a thriving coaching culture, they are much less likely to leave. Coaching is a powerful retention tool.
What Coaching Model Should Your Organization Use?
The 2021 HCI and International Coaching Federation report "Building Strong Coaching Cultures for the Future" reveals that the popularity of coaching is increasing and organizations are valuing coaching skills across managerial levels. However, scaling coaching cost-effectively for maximum results remains difficult. Many organizations continue to focus resources at the senior leadership level because that's how it's always been done.
So how can you disrupt the pattern or, at a minimum, think more broadly about building a coaching culture?
A coaching culture will be difficult to achieve if each team member holds their own interpretation of what coaching means. Therefore, it's a good idea to establish a simple yet effective coaching model for your work group to follow. If your organization doesn't have one, you might adopt DDI's ACE (Ask, Connect, Energize) approach. If you do have a coaching model, perhaps you could add some insights from ACE to it.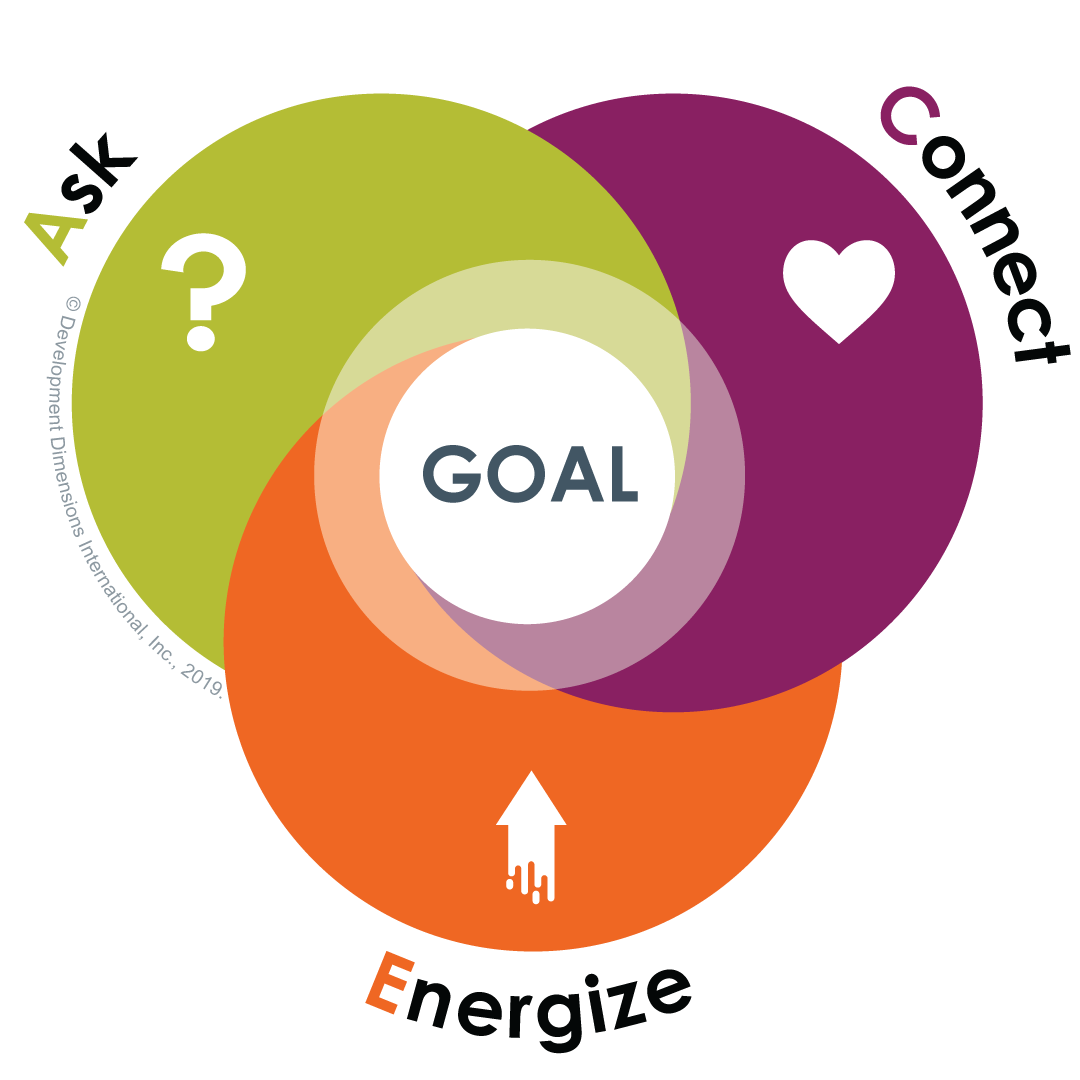 ACE is easy to remember and practice. The approach focuses on Asking the coachee questions to spark innovative ideas and solutions. By seeking more than telling, a coach can uncover details about the situation or task, how the coachee is feeling about it, and possible solutions or next steps.
ACE also focuses on a key element often forgotten by other models—Connection. Establishing a connection with the coachee is crucial to developing trust. The ACE model develops trust by maintaining or enhancing self-esteem, listening, responding with empathy, and, with permission, sharing your own thoughts, feelings, and rationale as someone who has "been there and done that."
Finally, "Energize" happens when the coach engages the coachee's heart and head to bring out their best. But the coach also establishes accountability by setting up quick check-in meetings and encouraging team members to seek help from subject matter experts outside of the team.
What to Consider When Matching Coaches to Leaders
Coaches—like leaders—come into their role with different experiences and approaches. Before matching coaches to leaders, interview the coaches to understand their areas of expertise and references. Some coaches are experienced with coaching senior leaders to support succession planning and other core organization development changes.
Other coaches are skilled at providing feedback from assessments or working one-on-one with first-time leaders who are developing foundational skill sets. Coach fit is important for building trust and having frank conversations. The coachee's needs must remain front and center.
How Can Leaders and Teams Best Practice Coaching?
Many of my clients have benefitted from integrating coaching practice into a range of leadership and development programs. And remember: training on coaching shouldn't be all theory. If coaching skills are going to stick, people need opportunities to practice core skills like giving and receiving feedback, having tough conversations, and more.
So how can organizations help people practice coaching? Here are some examples:
Virtual Reality: Practice having difficult coaching conversations using a realistic simulation in a comfortable environment where it's okay to fail.
Interactive Tools: Use chatbots to practice coaching conversations and self-insight tools to learn your coaching strengths and skill gaps.
Leadership Assessment: One-on-one coaching can be amplified when coaching is kicked off with a leadership assessment. Assessment data can be used to find skill gaps that can become the focus of the coaching.
Creating a Coaching Culture Takes Time
Being a great coach isn't easy, and the best ones I know are constantly working on themselves. This growth mindset is exactly what helps to create a coaching culture. But remember, cultural change takes time and requires all leaders—regardless of level—to reinforce the message and create momentum.
Learn more about how to build a coaching culture.
Deborah Boccongelle is a busy leadership education advisor and executive coach at DDI Canada. Based in Toronto, she partners with organizations to build consistent multidirectional coaching practices and education that drive intended business results.
Topics covered in this blog