Virtual Reality Training for Soft Skills
Up Your Training Game with Immersive Learning
Some of the toughest moments in a leader's career are the difficult conversations with others. Making those conversations go well depends on a leader's soft skills, such as listening and showing empathy.
But the problem is that they rarely get to practice first, especially in emotionally charged situations. Virtual reality training for soft skills creates a deeply relevant, hands-on approach that your leaders will find memorable and authentic.
We're excited to partner with Strivr, the market leader in VR training, to deliver an end-to-end solution so you can pioneer immersive learning in your organization.
What VR for Soft Skills Training Looks Like
In virtual reality, we can quickly show your leaders how they can practice their skills on the job. We create realistic simulations that put your leaders face to face with team members or a direct report. They'll get hit with tough challenges, like difficult coaching conversations, resolving team conflict, or communicating change.
In VR, leaders experience a phenomenon called "presence." That's where the brain treats a virtual experience the same way as a real experience. Plus, leaders get to experience situations and emotions from another's perspective to see the real outcomes of their decisions and actions.
In addition, leaders can also record and play back the scenario to review their performance. This gives them the opportunity to reflect on what they did well and what they can do better.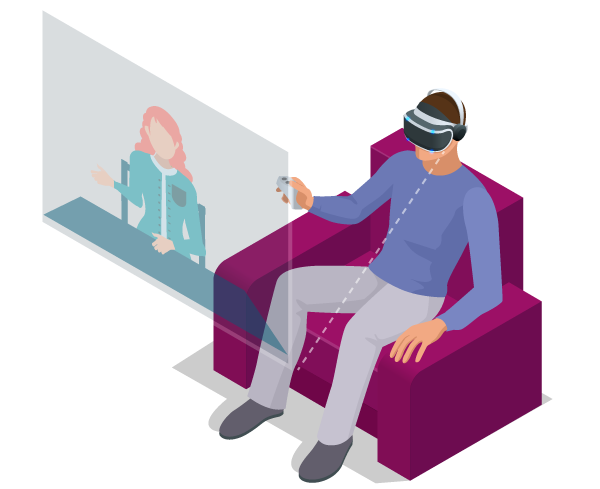 A Powerful "Flipped" Learning Experience
Flipped learning is one of the hottest new trends in leadership development. Why? It makes the best use of time. Leaders can learn content online or in a virtual classroom. But then they come together to practice their skills and discuss their experience, struggles, and insights.
With our virtual reality training for soft skills, you get the benefits of both flipped and immersive learning. We combine DDI's award-winning leadership development content with virtual reality skill practice on Strivr's immersive learning platform. Once leaders understand the concepts through an online course, they are immersed in virtual reality to practice in a safe environment. Then comes the most powerful part: The discussion with their peers.
Try and Fail—Without Risk
DDI'S virtual reality training for soft skills is as close as you can get to the real thing without any consequences if you make a mistake. And it is perfect for practice.
There's no one to be embarrassed in front of in VR. No nervous role playing. You can practice without worrying that a co-worker or partner is judging you. And technology never gets tired or impatient. So you can practice until you feel comfortable.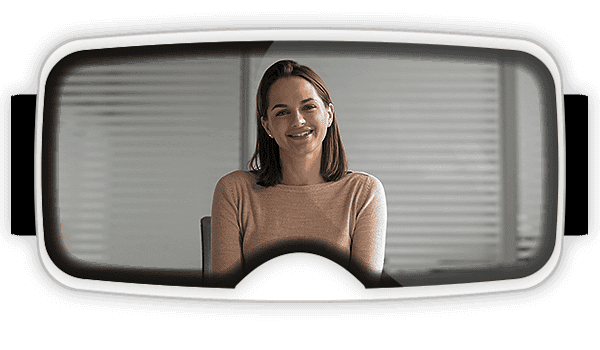 Build Confidence in Leadership Skills
The editors at HR Executive Magazine took a deep dive into virtual reality training for soft skills. When they tried the experience, they saw it as a new way for leaders to build confidence in their skills. HR Executive also interviewed DDI clients who tried the experience with their leaders.
According to Yon Sugiharto, Director of Learning and Development for Yale Medicine, "This is more than just having someone stand in front of a classroom and teach leadership. Our faculty don't have a lot of time to attend scheduled classes, so to offer a safe environment where they can don their VR goggles at a time which is more convenient to them and have their learning experiences, it would offer enhanced engagement for them."
Immersive Learning at Its Best
Virtual reality is often used to train people on hard skills like safety, medical operations, and tasks like stocking shelves. DDI's partnership with market leader Strivr is creating a new frontier for leadership development and soft skills.
"In a time when workforces are more dispersed and potentially more disengaged than ever before, rapid and effective skills development for leaders can be the key to ensuring their businesses succeed," said Derek Belch, founder and CEO of Strivr. "Together with DDI, we are enabling organizations to address these challenges head on through an immersive learning platform that delivers critical and scalable VR experiences to build and elevate leadership performance."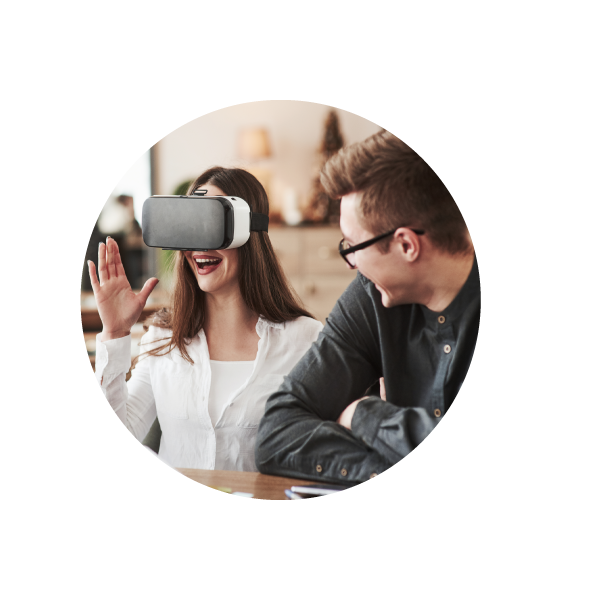 Deliver DDI's VR Experiences Like a Pro
Are you planning a large-scale implementation of DDI's VR experiences as part of your company's leadership program? Our half-day Facilitator Booster: Virtual Reality session ensures you have the confidence and skills to be successful.
You'll learn how to manage a variety of challenging situations that can arise in VR sessions. Additionally, you'll learn fundamental facilitation skills, immersive learning design principles, and techniques to use VR to its fullest.