When it comes to leadership development, planning a great program is only half the battle. It's also important to consider how to implement a leadership development program so it's sure to succeed.
Here are 10 implementation best practices:
1. Connect overall program goals to high-level business goals.
Are the goals of your leadership development program aligned with the strategic goals of your business? It's important to review your company's strategic priorities and consider what skills your leaders need to accomplish them.
Also consider what is needed to drive your company culture. Then, think about the culture for leadership development at your organization. Ask: does the new leadership development program support our company culture? And, what, if anything, in your company's learning culture needs to change to ensure this program is successful?
Above all, it's necessary to have a clear, compelling vision of how the skills you are building in your leadership development program connect to the leadership road map in your company. You want clear lines of sight to map business priorities with the way leaders need to change or enhance skills to propel the business forward. Your executives will expect visible links to your business.
Questions to ask:
What is the desired outcome of the leadership development initiative?
What is driving the initiative?
What are the benefits of these outcomes and are they big enough so that leaders and associates will see these outcomes as desirable?
What will people be saying, thinking, and doing differently when this initiative is implemented?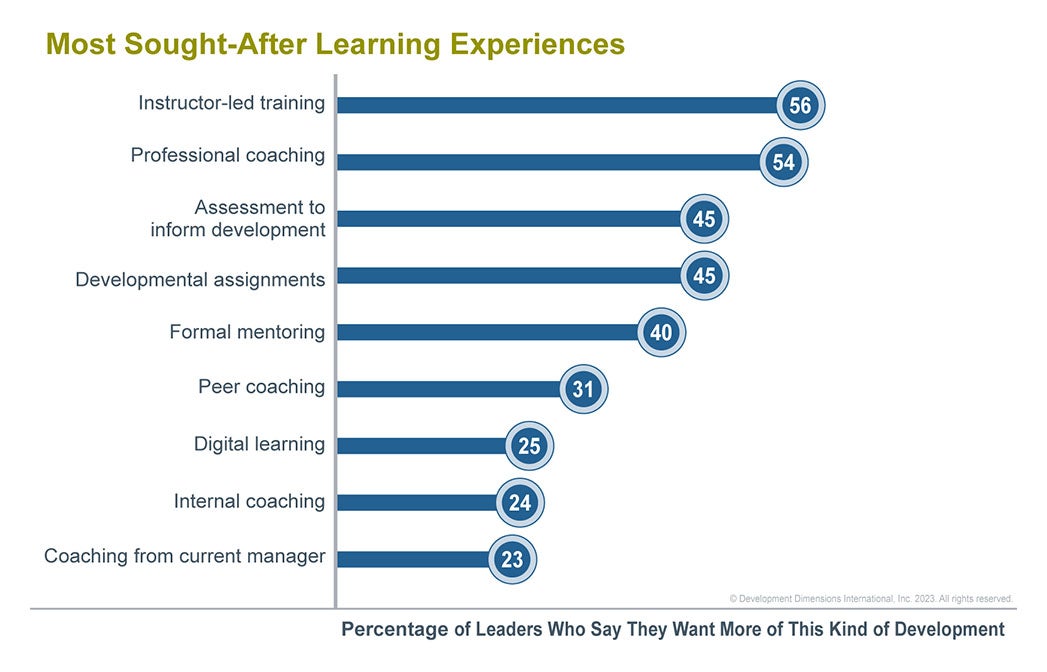 2. Plan a learning journey that's right for your learners' needs.
There's a lot that goes into planning the learning journey. (For a great resource on planning virtual learning journeys, check out our on-demand webinar.)
But I'll briefly mention two key points here. First, ensure you are tying the learning journey to well-constructed competencies. What do you need your leaders to do, and why? And what specific leadership behaviors are you looking to build? Plus, don't forget to ensure the skills your leaders are developing align to your company's business goals.
The second is to think ahead about the right format to meet your learners' needs and preferences. Do your learners need a completely virtual learning journey? Do you want them primarily learning together or exploring on their own? Is a blended learning journey the right choice?
According to our latest Global Leadership Forecast research, most leaders say they want to learn through interactive experiences with their peers, with less time spent on self-driven learning. They ranked live, instructor-led training as their top choice, followed by professional leadership coaching. Next up, they chose assessments to guide their experiences and then developmental assignments to test out new leadership skills.
Questions to ask:
How do your learners like to learn?
Is there a particular learning format that would work better than another due to remote work or other geographical considerations?
What does success look like on the job for the leaders you are developing?
What development gaps are the most critical to close, and why?
What leadership assessment results, engagement results, or other data is available to help design an optimal solution?
3. Know who your sponsors and allies are and get them on board.
I worked with a large global company that was excellent at gaining visible sponsors. But how did they do it?
The company's global director of leadership development and program owner of the initiative set up calls with key internal stakeholders and traveled to key regions in advance of the program launch to explain its value. As part of this communication, the global director also showed estimated metrics, answered questions, and trained local resources.
The bottom line? This company made sure there was strategic alignment to local leadership before officially launching the program. Local leadership then felt committed and compelled to support the corporate training plan. This global director was great at identifying sponsors and allies and getting others to share the load of supporting the initiative.
Questions to ask:
Who are your key sponsors and allies in various business units and locations?
Who else sees value in building these skills?
What are you doing to engage sponsors in supporting and communicating the initiative and results?
How can local leadership be part of a recognition strategy when metrics are achieved?
4. Give managers the tools to help their learners succeed.
In addition to your sponsors and allies, pay close attention to the role that can block the learning—the manager of your learner. Our research shows the biggest lever you can pull to increase the impact of your program is to involve the managers of leaders in supporting and reinforcing the application of new skills.
And over the years, I've seen this role expand. Managers have moved from often being just someone copied on the confirmation email of their direct report's training activities to becoming a key sponsor of the learning initiative.
Savvy leadership development program owners host orientation calls for this group, teaching them how to coach their associates involved in the program. Program owners also conduct focused training sessions on necessary skills so managers can model them correctly. These sessions are designed to help managers support meaningful development plans for program participants and, overall, make it easy for managers of learners to be successful.
But most importantly, program owners help managers understand why the initiative is relevant. They are experts at showing how those particular skills are critical to the success of their business.
Questions to ask:
How have you incorporated the manager of the learner into the learning program?
Have you oriented them to this experience and explained their role?
How will they support long-term behavior change?
In what way can you build skills of the manager of the learners so they can coach and model skills?
5. Think about what elements need to be (globally) consistent and what can be adjusted.
One of the best lessons for global leadership development implementations is to strategically decide what design elements must be consistent around the globe, and what can be adjusted to regional preferences. But it's also important to think about specific items that may need to be adjusted for more local events.
For example, right before the pandemic, one company was adamant they needed 100% compliance with a multi-day learning initiative that was to be deployed worldwide down to the same daily schedule. It was important to them that all learners perceived that they were getting a fair experience. The only concession was local language. The result? Pilot participants walked out of the program early because they took regional trains and couldn't miss their transportation home.
However, the opposite of this "one size fits all" approach is where companies appear to favor one employee population (say the corporate team, sales team, or some other "favorite" group) with learning extras not available to all. These learning extras can be things like assessments, online learning, freebies for attending leadership training, lavish meals, or afternoons off on training days. Learners in other regions hear about these extras and wonder why they pay the same internal chargeback as the other group.
The takeaway? Identify the critical core that must be consistently taught to ensure the leadership skills grow. Then, work with your local teams to adjust to local preferences. Your learners will be more engaged, willing to participate, and will learn more.
Questions to ask:
What design element(s) of your learning experience must be consistently deployed?
What learning content (skills) must be consistently taught to meet business and culture goals?
What can be adjusted to local preferences or needs?
How are you involving the regional sponsors in adjusting content and design?
6. Build a deployment plan and consider whether you need to run a pilot.
One of the first things to do is decide "Who goes first?" Then, "Where do we pilot?" Pilots are easier now with many more companies running virtual sessions. But think through time zones, language, and your target audience. I have seen many grumpy learners (understandably so) who are asked to attend long training events starting at 5 a.m.
Additionally, the launch plan may seem to take on a life of its own with spreadsheets, attendance lists, and tracking. As one client says, "We go slow here to go fast later." A best practice is to take time early on to identify protocols across major areas (for example: technology, LMS, enrollment, attendance, evaluation, tracking, materials deployment, translations, and recognition).
Test the draft protocols with regional support team members and other internal partners. After all, no one likes to be told the role they must play or levels of service to provide. It's also good to confirm approaches and policies in advance (for example: Is attendance to our leadership training program voluntary or mandatory? What if someone drops out halfway through my virtual class—does it count as attended? How will we move to electronic material distribution?).
Questions to ask:
What is your desired timeline for implementation?
Do you need to pilot your learning program and what do you hope to learn from a pilot?
How can you prioritize pilot feedback and adjust?
Have you confirmed and communicated protocols to launch and maintain your leadership development initiative?
What contingency plans are in place if something goes off track?
Do you have standard responses for training coordination topics?
7. Don't forget about the other essential players.
Of course your learners are important, as are the sponsors and allies already discussed. But the essential players—the ones you can't do without—are the facilitators, producers, and project support team members who will make the leadership program happen. They deserve special focus.
Program designers treat each resource carefully, with well-thought-out selection and education for all players, if possible. Often, however, companies are lean on resources. Program designers also work to optimize the resources they do have with education, open communication channels, solid protocols, and clear accountabilities.
Questions to ask:
How are you identifying your facilitation or technical producer resources?
Are you upskilling facilitators to reflect changing norms in the classroom around inclusion and psychological safety?
Have you clarified roles and accountabilities for your various project team members?
What are the best ways for your project teams and facilitators/producers to share lessons learned and seek help?
How robust is your feedback loop between the project team members and you (program owner)?
8. Brand your program to connect with learners.
I have seen dozens of leadership development training initiatives roll out under very practical names (for example: New Nursing Curriculum, Supervisory Basics). But some organizations choose to brand their initiative for a more memorable experience.
For example, I've seen programs like STEP, LEAD, LEAP, PIVOT, and STRIVE. These names suggest growth and allow learners to have a common language and shared experience. Most of these branded programs include company brand colors and some even have specific program logos.
Questions to ask:
Would your leadership initiative benefit from a specific brand/name, especially to create an experience around a series of learning events?
Have you tested potential names for both local and global fit?
9. Make it easy for learners to get started.
Make it easy for learners to find your program and want to be there!
Map out your touchpoints for all key roles: your learners, managers of learners, sponsors, and key partners. Some companies are automating touchpoints using their learning management system to deliver standard communications with less effort. And it's important to review your communications for conciseness and clarity.
So above all, audit your communications. Are you conveying facts only, or are you getting your learners excited about the program? Write to excite and encourage learners to see the relevance and value of the learning initiative. It's nice to link a senior sponsor to the communication efforts. Ask for key internal influencers at all levels to promote and share interest in the program.
Questions to ask:
Have you planned out all communications from enrollment to graduation in the learning process?
Have you done enough to market the program and encourage participation and visibility?
How are you sharing quick wins, successes, and learner testimonials?
10. Measure to show value.
There is a tremendous effort behind creating and launching any training initiative. Perhaps because of this, some companies run out of steam when it comes to measurement. According to our Global Leadership Forecast research, only 18% of organizations measure the business impacts of their leadership development efforts.
For example, I recall talking to a VP of learning who shared, "Yes, we want to measure, but we are moving too fast. We can tell by the sizzle in the room if this is successful." That is a hard standard to attain!
A best practice is to identify outcomes you expect to achieve and consider what your stakeholders expect. Then, use the measurement data you collect to demonstrate the business value of the initiative, identify opportunities to increase program impact, and guide future decisions.
Questions to ask:
How do you expect this program to impact the business?
What would success look like for you and your stakeholders?
How can we measure impact over time? Have you updated your measurement systems to ensure you can collect the data you need to evaluate the success of the leadership development initiative?
Is your standard training evaluation form collecting data to show value?
Creating a Successful Leadership Development Program Starts with You
So, how do you implement a leadership development program that's sure to succeed? These 10 best practices are a great place to start.
Armed with the knowledge and skills to be successful, you're ready to build and deliver a leadership development program to accelerate your business and enhance the skills and satisfaction of your leaders.
Learn how to manage a successful leadership development program in DDI's Ultimate Guide to Leadership Development.
Angelle Lafrance is Director, Learning Strategies for DDI. When not helping clients launch global training initiatives, you might find Angelle facilitating a leadership development course or selecting family road trip destinations!
Topics covered in this blog