The Need
Edwards faced excellent forecasted future growth amid an ever-changing business landscape—and the company needed to be sure its senior leaders were up to the challenge.
The Solution
An enterprise-wide leadership development program with a focus on leading with purpose, inclusion, and influence, plus building crucial skills for the top 250 senior leaders to drive company growth.
The Result
Edwards noticed a significant increase in senior leaders' capability, improved senior leader engagement, improved team productivity, plus qualitative participant feedback showing the development had a real impact on leadership effectiveness.
Equipping Leaders for Success Amid Growth and Change
Edwards, a global vacuum and ultra-high vacuum pump manufacturer, provides innovative and sustainably created products that help their tens of thousands of customers perform critical tasks every day. As they stood on the cusp of significant business growth, one key challenge stood in their way: the capability of their leaders.
Historically, the company had promoted people who were exceptional technical experts. But to create the culture that would attract and retain top talent to support their growth moving forward, they needed to put a new emphasis on people leadership.
One senior leader from Edwards succinctly summed up the issue at hand: "We have never needed our leaders to lead more than now." But how could Edwards prepare their leaders to engage their teams more than ever, especially as global supply chains and business conditions were becoming more volatile?
Ensuring Alignment and Gaining Support at the Top
The organization's top senior leadership—including the Global Head of Talent and the Presidents—worked in partnership with DDI to first ensure alignment of the talent and development strategy with the overall business strategy.
Another key tenet of the program strategy was ensuring there was C-level leadership support for all development programs moving forward. The company's presidents were the main sponsors, advocates, and first adopters of the senior leadership development program set for initial rollout.
"Our presidents' participation, ownership, and demonstration of visible leadership and role modeling set the tone for the launch of our senior leadership development program," says Laura Lane, Global Head of Talent at Edwards. "Their participation and advocacy of the program set a strong example for the prioritization of the development and learning culture being created."
Pulling (Not Pushing) Leaders into the Program
To ensure leadership bench strength was aligned to forecasted growth, Edwards targeted initial development efforts toward their senior leaders. Strengthening their senior leader talent pipeline was going to be essential in helping the organization realize its optimistic forecast.
In collaboration with the DDI team, Edwards focused on launching its first enterprise-wide leadership development program, targeting the organization's top 250 senior leaders.
The Edwards' senior leadership development program kicked off under the name People Leadership Essentials (PLE), and senior leader participation in the program was not mandatory. This was a very intentional decision made by the talent team at Edwards.
They created their leadership development initiative to follow a "pull" strategy, meaning leaders chose whether or not to attend and aren't forced into it. They wanted to create a program so compelling that leaders would proactively lean into the opportunities presented. This approach may contradict what other businesses would do in volatile times, but the talent team was aligned on their ambition to "pull" and not "push" leaders into development.
Over the course of several cohorts, participant rates exceeded 80%, so the vast majority of senior leaders at Edwards took part in the optional development program. And many of those senior leaders who haven't yet attended are enrolled for upcoming sessions of PLE.
A Foundation Built on Experiential, Blended Learning
PLE was structured as an interactive and experiential blended learning journey. The program included a core curriculum curated based on the competencies identified as foundational for senior-level leaders at the organization, as learned in the initial in-depth business and leadership analysis.
Additionally, because the program was to be launched during the pandemic, it needed to be easily accessible and globally relevant. On that basis, virtual instructor-led delivery was chosen, but digital self-paced learning was also available on demand to reinforce skills and knowledge.
The 3 Phases of People Leadership Essentials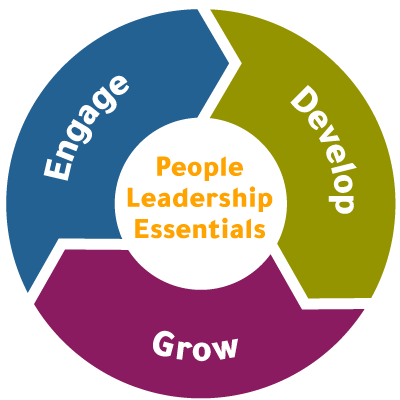 The program is made up of three key phases over the course of four months: Engage, Develop, and Grow.
Engage: Set Program Expectations and Get a Baseline for Strengths and Gaps
The Engage phase includes the President's kick-off session to establish learning objectives and how the leadership skills being developed are critical to executing the company's strategic business priorities. The goal of this session is to show participants that C-level leaders support them in successfully completing the program. Other participant activities in the Engage phase include 360 degree feedback to help leaders get a baseline for their current strengths and development areas. External coaching is also used in this phase to help leaders build self-awareness and start to create a plan for targeted ongoing development.
Develop: Practice Skills and Learn Together
Next, senior leaders participated in the Develop phase of PLE, which is made up of six half-day experiential instructor-led trainings, all delivered virtually to build stronger international and cross-divisional partnerships amongst senior leaders. Prework for each module, as well as ongoing practice and reinforcement tools for relevant skills covered, plus development guides, are available on demand in Pinpoint, DDI's digital learning platform. Pinpoint also gives learners access to a wide range of other relevant resources related to each module, such as microcourses, simulations, games, podcasts, and blogs.
DDI's development approach, which is based on decades of research and proven results, enabled this phase of the program's design and learning content to be defined into three clear modules: Leading with Purpose, Inclusive Leadership, and Adaptive Leadership. The first module, Leading with Purpose, is two parts of virtual instructor-led training, Mastering Emotional Intelligence and Communication: Connect Through Conversations.
Module two, Inclusive Leadership, features the instructor-led course, Leading Teams: Achieve More Together, and Inclusion: Build Empathy, DDI's award-winning immersive simulation. Through the simulation, leaders walk in the shoes of someone who's being marginalized, undervalued, and excluded in a work situation. This visceral understanding often creates an emotional reaction, both from those who have experienced this type of exclusion before and from those who have rarely had that experience before. Following the simulation, leaders share their own experiences and reflect on their points of view in a psychologically safe but thought-provoking facilitated discussion.
In the third and last module of the Develop phase, Adaptive Leadership, two virtual instructor-led training courses are included, Growth Mindset & Empowerment and Influencing for Organizational Impact.
Grow: Build a Development Plan and Continue Learning
Last, the program wraps up with the Grow phase. This phase is made of external coaching to help sustain learning as well as continued learning tools accessed in Pinpoint. There are also individual development plan workshops, webinars, and leader and learner development discussions. Leaders leave this phase with an individual development plan built together with their manager. And managers of learners are also provided with special "Manager Guides" with best practices and tips on how to support their participants before, during, and after the program.
Measuring the Impact of Better Senior Leaders at Edwards
DDI's impact evaluation study demonstrated a significant increase in senior leaders' capability to lead. To measure behavior change, program participants, their managers, and direct reports were asked to rate how often each participant displayed a set of critical leadership behaviors on a five-point scale (ranging from "Never" to "Almost Always") pre-program versus post-program.
On average, the percentage of effective leaders (% of participants who displayed key behaviors "Often" or "Almost Always") went from 53% to 85% according to participants, 49% to 82% according to their managers, and 59% to 72% according to their direct reports. Also, 92% of participants indicated being more motivated to apply new skills after the development program.
The results also showed strong evidence of the development program's impact on senior leaders' desire to grow within the company, supporting the company's ambition to promote leaders internally. Ninety-one percent of program participants indicated that participation in the programs had increased their engagement in being a leader in the organization.
Additionally, 87% of program participants indicated that the program increased their interest in growing within the company. Furthermore, during the span of the initial rollouts of the PLE program, senior leader turnover decreased significantly. These results showed evidence the program contributed to the company's ability to better retain essential employees.
Leaders Notice Improvements in Skills
But how did the development program impact organizational productivity? Eighty percent of participants shared that they thought the program increased their team's productivity. The results of the PLE program confirmed that not only were leaders behaving differently because of the program, but that it was having a real impact on team productivity, effectiveness, and leadership motivation. These messages were also reinforced by qualitative data:
Participant feedback:
"My listening skills have improved, and I now take time to pause and listen to what is being said versus making my mind up and providing feedback or direction mid-way through."
Feedback from the direct reports of participants:
"My manager improved the ability to take on constructive feedback from direct reports and also improved listening abilities, which has led to better solutions for individual and team performance."
These results are a testament to the ROI of leadership development at Edwards—and have set the stage for the creation of many more successful development programs to come.
Learn more about how to create a learning journey for your leaders.
Topics covered in this blog