7 Best HR Practices for Leader Retention
April 28, 2021
Rosey Rhyne
Learn best HR practices for leader retention, including surefire ways to keep your leaders engaged and the warning signs your leaders could leave.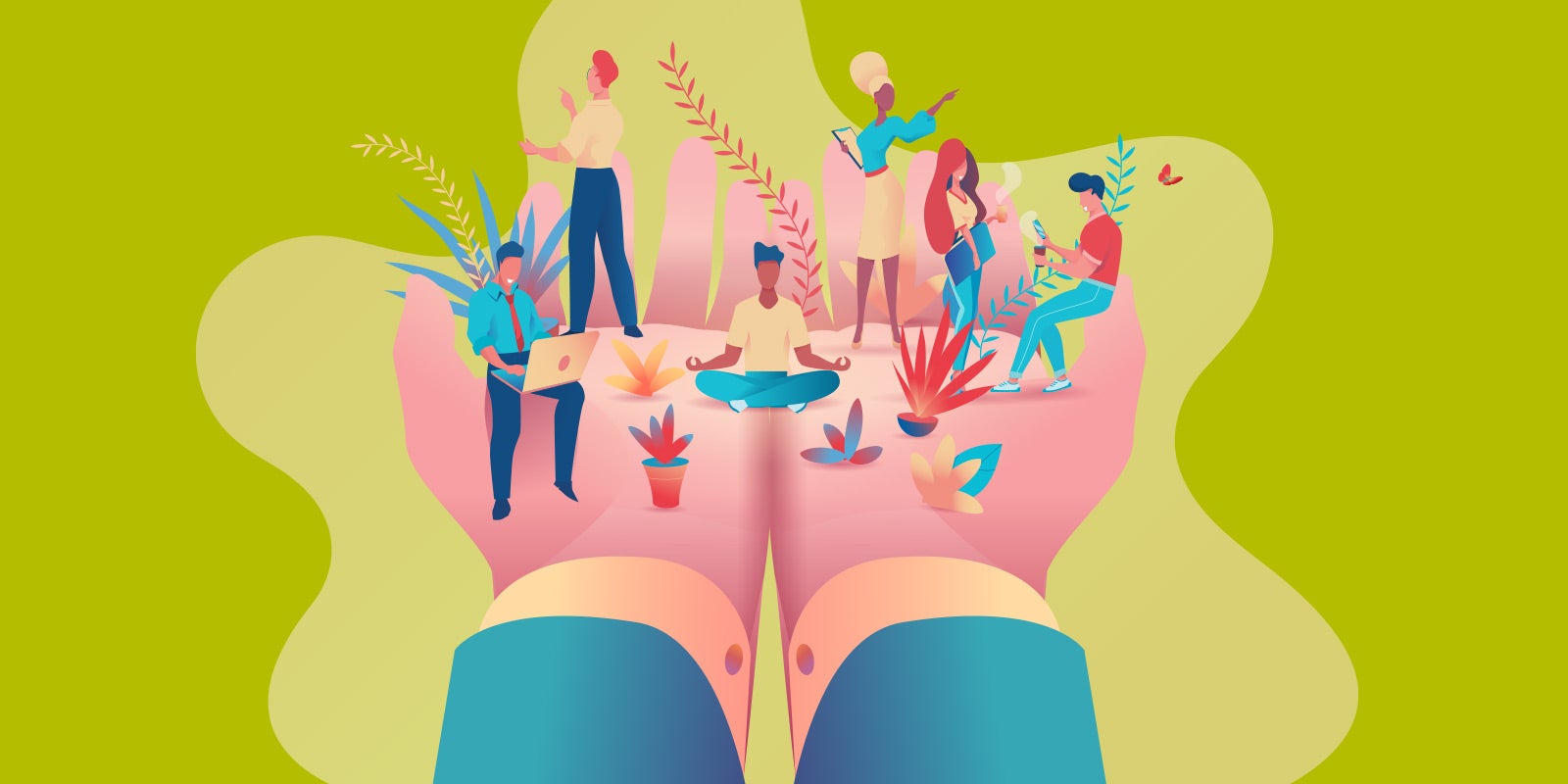 The war on talent continues. And with it comes the need for both HR professionals and leadership to create a retention strategy to minimize leader turnover. The problem? Many don't know where to start. They need best HR practices for leader retention, which we'll cover in this blog.
Why Losing Leaders Is Costly
A high leader turnover rate can be costly to companies. It can slow down productivity and put pressure on the HR department to find replacements quickly.
In our 2021 Global Leadership Forecast, which surveyed more than 15,000 leaders across 1,700+ organizations, we learned the top challenges plaguing CEOs. Two of the top three biggest CEO challenges are talent problems. CEOs listed their top challenge as developing the next generation of leaders. Attracting and retaining top talent to help maximize organizational performance rounds out the top three.
But these talent problems can be solved. How? Knowing talent trends, having employee retention goals, and learning research best practices can help. These can lead HR professionals to identify opportunities to better plan for future leader talent needs.
Importance of Retaining Diverse Leaders
Organizations are paying increasing attention to the diverse makeup of their leadership team. Why? For starters, having diversity opens the door for diverse perspectives and ideas.
In addition, there are clear benefits to having more diversity in leadership roles. Our Diversity and Inclusion Report found that organizations with more diverse leaders are eight times more likely to be a top financial performer than those without diversity in leadership.
Companies with more diversity in leadership also are more likely to be in the list of most admired companies. This could help make it easier to attract talent.
Even though there are many advantages to having diversity in leadership, organizations face challenges with retaining diverse leaders. In our report, we found that 45% of women executives felt they likely needed to switch companies to advance in leadership, compared to 32% of male executives.
Women are not the only ones feeling they need to change companies to advance. We also found that ethnic minorities may feel the need to change companies to advance. A larger percentage of ethnic minority leaders indicated intentions to leave their companies within a year. And this is consistent for ethnic minority leaders at all levels.
When diverse leaders leave, they take with them their experiences, organization knowledge, and diverse perspectives. Exiting leaders may also have a ripple effect, causing others to consider leaving as well.
Companies should not only pay attention to hiring for diversity, but they should also focus on retaining the ethnic minority and women talent they do have.
What's the Role of HR in Increasing Leader Retention?
With the war on talent continuing, many HR personnel are increasing their focus on talent planning and retention strategies. Some may even establish new teams dedicated to talent planning.
Those who are not thinking about this may be losing high-performing leaders without knowing it. But HR teams play a key role in increasing leader retention when they help to define a strong leadership talent strategy.
This strategy should include a robust plan on how to attract top leader talent from external sources. It should also include a succession planning process that identifies a strong pipeline for leadership.
In addition, this strategy should provide equal opportunities to all and should be audited on a regular basis to ensure women and minorities have equal opportunities in the talent pools for leadership roles. It should also include a process for developing those within the leadership succession pipeline so they receive equal opportunities to be successful in future roles.
And the strategy shouldn't forget about high-potential employees. Regardless of gender or ethnic background, all high potentials should have access to the same programs. Ensuring everyone has equal opportunities to be prepared for their next opportunity is the key to success.
7 Best HR Practices for Leader Retention
Though retaining top leaders can be a challenge, there are best HR practices for leader retention. We found that companies using these seven best practices directly impact leader intentions to stay in their organizations.
1. Leaders are more likely to stay when they understand what good performance is in their role.
When leaders do not have this, they may struggle to know how they are doing and question whether they can meet expectations. They also may not receive the self-gratification of doing well in their roles and may seek it elsewhere.
2. Leaders who have a clear understanding of their future career path are more likely to stay.
They feel they have a long-term goal that they are working towards. They also feel as though they are striving for something.
3. Leaders who feel their direct manager genuinely cares about their well-being are more likely to stay.
They may feel their manager will work to develop them for future opportunities and trust that their best interests are in mind when decisions are made.
4. Leaders who have established a high-quality, relevant development plan are more likely to stay.
They may feel their organization is investing in their futures and see the benefits of further developing to be ready for future opportunities. In addition, this will help prepare talent for leadership transitions once the opportunity arises. Also, documenting career development plans is important so they can be referred to easily on an ongoing basis.
5. When leaders receive coaching opportunities from their direct managers, they are more likely to stay.
They believe their leader is working to improve their leadership skills on an individualized level. They will feel more prepared when opportunity arises because they have had more close supervision and feedback opportunities.
Though coaching may come naturally to some, it may be a skill that needs to be developed for others. So, offering consistent training opportunities to help leaders coach and develop others will ensure upcoming leaders get coaching when they need it.
6. Those who receive feedback on their skills are more likely to stay.
Why? Because they know they are gaining valuable insights on how they can grow to be more effective in the future.
7. Leaders who have the tools and information to do their jobs are more likely to stay.
This starts with the onboarding process. Having essential access and tools required to perform early on may help leaders get up to speed faster.
Checking in with leaders to see if they have all the information and tools to be effective will help keep an ongoing pulse on needs as they arise. When more is needed, the HR team can partner with other departments to provide leaders with what they need.
Pay Attention to Warning Signs
Those who are at higher risk for leaving their organizations may show some warning signs. Here are some signs to look for.
1. Leader Burnout
When a leader appears to be worn out or less energized by their work, they may be at risk of burnout. Burnout causes more stress and impedes leader work-life balance and engagement. When leaders are experiencing burnout, they are at a much higher risk for leaving their companies within a year.
In the Global Leadership Forecast 2021, we found that 1 in 4 leaders who felt used up at the end of the workday planned to leave their organizations within a year. When leaders have been identified as high-potential employees, they are even more likely to experience burnout and the likelihood they may leave within a year increases further.
Though experiencing burnout can lead to employee turnover, we also found that empathy can lessen some of its effects. When leaders feel used up at the end of the day, their likelihood of leaving decreases when they have an empathetic leader.
Why? Because empathetic leaders seek to understand what their direct reports are experiencing. They listen to the challenges of their team members and show they truly care about the wellbeing of their team members.
2. Disengagement
The relationship between engagement and retention is well known. When leaders are no longer engaged in their roles, they are more likely to leave. They may not find their jobs as rewarding as they used to be.
In our study, we found similar results. Specifically, we found overlap between drivers of retention and the drivers for engagement. Having up-to-date development plans, a clear career path, and a manager who cares about wellbeing all impact both engagement and retention.
When leaders are engaged in their roles, they are immersed in their work. They talk about it. They get things done. When they are disengaged, they will not be doing these things. Instead, they withdraw from their work or may do the bare minimum to get by.
By having regular check-ins to see how things are going, HR and leaders alike can identify opportunities to maintain leader engagement. And in turn, this will also help to minimize leader talent loss.
3. Poor Interactions
Leaders who are at higher risk for leaving may not be having quality interactions with others. Leaders may not be able to spend quality time with their team members doing things like having performance or coaching conversations, regular touchpoints, and career aspiration discussions.
We found that leaders often think they need to spend more time managing day-to-day tasks to ensure core work gets done. And this is all done in place of spending more time interacting with their teammates. Without positive interactions, showing empathy and providing coaching become a challenge. We found that leaders who wish to spend more time interacting are twice as likely to consider leaving than those who do not wish to spend more time interacting.
But human resource leaders may help to improve the frequency and quality of interactions. How? When HR creates a company culture that is more suitable for leaders, leaders then feel that they can spend more time on quality interactions.
Leaders generally have a perception of how much their organizations value managing over interacting. But companies can help leaders to feel they can interact more with their team members. This may help them create the quality relationships they would like to have with their team members.
In addition to creating a company culture that is conducive to having more quality interactions, HR may develop training programs to help leaders better manage their time so they are able to spend more time having quality interactions.
4. Performance Ambiguity
Another warning sign has to do with understanding performance expectations. If leaders do not seem to understand what successful performance looks like in their role, they may find themselves unsure if they are doing well. When leaders are unclear what constitutes good performance, they may not feel their performance is critical to the success of the team.
They may also question how they could be a high performer if they are unclear what baseline success looks like. This may make it hard to provide coaching and guidance to team members if they do not understand their own performance expectations. They may be fearful of misguiding others.
Though the signs of performance ambiguity may be difficult to see, leaders experiencing this may frequently ask if they are meeting expectations. Or, they may ask for more guidance on role clarity. Having documented job descriptions outlining the key tasks and competencies for each leadership role will help leaders understand what success looks like in their roles.
Additionally, having frequent performance and development conversations with their leaders will help keep the ambiguity to a minimum. Human resources teams could work with leaders to ensure they are having quality performance conversations with their team members.
How to Keep Top Leaders
Retaining top leader talent is a top challenge organizations face today. When leaders leave, they take invaluable perspectives and organizational context with them. And they may also influence others to leave. In addition, we have learned that leaders with diverse backgrounds are at an even higher risk for leaving.
We have also identified some warning signs for leaders who might be at risk for leaving as well as some best HR practices for leader retention.
The bottom line? Continuing to focus on effectively identifying high-potential leaders and developing them, in alignment with their career goals, may help maintain leader engagement. Leading with empathy and ensuring leaders have the knowledge and tools to be successful are also surefire ways to help keep your top leaders.
Download the Global Leadership Forecast 2021 for more research and key trends on leadership today.
Rosey Rhyne is a Senior Research Manager on DDI's Center for Analytics and Behavioral Research (CABER) team. When she is not working, she spends her time playing with her children and attending craft fairs across the United States.