How do your leaders like to learn? It's an important question to ask when choosing and implementing leadership development programs. Why? Even the most thoughtful, strategically focused leadership program can miss the mark if leaders aren't fans of the learning methods used. So, what are the best leadership training types for your leaders?
I'll be answering this question and more in this blog. But before we get into what types of leadership training matter, I'll share a story of why leadership training matters.
Why Leadership Training Type Matters
"…to create a safe working environment…" was how one senior leader responded when I asked why leadership development mattered to him.
From there, the stories followed. Each leader described their own personal experiences of mishaps, some resulting in people getting hurt, and in the most tragic circumstances, leading to loss of life. There was a clear connection to the program's purpose, and something leaders were emotionally connecting to as well.
When listening to the stories these leaders shared, I felt a pull on the inside. Our mission was about much more than completing some training. It was about changing the way people interacted with each other, so they could strengthen their safety culture and become a stronger, more focused leadership team.
The company recognized their leaders set the tone, culture, and mindset for everything, particularly when it comes to safety. They launched their program in many areas around the world where leaders had little to no former leadership development training. We intentionally designed the program to deliver formal in-person training onsite, leveraging relevant leadership training courses and real scenarios. This allowed leaders to practice newly learned knowledge and skills with each other, and exchange feedback and personal experiences.
"To create a safe working environment" became the guiding principle for the program. And it made a big difference. Through building and practicing their interpersonal and leadership skills, the organization is starting to see change in strengthening a culture of putting safety first. Safety leadership is becoming a reality.
So, before you dive into what or how your leaders should learn, make sure you connect to the "why." From that "why," you can create a thoughtful program that meets leaders how and where they like and want to learn. And then? It's leadership nirvana! So, what are the best leadership training types?
The Best Leadership Training Types Leaders Actually Want
In our Global Leadership Forecast 2021 (GLF), we gathered input from 15,787 leaders and 2,102 HR professionals across 1,742 organizations worldwide. In this research, we asked what types of training leaders want most.
First, good news! The engagement for learning is there. The research indicates leaders want more time to learn. On average, leaders report spending nearly 4.4 hours per week learning but would prefer to spend about 7.5 hours. Overall, leaders sought out 2X more learning and development at the onset of the COVID-19 crisis.
In our HR profession, it can be daunting to decide among all the learning methods and modalities available. To help you to connect to your leaders, let's explore their needs. What are the best leadership training types?
When given a selection of learning methods, leaders desired these the most:
External coaching
Developmental assignments
Assessments to diagnose leadership strengths
Formal in-person training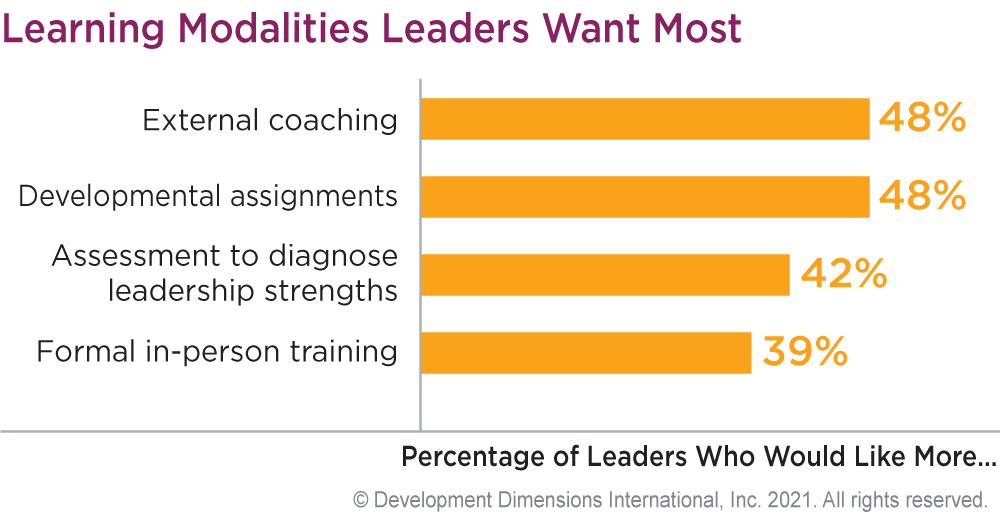 1. External Coaching
More than anything, 48% of leaders want outside coaching and developmental assignments to help them grow their skills. Leaders are craving the input of external sources and objectivity in their learning.
When provided the list of learning modalities, leaders were given the option to consider coaching from their current manager, which 29% said they wanted more of. The input of an external coach can help accelerate learning and growth by challenging and provoking insight and change. The desire for external coaching is consistently ranked highly.
However, a point of disconnect is that organizations aren't providing this type of learning. In a previous study exploring building a coaching culture, high potentials ranked external coaching and mentoring as highest on their list. But then they ranked it 8 out of 10 when asked if they had access to it. This is an area companies can leverage to support engagement and retention.
2. Developmental Assignments
Developmental assignments help leaders and future leaders to apply their learning and learn through experience. Leaders' learning preferences showed they want to know they are truly applying their skills to new challenges. On average, leaders who say their organization offers high-quality leadership development also say they can apply about 72% of what they learned to their job.
In comparison, those who rate their company's programs as low in quality, say they can only apply 53% of what they learn. There is an opportunity here for organizations to check the relevance of their programs for their leaders.
I often ask clients these questions to help them check their programs for relevance: Can these skills be something leaders use today? Will it help them address the challenges and problems they are facing right now? Consider setting development assignments that help connect back to your purpose and communicate the impact in success stories.
For example, the organization I referenced earlier tasked leaders with how they would apply what they learned to reduce the likelihood of repeated safety incidents. This simple exercise resulted in leaders applying new skills to improve safety.
3. Assessments
The trend of wanting external input is extended when you consider the value of leadership assessments. Assessments can provide an outside eye, data, and a road map to help individuals personalize their own development. There are a wide range of types of leadership assessments, but nearly all of them can help guide development plans.
Examples can be self-insight tools to heighten awareness to your personal profile and mindset, or in-depth behavioral feedback and simulations. Notably, an assessment can help to diagnose leadership strengths and pinpoint development needs. I have also seen assessments help leaders to commit and engage more deeply in their learning experience.
As a result, learning experiences can feel more targeted and personalized. And there's a business payoff as well. In our Leadership Transitions Report 2021, we found that when organizations combine development with high-quality assessment, they see an average 30% jump in bench strength of leaders ready for critical roles.
4. Formal In-person Training
Classroom is king! This is a common theme when looking at learning trends and one that may be surprising for you when it comes to the best leadership training types. In this era of digital, on-demand learning options, many assume that leaders are looking to learn more on their own.
But in our research, 39% of leaders said they wanted more formal in-person training. Why?
Primarily it's social. Leaders learn best with others. Conversations about learning trends can often assume that learners have a higher interest in games and technology-based learning. But leaders also want engaging and interactive classroom experiences with facilitators or coaches.
To be clear, formal programs don't necessarily mean in person. You can create engaging, live virtual classroom experiences when your leaders are working from home or at opposite ends of the world.
But this finding tells us leaders are craving more in-person moments. With so much time apart during the pandemic, finding opportunities to bring leaders back together face to face is important. Doing this will help leaders reconnect. But doing this will also reap the benefits of informal learning moments, like building networks, creating visibility, and exchanging ideas.
What makes a leadership course great?
As we look at the modalities leaders want, I'll dive a little deeper into the design behind their development. I'll take you back to the company I discussed earlier. At the heart of their purpose was the people: the employees, the leaders, and their families. And that's how we design our leadership courses.
We design leader-first experiences. By leveraging DDI's five design principles, it puts the leader—and the leader's needs—at the center to build effective, high-impact leadership development solutions.
1. Immersive
Great leadership training creates powerful and memorable experiences, renews energy, builds skills, and increases confidence. When leaders learn by doing, they experience the real challenge firsthand. For example, having that difficult conversation and coaching a person on a challenge they are facing right now. With feedback and more practice in a safe environment, leaders build their self-awareness and strengthen their skills.
2. Relevance
A key step is knowing where the issues and challenges lie for your leaders. Workology highlighted the typical areas for management training. The company I partnered with leveraged data and input from stakeholders to determine focus areas and used this insight to craft the skills learned in the program. They ensured leaders worked on real-life safety challenges. And also made sure the tools and techniques they were learning could be used today and in those everyday leadership moments.
3. Personalized
Everyone is unique. A great program is one which helps leaders see the value of the experience for themselves. They could be gaining insight about their own strengths or development areas through an assessment. Or have moments in class where they get to work on their own challenges or get a say in how they prefer to learn.
4. Trusted
A beauty of DDI's leadership programs is that they are rooted in science and based on decades of research and experiences in helping organizations develop great leaders. Leaders can see how what they are learning will help them to be better leaders, and better people.
5. Human
Above all, leadership is intensely personal and human. And this can be applied to employee training. People want to feel the emotional connection and consequences of their actions. So, making the time to engage to the heart in design, as well as the head, will make leadership development more authentic and connect to our human side.
Together these five principles contribute to a leadership development experience that is deeply relevant, connected to people and the context of the organization, and integrates a more personalized perspective of skills and application. When used and combined with the best leadership training types for your leaders, that's when you see impact.
A lot of our data looking at the ROI of leadership development shows an increase in engagement, productivity, and effective leadership. When we ask organizations we work with what difference they are seeing, they share their stories of impact. Leaders, and their teams can see the changes that these experiences provoke for themselves and the business.
What are the elements that a successful program should include?
The temptation for many companies has been to go all-in on one direction. For example, a program that's entirely self-directed, or entirely formal learning, or wholly relying on outside coaches. But each of these approaches has pros and cons.
One thing we know is that people learn better when there's variety in a learning journey. Just like leadership styles need to be flexible, so does the way in which we learn. Variety keeps energy and engagement high, brings diversity, and creates magic.
Yes, we really do think that the magic is in the mix! Designing a blended learning journey can seem daunting, especially with the overwhelming number of options. But to be most effective, leaders need the right development experiences for the right moment. Why? Because the best leadership training programs meet leaders in the moment.
Why the Best Leadership Training Programs Meet Leaders in the Moment
Meeting leaders in the moment means thinking about the challenges they face, and how different modalities of learning meet them where they are.
For example, leaders who are stepping into a new role might be looking for a lot of formal classroom-based development to help them gain fundamental skills. Meanwhile, a leader who's struggling with an urgent problem, like addressing conflict on their team, might need resources immediately.
In the case of the company I worked with, context was key. Safety incidents and fatalities highlighted a need to focus their strategy. It was essential to equip their leaders with the core skills to make safety first the way to lead. Thinking about their audience and the best leadership training types for their leaders, this propelled them to blend learning methods.
For example, blending face-to-face classroom sessions using real-life scenarios with cohort-based learning and personalization using self-assessments. They mandated a program for a specific population of their leaders and engaged their business to see the value and benefits.
Depending on where you are right now, it might be helpful to think about the moments that exist for your business and your leaders. And then create a development strategy that can support those scenarios. What do your leaders need as they're driving a shift in business strategy or when they are promoted? What do they need to help them in their day-to-day challenges?
Above all, context matters when determining your leadership strategy. And understanding the context will help any program or learning ecosystem you build be even more effective.
Does leadership training make a difference?
Behind every leader is someone trying to do their best in an environment full of opportunity and challenge. And organizations need to focus on supporting these leaders because investing in the right development can make a difference.
It can spark change for leaders professionally and positively spill over into their personal world too. Many leaders say what they learn in these programs has influenced who they are and the way they are at home. It also has supported their careers for years to come.
Consider the purpose of your program and listen to the needs of your business. And don't forget to factor in the best leadership training types for your leaders and employees.
Your vision could be to create a more inclusive environment, build an empowered workforce, or create a safer place to work. Whatever your vision for leadership development, you can make it a reality. How?
Start with one big question. Why?
Get more research by downloading the Global Leadership Forecast 2021.
Katy Freeman is a senior consultant with DDI Europe. She designs programs, provides coaching and feedback, and feels grateful to work with incredible clients and her DDI associates. Each day gives her an opportunity to apply her love of psychology to help employees and leadership teams achieve their aspirations for leadership. When she's not immersed in leadership, you can find Katy traveling the food scene in London and trying to find a sunny terrace to relax on with a glass of something fizzy or fruity (or both!). Connect with Katy: https://www.linkedin.com/in/katyfreeman/
Topics covered in this blog