Your Guide to an Effective CEO Performance Review
December 22, 2021
Audrey Smith, Ph.D.
Everything you need to know to conduct an effective CEO performance review, including process and governance considerations and six key best practices.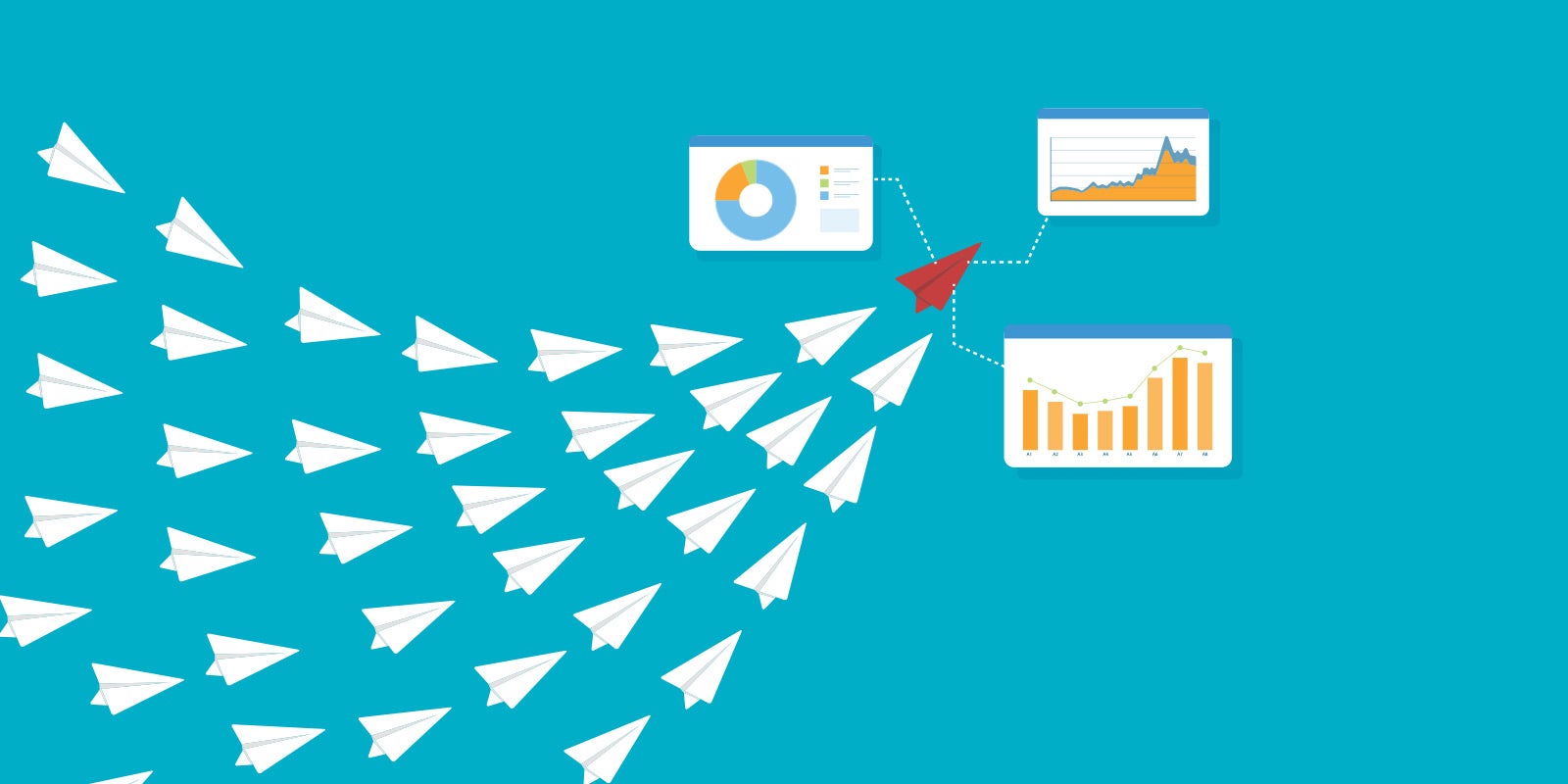 Last summer I was invited by several corporate boards to support their upcoming CEO performance review. While I have partnered with CEOs and boards for over 20 years, these requests seem to be escalating. This is perhaps in response to challenges associated with the post-pandemic "new normal."
On one hand, this is not surprising. Considerable attention has focused on how performance management can help organizations create a performance culture, with engaged associates who better understand their role, accountabilities, and development focus. And while approaches have evolved to include greater efficiencies and scale, best practices generally hold true across levels, functions, and industries around the globe.
Yet CEOs have, perhaps, been the last to consistently experience the rigor and benefit of holistic performance management. Why? For years, a common board perspective was that their fundamental responsibility was "hiring and firing the CEO."
However, contemporary boards recognize that declaration oversimplifies their accountabilities. And this is especially true with the rising influence of Environmental, Social, and Governance (ESG) considerations on company valuation. While traditional metrics around revenue, profitability, and shareholder return remain important targets, standards reflecting ESG "hows," like culture, diversity, equity, and inclusion, succession, environmental sustainability, and stability through crises have emerged as new rubrics for judging CEO performance.
Further, accelerating changes in markets, competition, and technologies heighten the need for evaluation approaches that facilitate ongoing calibration and exchange between the CEO and board around strategic intent, risks, and new opportunities. That doesn't mean corporate boards should cross boundaries associated with enterprise decisions or managing the company. However, effective boards are moving towards CEO performance reviews that are not annual events. Instead, these evaluations are an active ongoing process with multiple touchpoints and few surprises.
The Impact of an Effective CEO Performance Review
Here's one example of how a CEO performance review done well can positively impact the behavior of the CEO—and the board.
Randall, a global technology CEO assumed his first enterprise leader role three years ago from outside the organization. While the board viewed his early performance as solid, all directors believed that greater internal visibility and deeper board relationships would strengthen his impact. Even so, the board chair tip-toed around direct, assertive feedback given retention risks associated with Randall's external reputation and marketability.
Then a new board chair was elected, a respected former chief executive known for accountability and execution. He influenced the board and CEO to adopt more diligent practices around CEO performance reviews and succession, including timely, behavioral feedback. This board chair collaborated with other directors during the next review for balanced input on both opportunities and positives, e.g., leadership through a recent crisis.
Randall was surprised by, yet appreciated the rigor, fairness, and sense of value he felt from the thoughtful review. He took the feedback to heart, and he and his coach focused development in identified areas. In his following mid-year review, both board and internal associates reported that the CEO had matured greatly and so had the board.
CEO Evaluation: Governance and Process Considerations
While the story above does not delve into the process and governance behind what's needed to conduct an effective CEO evaluation, there are four key areas that are necessary to flesh out to ensure your evaluation works well.
1. Define clear role accountabilities.
It's important to identify and define the roles essential to your CEO evaluation process, including:
Board Leader: Who architects and leads the process is best not to be left to assumption. Ideally, this is a lead director or board chair who serves as the CEO's primary "manager." This individual typically orchestrates board engagement and input. In addition, the board chair will facilitate decisions around the evaluation approach, rating criteria, process timing, and data integration/evaluation. The board chair will also decide how feedback will be delivered against agreed-upon strategy, initiatives, and objectives. Alternatively, a board committee, e.g., "Compensation or Governance" may be designated to facilitate the CEO performance review with a designated lead.
CEO Role: The CEO will want to take an active role in their evaluation, both at the outset of the cycle and at touchpoints throughout. This works particularly well when a formal self-evaluation is built into the process, and drives a sense of fairness and calibration around past and future expectations. Self-evaluation also creates a foundation for ongoing dialogue around strategy and agility in response to unexpected changes.
Support Partners: Given the increasing focus on engagement, today's CEO solicits and receives far more direct associate, customer, and investor feedback than in the past. Internal and external social media exacerbates this plethora of perspectives on the CEO's performance, presence, and associated confidence. At times, the CHRO may step up to support data collection, or at least help the board identify timely, relevant sources of information. Some boards assign data collection and/or report construction to an objective, trusted CEO suite coach. While other boards may assign this to a consultant who is strategically engaged in executive leadership team effectiveness, culture, and or succession. This person is also someone who has credible board relationships.
2. Determine CEO evaluation approach.
There are several approaches to consider for your CEO performance review, including:
Board Chair Evaluation: In this approach, the board chair will take a clear lead gathering input from other board directors. The board chair then serves as the primary feedback provider.
Holistic Board Evaluation: For this variant, all board members provide input and numerous are designated to offer specific, direct feedback to the CEO. Those identified may be from a relevant board committee or even those interested in direct engagement in the process. This approach may also be supported by objective external consultants.
Board and Senior Executive Team Evaluation: All board directors, as well as the CEO's executive leadership team members, are explicitly invited to provide input. Even more comprehensive versions of this approach may also include insights from associates (including culture surveys), customers, suppliers, and others. All information is then translated into an integrated appraisal. Feedback is facilitated by the board chair and complemented at times by designated partners.
CEO Self-Evaluation: The CEO provides self-evaluation to lead or augment the overall process as well as future dialogue.
3. Choose evaluation methods and deliverables.
What is your evaluation method? And how will the results be delivered? Here are three approaches to consider:
Interview-based: Stakeholders are interviewed by either the lead director or an objective third-party consulting partner.
Survey-based: Stakeholders complete an online survey as the primary evaluation.
Combined Interview and Survey: This approach employs both interviews and surveys, integrating results into an overall evaluation profile.
The approaches above are those most often favored by boards. While hybrids are common, the most meaningful evaluations leverage interviews, including examples and follow-up questions for most/all board members.
All approaches yield an overall summary report, with ratings against pre-established criteria and a rich narrative that is a starting point for debrief sessions with the board chair and CEO to understand and discuss results. Supporting deliverables can also take the form of scorecards or dashboards; at times a second report with specific board comments may offer broader perspective.
Some boards prefer a full debrief with the broader board. In these cases, a strong facilitator as well as alignment around clear goals and objectives are important to an open, productive debrief.
4. Determine CEO performance criteria.
Ideally CEO performance criteria will include focus at several levels.
Key results areas for CEO performance appraisal generally encompass strategy, execution, financial, culture, talent, and relationships. For some CEOs, the board may emphasize additional domains like board partnerships, sustainability/ESG, or innovation. And these may be driven by organizational context (e.g., turnaround) or past CEO observations that warrant focus.
Objectives should be described in outcome-driven terms. Objectives should also include concrete metrics and deliverables important to the achievement of strategic priorities and the overall operational plan. They will be shaped by industry business context (e.g., healthcare, technology services, manufacturing) and organizational maturity.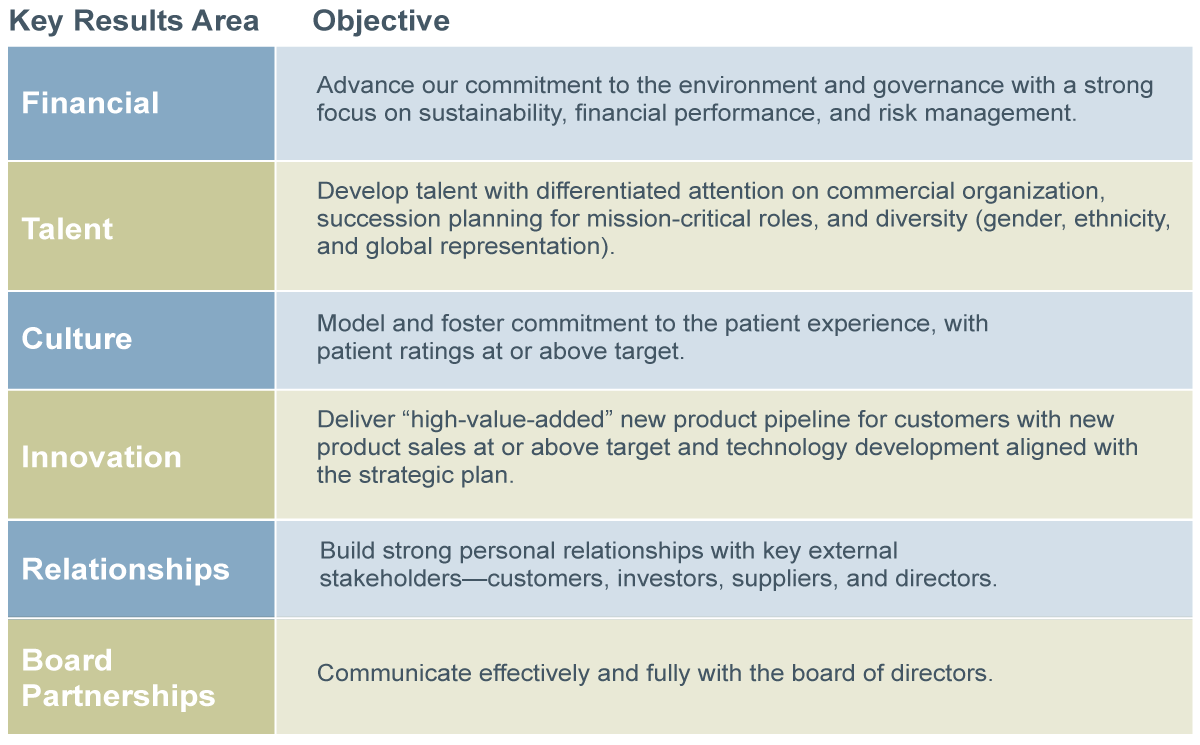 Sample key results areas and objectives are outlined in the table.
Competencies and/or personal attributes offer focus against board expectations on how the CEO leads and behaves. Courageous Leadership, Risk Taking and Problem Solving, Communication, Building Community Relations, Executive Team Leadership, and Ethics are illustrative examples from recent appraisals. They also ensure a balance of discussion around business and people leadership.
Competencies should be defined at a CEO level, with an easy-to-calibrate rating scale, and supporting narrative including behavioral examples, recognized growth, and ongoing opportunities. Final feedback in this category should reflect aligned perspectives across raters, e.g., board, executive leadership team, partners, customers, etc. It should also be constructed with supporting narrative and behavioral examples.
Additionally, a separate competency/personal attribute segment informs important behavioral and qualitative feedback that should readily be related to positives and opportunities in the key results and objectives.
Guideposts for Conducting CEO Performance Reviews
Generally, most best practices associated with associate performance management are also relevant for CEO evaluation.
1. Ensure a clear and common understanding of performance criteria.
The CEO role is surely unique to any other in their organization, and more challenging than ever. The chief executive is the tip of the arrow in setting vision, operating assumptions, and making difficult decisions in the context of volatile economies, markets, and changing buyer behaviors. Investors, customers, and associates see them as the face of the company. And as such, visibility, and the ability to inspire others to believe in the future, navigate change, and perform is crucial.
In the context of this complexity, developing a board rubric for judging CEO performance must stay at the right level. Most important is that the board focuses on overall performance, strategy, business, and cultural leadership versus precise execution details. And while smart objectives with clear metrics of success are important, ratings, data integration, and feedback need to focus on the "what" is expected. But they also need to focus on the "how" in terms of mobilizing success through organizational associates and partners.
2. Align the CEO performance appraisal cycle to the organization's fiscal year.
At the outset of the year, the board should set clear expectations informed by the mutually agreed upon strategic agenda. The CEO can work with their board chair and CHRO to translate that into specific CEO objectives, and then cascade appropriate shared and individual accountabilities to the executive leadership team, individuals, and units.
3. Make it a process and not an event.
Boards will want to orchestrate a high-level, ongoing CEO review and dialogue around commitments and lead indicators associated with strategy, execution, and culture. Leveraging an ongoing "partnership" mindset, these exchanges should remain high level, largely focused on unanticipated changes, risks, and new opportunities (e.g., mergers and acquisitions). A version of this might take the form of a formal mid-year dashboard board review complemented by informal touchpoints with the board chair or targeted committee leaders.
4. Offer balanced feedback around demonstrated strengths, accomplishments, and gaps.
CEOs, like everyone else, will want to be recognized for instrumental contributions, e.g., navigating a crisis, successful major acquisitions, or repositioning the organizational brand. They'll also benefit from differentiated ratings, behavioral examples, and narratives that represent both strengths and continued opportunities.
Designated feedback providers also must be good listeners who demonstrate respect and empathy. This is important as the CEO may have reciprocal board feedback or requests for help in overcoming obstacles and challenges.
5. Anticipate the CEO's reaction to potentially sensitive topics, and plan messaging accordingly.
In most performance reviews, there are topics that trigger frustration, defensiveness, or other emotional responses. For example, several CEOs I have recently worked with have been highly sensitive to compensation models, both in terms of wealth-building promise (or constraints) for themselves and others.
Another common example may be scrutiny around CEO commitment and energy towards building C-level customer relationships and access. Boards may also want a deeper level of engagement in the organization than their CEO views as appropriate.
And to state the obvious, accomplished chief executives are accustomed to considerable positive feedback from others. They may bring reactive demeanors or responses to candid feedback or ratings they don't agree with. Of course, it remains important to share direct and accurate messages, yet packaged in a manner they will hear. An executive coach, should the CEO have one, may help the board chair position sensitive feedback.
6. Ensure CEO feedback and dialogue shape next performance cycle priorities.
Appraisal insights and feedback should drive future objectives for both the organization and CEO as well as personal development. This may result in initiating or highlighting new priorities, e.g., quality focus, senior executive team effectiveness, strategic client relations, and others. If the CEO has engaged an executive coach, this is also an ideal juncture for calibration prior to and after feedback and development discussion.
Effective CEO Evaluation Brings Energy
The practices outlined in this blog take a significant investment of time on the part of all stakeholders. However, when thoughtfully approached, this time contributes to true differences in CEO leadership, board relationships, organizational performance, and focus.
Like the CEOs they evaluate, boards need to recognize their own accountability and business agility, and willingness to evolve is also pivotal to market perception and the recruitment of high-caliber talent. And boards that model the essence of an aligned accountability and performance culture, offering fair and meaningful insights, will likely energize their CEOs to champion similar experiences across their organization.
Want more C-suite and board insights? Subscribe to our monthly Executive Outlook Newsletter.
As a passionate advisor to CEOs, boards, and senior teams, Audrey Smith challenges them to think and act differently around how they show up as leaders in today's world. When not engaged with DDI's clients, Audrey enjoys hiking and learning about the rest of life all over again through the eyes of her curious and beautiful young grandchildren.