Becoming a new leader is hard. I remember my leader at the time giving me this first-time manager advice before I took on my new role: no matter the direction you're facing, "stuff" is always going to hit you on the back of the head.
Why? I was responsible for leading a team of six sales representatives. But I was also expected to meet the expectations of my own manager. It was a daunting prospect and with hindsight, I would certainly do some things differently given what I know now.
The purpose of this blog is to share some of the most common mistakes first-time leaders make and to provide some new manager tips that might help you as you embark on your leadership career.
The Most Common Mistakes First-Time Managers Make
One of the most common mistakes first-time managers face is to assume, for example, that the skills that made me a good salesperson will make me a good sales manager. While knowledge of the role is important, management itself requires a completely different skill set. And unfortunately, this misperception is reinforced as many companies promote individual contributors based on their stellar performance in the role.
Another common mistake made by first-time leaders is micromanaging individuals. They think "I" instead of "we." This mindset causes new managers to ignore the emotions of their team members and often results in the manager not delegating and empowering others.
An additional challenge for many first-time leaders is that they aren't given adequate leadership development. In fact, for many first-time leaders, it is sink or swim for the first four years.
According to DDI's Frontline Leader Project, people are 40 years old, on average, when they first go through leadership training. This is four years after the average age when people first become leaders. So this means that leaders have a long time to fail before they get any training and this may set a negative path for themselves and their teams that is hard to reverse.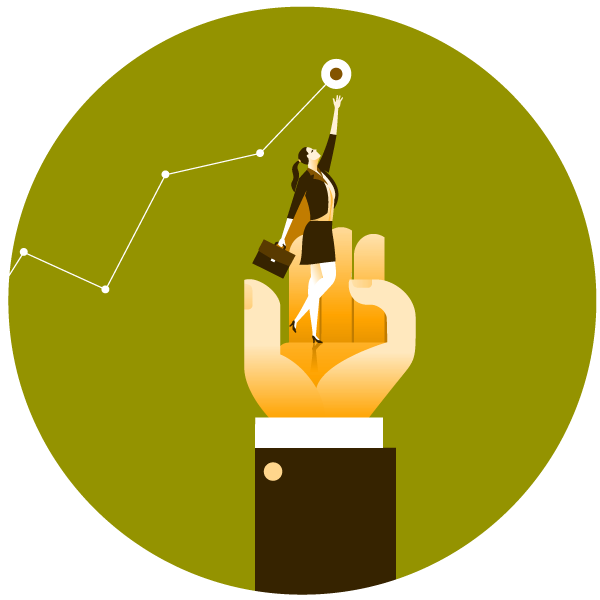 How First-Time Managers Can Navigate Challenges
There are many steps a first-time leader can take to navigate the challenges of the job. Some of them are skills-based, others are more of a mindset shift. Adopting a growth mindset is the most important mental shift a new manager needs to make.
As a new manager, you'll have a lot to learn to be able to best support your team. If you don't adopt a growth mindset, you won't be able to learn and develop the skills necessary to be a good leader. Even if you've been a manager before, recognize that being at a new company, you'll have a lot to learn as well. Every company culture is different, so what worked at one company and one team may not work at your new job.
When you adopt a growth mindset, you are creating a fertile environment enabling you to develop the necessary leadership skills to succeed in your new role. When this thinking is applied to your team, you recognize and accept that they can grow and learn as well.
Additionally, the number one growth area for frontline leaders according to the Frontline Leader Project is having difficult conversations. When you struggle with having difficult performance discussions with your direct reports, you miss out on what could have been valuable coaching opportunities. And when coaching opportunities are missed, individual and team performance can suffer. So rather than waiting for one big performance discussion at the end of the year, get into the habit of having more regular coaching conversations with your direct reports.
Developing the required level of competence and confidence to have good conversations requires practice in asking good questions and listening. It is also important to be aware of not just the facts but also the feelings that are being expressed during the conversation.
The Role of a First-Time Leader's Manager
In the early stages you'll probably feel like you are drinking from a fire hose as you adjust to your new role, and you shouldn't have to feel like you are on your own. At a minimum, you should expect some support from your manager. And ideally, your manager should be modeling the behavior they expect from you.
In addition, your manager should be making sure you get both coaching and feedback. If you aren't getting these, then asking for both coaching and feedback is a reasonable request. Your manager should also be helping you develop your networks as well as finding you a suitable mentor.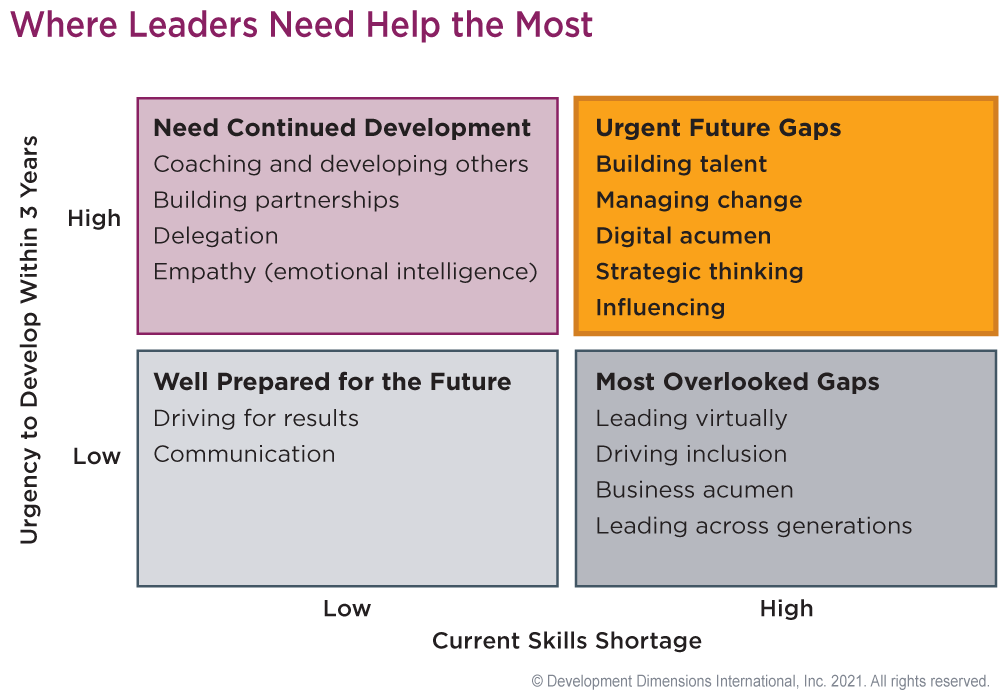 The Skills First-Time Managers Need
While each organization probably has its own list of skills that are required for first-time leader success, there are a few foundational manager competencies that most employers will look for and nearly all first-time leaders will need in order to succeed. Some examples of these competencies are:
Communication
Building partnerships
Coaching
Decision making
Facilitating change
Execution
Ideally you will be able to apply your skills in your new management position, but this needs to be done carefully. For example, you might have the knowledge and experience, but you don't want to come across as a "know-it-all." When correctly used, your knowledge and experience can be valuable in coaching your team members for success.
As you prepare for your future leadership role, the most important skills for managers, according to the Global Leadership Forecast 2021 are:
Coaching
Building partnerships
Delegation
Empathy
Getting Started with Your Team as a First-Time Manager
The most significant change as you transition into manager is that you are becoming an enabler, not a doer. The team needs you to create and sustain an environment where they can do their best work. Before you became a first-time leader someone else was doing that for you.
As a first-time manager, one of the first things you need to do as you get started is set up one-on-one meetings with your team members.
One-on-one meetings are the most powerful tool you have as a manager. They give you a way to:
Build rapport
Give and receive valuable feedback
Uncover and work through issues
Develop your team members
Build future leaders
It takes a while to develop a solid foundation with your team members. But the sooner you start having regular one-on-one meetings with your team members, the sooner you'll have a strong foundation of rapport and a stream of feedback coming your way.
With those in place, you can start catching little issues before they become major problems. You can also then start working on being a multiplier for your team.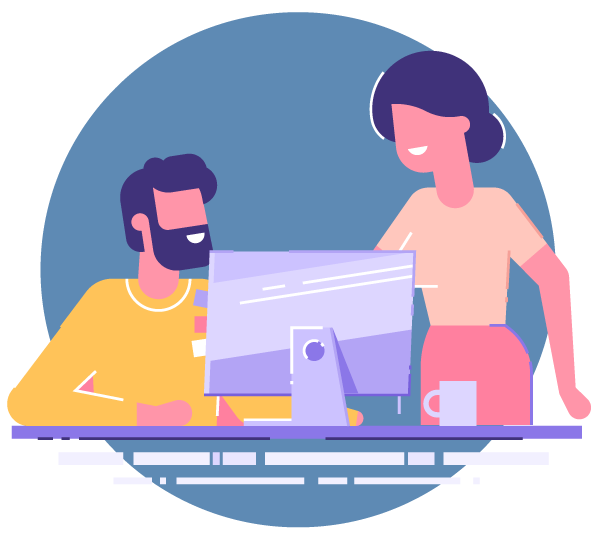 First-Time Manager Advice: Communicating Effectively with Team Members Who Have Been Peers
Workplace conflict often occurs when your relationships start to change. If you were promoted from within, it's possible that the person you routinely gossiped with is now a direct report, or that you're managing employees who were once your peers. This makes introducing yourself to the team very important.
Finding a balance between friend and manager is hard—but necessary. Some information is too confidential to share, and you can't let personal relationships color your judgment. That's why it's best to proactively address any changes. It could be as simple as saying, "I value our friendship but, as a manager, I need the team to trust me and see me as fair and consistent."
While it won't be an easy conversation, it is a crucial one to have and to get right.
First-Time Manager Advice: Asking for Feedback from Team Members
Just as you expect employees on your team to continuously learn from the feedback they receive, it's important that you take the time to assess your own strengths and weaknesses to support your growth over time.
Asking your team members for constructive feedback so that you can identify areas where you may need to improve will help you set goals for yourself. But asking for feedback will also show the team that you value their input, and you have the interests of the team at heart.
First-Time Manager Advice: Giving Feedback to Team Members and Building Trust
According to a survey conducted by PwC, nearly 60% of respondents said they would like feedback on a daily or weekly basis. So if there's a team member that needs feedback, make sure it's timely; don't just wait for the annual review.
Individual contributors can't apply advice if the project has passed, and you might cause additional roadblocks if you don't address the situation right away. So by offering timely feedback, you're giving employees the chance to improve their performance and grow professionally. And this, in turn, will build trust.
Focusing on building trust will cultivate a strong relationship with the team. For example, delegating to members of the team shows that you trust them to get the job done and value their input—and that has a positive impact on morale.
Transparency can also help build trust. When decisions are made, speak openly with the team about the implications and results of those decisions, whether positive or negative.
Additionally, share important information, as well as what you're working on, and encourage others to do the same. That open and honest communication will foster trust among the team.
Without trust, it's going to be hard for your team to succeed. As a reminder: If your team fails, so do you.
Being a Leader: Your Goals and Skills Change
Now that you are a first-time leader, your goals and the required skills have changed. You're no longer a doer, checking tasks off a to-do list.
Now, you're a leader and a coach, who is accountable for helping others succeed. The more time you spend upfront teaching and guiding your direct reports how to solve a particular problem, the less time you'll need to spend when the issue resurfaces later on.
Catch our webinar on How to Accelerate First-Time Leader Success for more ways to help your early leaders.
Bruce Court partners with organizations on all aspects of their leadership strategy. He's experienced in every facet of leadership strategy design, development, and execution. Outside of work, Bruce likes to travel with his wife, Maureen. He loves eating at great restaurants as well as sampling good wine and craft beers. Bruce is also a huge fan of smooth jazz.
Topics covered in this blog