I have always aspired to become a leader. I had an innate feeling that I would enjoy leadership. From a young age, I took the lead at the playground and served as the team captain in sports. I remember the sense of achievement I felt when I was elected captain of my primary school and then again in my career when I was given my first professional leadership role. However, quickly into being the new boss, I started to question whether I would actually be a good leader.
Taking on the role of first-time manager is challenging to say the least. So what's a new manager to do? Here are tips for success that I've learned along the way, both from my experience as a leader, and now as a principal leadership advisor.
How to Act When You're the New Boss
Even for the most motivated and talented individuals, the transition into leadership can be surprisingly difficult. That's why I recommend asking yourself some leadership questions to determine whether you are motivated to lead. For example, are you interested in the responsibility? Are you comfortable having difficult conversations? Are you willing to give up your time to help others?
Your answers to these questions will help you determine your readiness to lead and reveal focus areas for your development.
When I became a leader for the first time, my new role didn't feel anything like I had expected it to. I soon realized that being the new boss can be fraught with pressures. How should I act as the new boss?
I faced the challenge of managing a former peer. So my first leadership role required me to re-establish relationships and develop my leadership brand.
To help new managers pass their first leadership test, we need to help them understand the essential nature of their role, and what it means to be a leader.
I think former CEO Jack Welch said it best, "Before you are a leader, success is all about growing yourself. When you become a leader, success is all about growing others."
From day one as a new leader, your focus should broaden from personal success to the success of the entire team. As a leader, you are accountable for helping others.
What Skills Do You Need as a New Boss?
New managers are often not sure where to start, but keen to make a good impression. What does it take to be a good manager? This is one of the top questions I hear from clients and leaders alike who are trying to define what leadership looks like in their company culture.
Your leaders are busy, so they need to know exactly where to focus their development efforts. Frontline leaders are frequently required to demonstrate the following foundational leadership competencies: Communication, Building Partnerships, Coaching, Decision Making, Facilitating Change, and Execution.
However, the context of the work environment and the stressors on the leader may have changed (and may continue to change). With change, some leadership competencies may become even more important.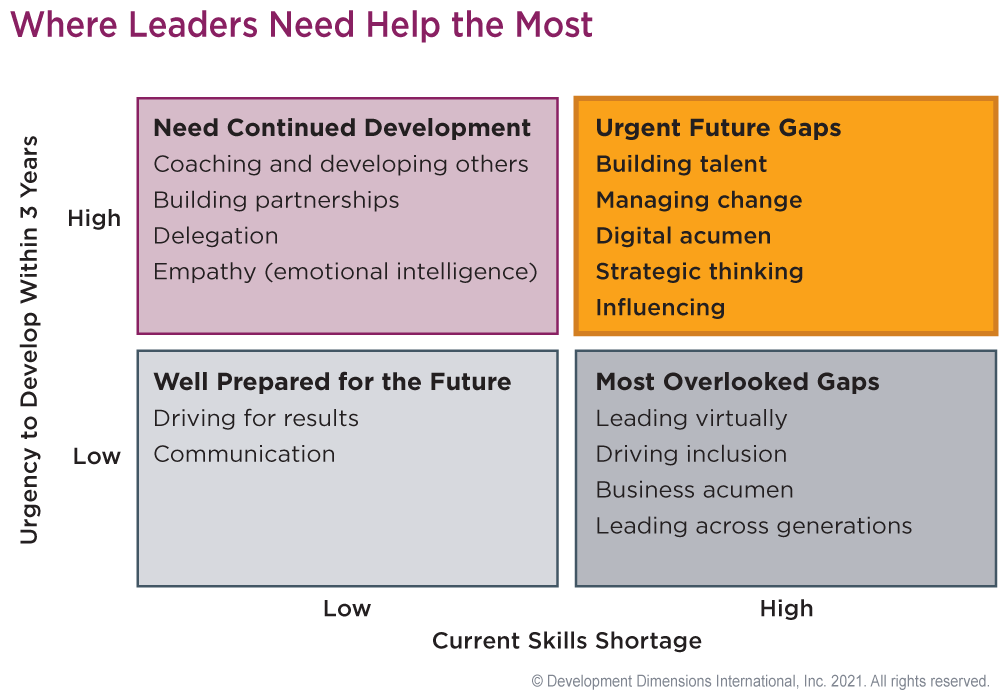 DDI's Global Leadership Forecast (GLF) 2021 offers leadership research trends and insight that may help you think ahead about skills of rising importance. Reflecting on my own and client experiences from recent years, there is also a need for new leaders to develop digital acumen, virtual leadership skills, and an ability to drive inclusion and lead across generations.
In addition, one silver lining of the pandemic is that businesses were forced to confront the necessities of safeguarding the health of their workforce and communities. As a result, wellbeing continues to be a top business priority. New leaders need to recognize their role in facilitating the success of the people they lead by supporting their health and wellbeing.
How to Build a Good Relationship with Your Team as a New Boss
As you transition into the role of the new leader, the most significant change is often that of becoming an enabler, not a doer. One of the keys to becoming as effective as possible, as quickly as possible, is to get to know your team. Your success as a leader will be judged by your team's results, and those results may be a reflection of your relationships with the people delivering them.
New leaders should start by building rapport with their team to ensure they are meeting their team's needs in everyday interactions. New leaders can meet their team's needs by leveraging DDI's five Key Principles for effective communication: maintain and enhance self-esteem, listen and respond with empathy, provide support without removing responsibility, ask for help and encourage involvement, and share thoughts, feelings, and rationale.
New leaders may also be leading a hybrid team. In a virtual environment, new leaders must build strong, trusting relationships, promote teamwork, and identify shared goals for geographically dispersed team members who may come from different cultures and backgrounds. To build and maintain trust, new leaders need to focus on using the Share and Empathy Key Principles regularly.
What Does the Team Expect from Their New Boss?
But what about the practical needs of the team? What does the team expect of the new leader?
Employees expect:
Shared Purpose: Employees are looking for a sense of shared purpose. They want to know why they're doing something. They also want to know how and why it makes a difference.
Role Clarity: Team members need a clear understanding of who does what. This is especially important with remote work. Role clarity enables employees to remain focused on achieving goals and helps leaders avoid micromanagement.
Important Allies to Make as a New Boss
Making friends in your organization, while personally enjoyable, is optional. But to be successful in your role as a new leader, making allies at work is essential.
When I stepped into my first leadership role, I quickly learned that networking and making purposeful connections were going to be critical to my success. Who were my allies going to be? How was I going to build my network with other local and global leaders in my organization?
I found that it was helpful to be deliberate and strategic with my networking energy, particularly because this skill did not come naturally to me. I established rapport with my own leader and peers in my department. I also looked for opportunities to collaborate with leaders in different parts of the business.
For new leaders, a big part of networking is understanding the other person's needs and the value you can offer them. But it's also important for new leaders to understand the value people in their network can bring to their role.
Tips for Your First Week as a New Boss
As a first-time manager, one of the first things you need to do is set up one-on-one meetings with your team members.
It can take time to develop trusting relationships with team members. But the sooner a new leader starts getting to know their team members, the sooner they'll establish rapport and benefit from a stream of feedback.
It is also important for new leaders to meet with their own leader to decide how they will communicate and define important goals. In addition, it is important for new leaders to introduce themselves to other managers.
Connecting with other managers may help new leaders learn what other company leaders do to succeed and may create lines of communication across the organization.
Your First 90 Days as a New Boss
It's important to take early action to establish your leadership style and set yourself up for success in your first 90 days. My best advice to new leaders is to focus on demonstrating key attributes that will help you gain confidence and skill in leading others. To be successful, leaders need to:
Be authentic. They are trustworthy and their actions mirror their beliefs.
Bring out the best in people. They know what motivates and interests their team members. They foster an environment in which people can develop and thrive.
Be receptive to feedback. They know that their own development requires gathering information about their performance as a leader.
These qualities are critical differentiators for early success. Demonstrating these characteristics can help new leaders build a strong reputation and avoid common missteps.
How You Start as a New Boss Is Crucial
Stepping into the role of the new leader, it is important to remember that good leadership requires skills that must be constantly honed and refined. New managers should look to HR as an ally for help acclimating to the new position quickly.
Learning and development is one of the most impactful areas for new leaders that HR can support. Ensuring that new leaders receive the right development for the right moment is critical to success.


Learn how DDI can help your company accelerate first-time manager success.
Amber Woodley is a principal leadership advisor with DDI Australia. Amber is passionate about partnering with her clients to help them deliver on their strategic leadership priorities so they can enhance their leadership bench strength and drive a culture of engagement in their workforce. Outside DDI, Amber enjoys spending time with her family and enjoying a relaxed life on the beach.
Topics covered in this blog