There was a CTO who thought his 12-year tenure at the company was coming to an end. He was ready to leave because he thought that's what he had to do in order to progress. Luckily, for this CTO, his CEO thought there might be value in him getting a leadership skills assessment to see if he could be a potential successor to the COO.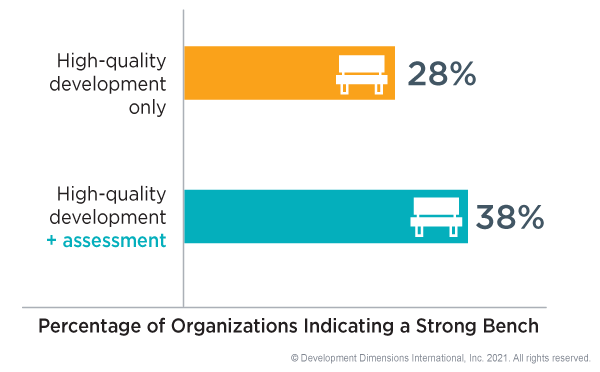 This decision was an inflection point for both the organization and for the CTO. This CTO was a hidden talent who, without assessment, would not have been a contender for COO. And what happened next shows the combined power of assessment and development.
The CTO performed well on the assessment, and quickly developed in the areas where the assessment showed there were gaps. Soon, he became COO and thrived in the role.
This is just one example of the benefits of combining assessment with development. The combination is also key to boosting an organization's bench strength. For example, DDI's Leadership Transitions Report 2021 shows that nearly 40% of organizations with both high-quality development and assessment had a strong bench of leaders ready for critical roles.
Why Use Leadership Skills Assessments?
So why should companies use leadership skills assessments? Imagine going to visit a doctor who says as soon as you walk into the office, "I know what's wrong with you. Here's what we are going to do." I am certain you wouldn't trust the accuracy of their diagnosis or the suggested treatment. For you to have confidence in a doctor, they need data to make informed decisions.
Similarly, individuals deserve to have data about their strengths and development areas at work. This knowledge greatly helps them in making informed decisions about their career goals. It also helps temper their ambitions. Additionally, this is a major contributor to employee engagement and retention.
Why else do companies use leadership skills assessments? Companies manage their inventories of raw materials, components, and finished products. Assessment enables them to inventory their talent.
They need to know their leaders' strengths, growth areas, their potential, and their personal attributes. This information enables them to decide who to invest in. And then for the people they choose to invest in, companies want to know what they need and when, and then how to provide the best development.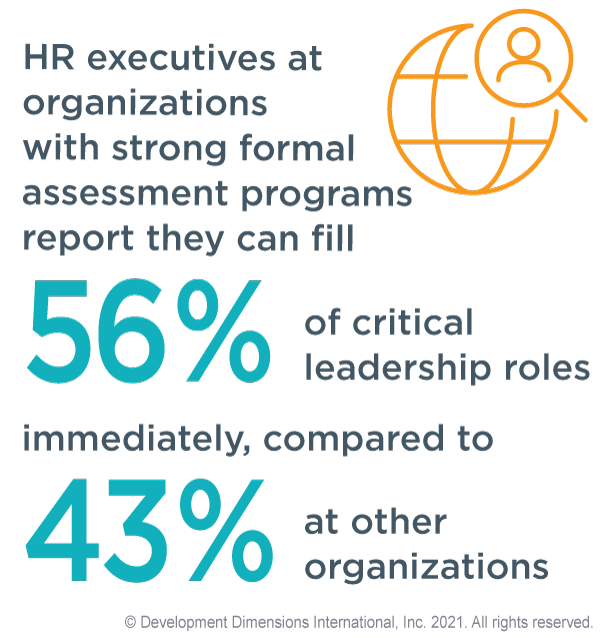 Further, according to the Leadership Transitions Report 2021, companies who have a strong formal assessment program say they can fill 56% of critical leadership roles, compared to only 43% for companies without a strong formal assessment program. However, 86% of organizations report using formal leadership development programs, but only 57% say they use assessment.
Using my visit to the doctor analogy, this means 29% of "patients" are taking the prescribed treatment at face value without knowing what is wrong. They also likely don't understand why they have the prescription, or even if the treatment is going to make them "better."
Types of Leadership Assessment
There are many different types of leadership assessment. So, it's important to know which one is the most appropriate based on what is needed. But first, what does it mean to use high-quality assessment?
According to our Leadership Transitions Report 2021, high-quality assessment should:
Be competency-based.
Offer an objective view of strengths and development areas.
Pinpoint the exact behavior within the competency that a leader needs to focus on.
Give insights about readiness for future roles.
Provide resources to support development post-assessment.
For example, simulations are a type of assessment typically used during the hiring or development process. Unlike many general tests, simulations focus on tasks that would be required in the job or role.
In addition, leadership tests are often used to gauge the abilities, skills, and motivations of employees and job applicants. And another example is a 360. This is an assessment tool that solicits feedback about an employee from all directions: their managers, coworkers, and direct reports.
Each tool can be very helpful when used appropriately. For a complete guide on all the different leadership assessments, check out our Ultimate Guide to Leadership Assessment.
When Should You Use a Leadership Skills Assessment?
There are four situations where it is important to have objective assessment data to inform decision making.
1. Hiring
Whether filling a position internally, or sourcing from outside the company, assessments add a unique and objective perspective to the hiring process. For instance, assessments can measure a candidate's ability to perform against the leadership competencies required for success, their personality and motivations, leadership character, and leader performance. This data allows for a better decision. And as one client commented about assessment, "Using assessment structures subjectivity."
2. Identifying High Potentials
Like hiring a leader, identifying your high potentials should always start with developing a clear understanding of the current and future leadership needs. Use Success ProfilesSM to select assessments that best measure high potentials against the criteria identified in the Success Profile. Then, use the data from the assessment to allocate resources, to decide who should be developed and on what competencies. Progress can be measured with periodic assessments, like DDI's 360 degree feedback tool.
3. Succession
Succession planning requires the creation of a structured approach for measuring your current baseline, predicting your future leadership needs, and developing and executing a plan for how you will meet those needs. Leadership assessments are a critical tool to baseline your current management team. Measuring leadership strengths and development opportunities for those next in line is also critical. Doing this helps to identify gaps, determine readiness, and shape formal development plans to prepare leaders for their future role.
4. Leadership Development
Leadership development is at the core of everything that builds better leaders. Assessments can be either comprehensive or a simple, yet effective, tool to help fuel leadership development at your organization.
This might be a good time to ask: What will it take to get an individual to buy in to these development activities? A self-insight tool is a type of assessment that can engage a participant before they begin development activities.
Another use for assessments together with development is at the end of a development assignment. For example, I am working with a client who is using a 360 to measure progress at the mid-point of an individual's two-year development cycle. This has been helpful to get a summary of this individual's strengths and development areas to use to target their development activities for the next year.
How Does a Leadership Skills Assessment Transform Development?
Here are a few key ways in which leadership skills assessment and development combined will benefit the leader:
Leadership strengths and opportunities for development are validated using a variety of perspectives, which helps leaders in developing better self-awareness.
Development opportunities are prioritized by the best chance of success, so leaders work on the highest impact areas first.
It's easy to understand how strengths and development opportunities impact performance (you can't argue with data!).
An individual development plan can be built around goals to enhance leadership effectiveness.
In short, while you can certainly develop leaders without using assessments, it is nearly impossible to gauge the effectiveness of the development efforts without some form of assessment. Why?
Data from an assessment makes strengths and gaps abundantly clear. When this data is combined with development, organizations can invest where it matters most. They can focus their resources on the most important skill gaps.
Additionally, DDI's Global Leadership Forecast 2021 (GLF) tells us that leaders prefer personalized development over a generic one-size fits all approach. Assessment data allows leaders to not only focus on their development gaps but to also find ways to leverage their strengths. This allows them to focus and make the best use of the time they have to spend on development.
Ultimately, when leaders have assessment data, it can serve as a catalyst by providing meaningful insights. Leaders can reflect on what's working or not, and fully embrace development plans. This engagement, plus the personalization of development plans, means there is an increased likelihood in development that leads to behavior changes and better business outcomes.
How L&D Wins with Assessment + Development
But how does assessment help those of us in corporate learning and development? When there is baseline assessment data to work with, it's easy to gauge the impact development has on an individual leader, a group of leaders, and even the entire organization.
The combination of high-quality leadership assessment and development is also key for having the leaders your company needs to be successful today—and in the future. When you give your people the insights and development they need to grow, you're making it easier and faster for them to get ready for their next career leap.
To learn more about the power of combining assessment and development, download DDI's Leadership Transitions Report 2021.
Bruce Court partners with organizations on all aspects of their leadership strategy. He's experienced in every facet of leadership strategy design, development, and execution. Outside of work, Bruce likes to travel with his wife, Maureen. He enjoys eating at great restaurants as well as sampling good wine and craft beers. Bruce is also a huge fan of smooth jazz.
Topics covered in this blog