There are few things more disheartening than when someone comes out of a leadership development session and says, "That was a waste of time." The reason that usually happens? They didn't see the training as relevant to their job. And that's why, when it comes to your learning and development strategy, there's nothing more important than context.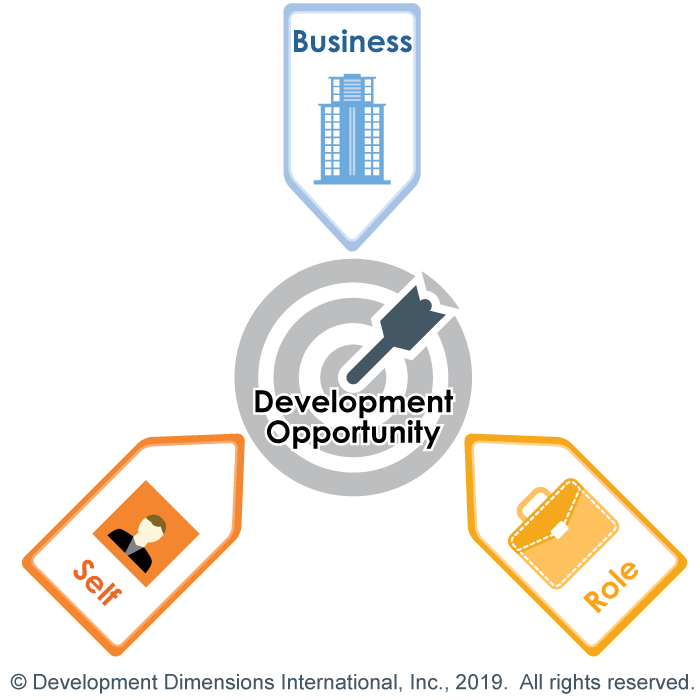 Three Types of Context
There are three types of context to consider. We refer to these as self, role, and business. Self is a leader's personal context. What are the attributes, preferences, and experiences that might shape their impact as a leader? How do you help them to make sense of these in a variety of leadership situations and challenges? These things affect their perception of learning.
Second is the context of the role itself. What are you asking your leaders to do on a day-to-day basis? How will learning and development affect their everyday work? How will success in the role be judged?
And last is the context of the business. This relates to things as broad as industry developments and trends. And it also relates to more specific things like the business priorities, culture, and tactics. But for your learning and development strategy to be relevant, you must consider all three contexts in your approach.
Addressing Context in Leadership Development
Because these different contexts exist together, you'll also need to be ready with a learning and development strategy that can support several leadership development scenarios.
Here are five scenarios that should be considered in a comprehensive leadership development strategy.
1. Development that's "just in time" and "just for me."
Leaders need information, knowledge, or guidance "just in time" to do their jobs or complete a task. And this make sense. You should strive to give leaders learning right when they need it. But we also know leaders don't have a lot of time to browse through a huge library of content to find what they need. Give leaders access to only the learning they need.
Along with learning that's available when they need it, leaders also want their learning to be "just for me." Enter the idea of personalized learning. But for this type of development to be effective, it depends on two things: recognizing the uniqueness of leaders and anchoring it within your business context. Those unique needs can be targeted with data from leadership assessments.
2. An environment that celebrates genuine interest and curiosity.
A desire to learn is often sparked by curiosity for a subject matter or area of practice. It may not be grounded in any specific leadership need, but it often helps to build overall knowledge and skills.
Create a psychologically safe environment for your leaders. Doing this sparks innovation and makes failing okay, because learning is happening along the way. This is another way to make learning celebrated.
3. The drive to be better.
It's common for leaders to recognize the need to improve their knowledge or skills in an area. This is more formal than curiosity and often requires deliberate focus and practice.
This drive for self-improvement is typically jump-started by a specific need to get better. So, it's a good idea to create a healthy sense of tension for people to meet their leadership development goals.
4. New skills to advance to a new role or level.
Both leaders and organizations recognize the need to develop new skills and acquire new knowledge as people move to a new role or level. This is based on the simple reality that the skills and knowledge at one level of the organization may be very different than those at another level.
In addition, leaders and organizations will often forecast the need for a set of skills and knowledge that will be important in future roles and levels. For example, early in their careers leaders recognize the importance of developing strategic thinking skills. Make it easy for leaders to understand what skills they need to master in order to thrive in their current role and move on to bigger roles.
5. Guidance to prepare for a specific upcoming challenge.
Leaders must often pivot toward a specific company business challenge or priority. This will likely demand new skills or perspectives.
Are your leaders equipped to meet these challenges? You can upskill your leaders to reach specific business goals.
The Bottom Line
When it comes to your learning and development strategy for leaders, context matters. And keeping these five scenarios top of mind is a great way to also keep context top of mind, and to give your leaders what they need most to learn. Because without context, your leadership development program won't be nearly as effective as it could be.
Looking for more leadership development best practices? Download DDI's Leadership Development Playbook for more ways to deliver high-impact leadership experiences.
Mark Busine is Vice President, Product Management, for DDI. Passionate and curious about the field of leadership, Mark is always looking for creative ways to solve client problems. This creative orientation extends outside work where he dabbles in the fine art of songwriting, convinced that a worldwide number-one hit is just around the corner.
Topics covered in this blog