What is microlearning?
Microlearning is a short burst of learning on a specific topic or skill. Think of a quick game, a short video, or even a 15-minute "microcourse" designed to help you boost a specific skill.
Leaders love microlearning because it's fast, on-demand, and helps them boost their skills in the flow of their work.
At DDI, we seamlessly weave microlearning into our blended learning journeys to help leaders deepen their new skills. So your learning program isn't just one-and-done. It's a sustained commitment to becoming better leaders.
We included our entire library of microcourses in a leadership development subscription to provide flexible, ongoing development. Want to learn more? Watch these quick videos to preview two microcourses:
of organizations are using microlearning to develop leaders
DDI Research, 2020
1/3
of leaders want more microlearning than they are currently getting
DDI Research, 2020
78%
of companies with best-in-class development programs use microlearning
DDI Research, 2020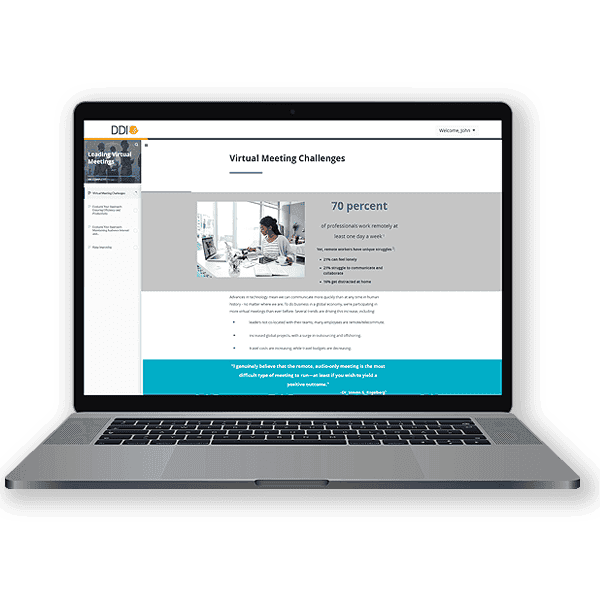 Curation Is Key to Success
Creating an effective microlearning experience is all about one thing: Curation. After all, no leader wants to waste time on things they don't really need.
These short bursts of learning work best when they are part of a larger learning journey. For example, a microlearning course can raise awareness about specific topics, such as unconscious bias in interviewing. They can dive deeper to reinforce a topic learned in a course. Or you can use them to address immediate or unplanned needs, such as how to switch to a virtual workplace.
However, microlearning doesn't take the place of larger learning experiences. It falls short on teaching complex topics, or in-depth training to deliver behavior change.
DDI's microcourses are available with a leadership development subscription. Plus, we can help you curate the right mix of formal and quick learning that will make a lasting impact on your leaders.
We've served up our leaders a current, digital, and flexible learning program they can all get behind... it's a continuous, ongoing program that will continue to feed our organizational success and align to our overall strategy.
— Jodi Carradice, Senior Vice President & Chief People & Culture Officer, Wawanesa
Explore a Demo Microcourse
Curious what a microcourse looks and feels like? Try one out for yourself!
This brief sample presents four unique coaching styles. You can learn about each style's strengths and limitations. You can also take a quick test to check your knowledge. When you understand your coaching style, you can make the most of your strengths and avoid risks. That way, you can get the best results from every coaching discussion.
Take a few minutes to explore today!
The microcourse was so good. It gave me a quick virtual way to support leaders.
— An HR manager in the healthcare industry
Access Microlearning from Your LMS or Our Platform
As part of DDI's leadership development subscription, microcourses are designed to help your leaders just in time, at the moment they need it. So it's critical that they can access it whenever and wherever.
With a leadership development subscription, your leaders have access to DDI's Pinpoint platform. Pinpoint delivers microcourses plus a variety of microlearning content like self-assessment tools, games, interactive exercises, and other content included in a subscription.
Or if you prefer, our microcourses are SCORM compliant, so you can easily add them to your learning management system.