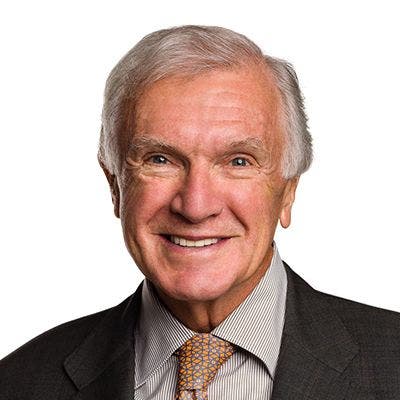 William C. Byham, Ph.D.
DDI Founder and Executive Chairman
Bill Byham is Founder and Executive Chairman of DDI, an internationally renowned human resource training and consulting company. An Industrial/Organization Psychologist, Bill has developed many significant human resource technologies over the course of his career. These innovations include the assessment center method, behavior-based interviewing, the use of behavior-modeling in supervisor and management training, behavioral job analysis methodology as the basis for selection and training programs, and Acceleration Pools® to select and rapidly develop people for high-level leadership positions. These technologies have been described in 28 books and more than 300 monographs and articles. In addition, he has appeared on numerous radio and TV programs through the world.
Education and Credentials
Ph.D. in Industrial/Organizational Psychology from Purdue University (Also Honorary Doctorate of Social Science)
M.S. from Ohio University
B.S. from Ohio University
Fellow, American Psychological Association (APA)
Fellow, Society for Industrial & Organizational Psychology (SIOP)
Diplomate in Industrial/Organizational Psychology, American Board of Professional Psychology (ABPP)
Member, Association for Training and Development (ATD) and a recipient of their highest professional award
Key Capabilities and Experience
Bill's professional accomplishments include:
Co-founder, with Dr. Douglas Bray, of Development Dimensions International, Inc. in 1970.
Championed the application of the assessment center method worldwide. He wrote the first popular article on the assessment center method, which appeared in the Harvard Business Review in 1970. He has been the thought leader of the methodology ever since. He has co-authored two books and has written more than 60 articles, book chapters, and monographs on the subject. He published the first catalog of the assessment center exercises in 1970, and founded the International Congress on Assessment Center Methods in 1973. Each year DDI assesses more than 100,000 people for organizations.
Developed the first behavior-based interviewing system, Targeted Selection®, in 1970. The Targeted Selection interviewing system, which Bill has continuously updated and improved, is used by more than 10,000 organizations, including many of the world's largest organizations. It is available in 13 languages. He has championed behavior-based interviewing in books such as the Selection Solution: Solving the Mystery of Matching People to Jobs and Interview Skills that Get You the Job, The Ultimate Guidebook and in more than 40 monographs and articles.
Wrote the first book The Law and Personnel Testing (co-authored with Morton Spitzer), on the implications on U.S. Equal Employment Opportunity (EEO) law and other legal constraints on personnel testing and selection. Bill has served as an expert witness in several federal court cases involving EEO issues.
Co-developed the first commercially available leadership training programs using behavior modeling, Interaction Management®, in 1975. More than 30 million people have learned their leadership skills in Interaction Management programs.
Co-author of Zapp!® The Lightning of Empowerment, a seminal book about empowerment. It has been a business best seller since its publication in 1988 and has sold more than 3.5 million copies. Zapp! was named the number one business book of the 1990s in a survey of CEOs. Dr. Byham has also adapted this book for educators, health care professionals, and service providers.
Helped to make teams and teamwork successful in organizations throughout the world, including co-authoring three books on teams (Empowered Teams: Creating Self-Directed Work Groups that Improve Quality, Productivity, and Participation; Leadership Trapeze: Strategies for Leadership in Team-Based Organizations; and Inside Teams: How 20 World Class Organizations are Winning Through Teamwork). Bill also helped to develop numerous DDI programs to provide skills to organizations, employees, and leaders as they move toward teams.
Encouraged the expansion of employee empowerment through his writings, speeches, and programs including his best-selling business book, HeroZ™ —Empower Yourself, Your Co-workers, Your Company (coauthored with Jeff Cox), which offers step-by-step techniques to make jobs more enjoyable and rewarding.
Devised new methods of succession management that dramatically depart from conventional replacement planning techniques. To promulgate his ideas, he has written numerous articles and co-authored the book, Grow Your Own Leaders: How to Identify, Develop, and Retain Leadership Talent.
Made multirater (360°) feedback more effective in creating on-the-job behavior change through the development of training programs for assessment or 360 feedback recipients and their managers and through his What Now? booklets, used each year by more than 30,000 managers at all levels.
Wrote a handbook for expatriates in China—Leadership Success in China: An Expatriate's Guide.
Served as CEO when DDI was four times named one of the top 10 best Middle-Sized Companies to Work for in American by SHRM and the Great Place to Work Institute.
Bill has received more than 100 awards from organizations around the world. Some recent and notable awards and recognition include:
2014 St. Barnabas CEO Leadership Award
2013 Innovation Award for Continuous Development of Assessment Center Methods from the 3rd National Congress Assessment Center, Indonesia
2013 Legacy Award (outstanding contribution to the science, practice, and organization of assessment centers) from the South African Assessment Center Study Group
The most prestigious award that Bill has received was in 1994 when he received the Tunku Abdul Rahman Medal, the highest civilian award given by the country of Malaysia. The two previous recipients were heads of state.
1991 Gold Medal Award of Life Achievement in the Application of Psychology from the American Psychological Foundation
1986 Outstanding Contribution to Psychology and Management Award from the Society of Psychologists in Management
Inc. magazine (March 2003), Adam Hanft wrote: "What Tom Peters is to excellence and Jim Collins is to leadership, William C. Byham, who co-founded DDI back in 1970, might very well be to hiring."