Who is the next generation of leaders? And what do you need to know about developing the next generation of leaders at your company? What skills will they need when it's their turn to lead? These are important questions to ask. But you should also be asking, "How do I find those individuals who really want to be part of the next generation of leaders?" It's crucial to be able to identify your next-gen leaders, and then to empower them with the skills and confidence they need to enjoy their future role as a leader, so they stay longer.
But what do next-gen leaders say they want and need out of their development? Maïcha is a 30-year-old project lead at a high-tech global organization. She has already been identified as having the potential to be a next-gen leader at her organization.
And the other day, during her assessment center feedback session, she told me: "What if I could have an 'angel' on my shoulder who would be available on demand, to advise me, and coach me anytime, anywhere? I am quick to learn but not a superwoman and I am conscious that every one of my interactions with my direct reports, peers, and boss can make a difference. But hybrid work adds yet another layer of complexity in how to lead teams. I want to have a real impact. I want to make a difference. And I want to do it immediately. I need instant feedback—whatever the nature of it—formal or informal. I need benchmarks to be able to see how I'm doing and if I'm getting better."
Maïcha's request for her accelerated development echoes what next-generation leaders told us as part of our Global Leadership Forecast 2021 research.
What Do Next-Gen Leaders Need?
As younger generations step into leadership, there are substantial changes happening and looming for leaders. We examined what differentiates the next generation of leaders, currently those high-potential employees who don't have formal leadership responsibility. These employees range in age from 21 years to an average of 38 years old.
Overall, they told us they need feedback. Leaders at all levels want feedback. But this next generation of leaders is looking for even more coaching and feedback from their managers. Specifically, 30% said they wanted more coaching and feedback from their managers than they are currently getting. This is in comparison to only 25% of current leaders.
Surprisingly, they also say they need to up their EQ. They need more help growing their communication and interaction skills. Likewise, they recognize a greater need for developing empathy.
Additionally, diversity and inclusion is a requirement. They are looking for better inclusion and diversity from their organizations. Only 56% of next-gen leaders said their leaders challenge themselves and others to recognize and eliminate biases. This is in comparison to 67% of current leaders.
Also, flexibility is key. Their organizations are doing well with flexible work practices. An equal percentage of these next-gen leaders (72%) and their leaders said that flexible arrangements are common and supported.
Finally, they crave clarity. Compared to current leaders, this group struggles to act decisively without clear direction. They are unsure how to apply data to decision making. In addition, they worry about reacting to change, both internally and externally with customers.
What Will Be Expected of the Next Generation of Leaders?
Older millennials and younger Gen Xers have actually been leading the Great Resignation. These people between mid-thirties and mid-forties are in a prime position to step into leadership roles, so this is a big risk for companies.
Our latest research from Global Leadership Forecast 2021 found that one of CEOs' top concerns is developing next-generation talent. But CEOs also rate their organization's lower-level leader quality more harshly than other leaders. Only one in three CEOs (34%) say their organization's frontline leadership quality is "very good" or "excellent."
And in line with CEOs' concern about developing the next generation of leaders, our study saw bench strength continue to drop. Only 11% of HR say they have a strong bench to fill leadership roles. This is the lowest rate we've seen in the past decade.
So there are clear and urgent leadership gaps to close to prepare for a brighter future.
The next generation of leaders will have to manage highly diverse teams and continue to build an inclusive environment. More than ever before, leading through inspiration and sharing the "whys" for performing tasks will be a high expectation from employees and the business. Leaders, demonstrating through their actions and behaviors, rather than only claiming the values that are important to them and the organization, will play an important role in retaining the next generation of employees.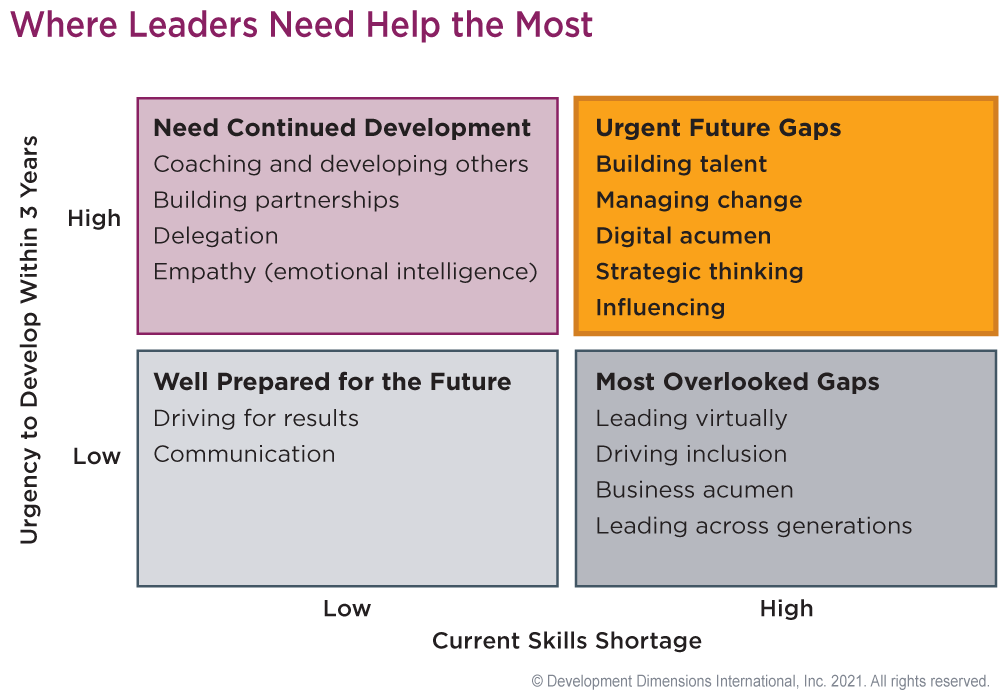 What Leadership Skills Will Be Needed in the Future?
Over the next three years, organizations will undergo rapid transformation. As a result, business leaders place a high priority on the skills that will enable them to line up both the technology and people they'll need to make that transformation a success.
Unfortunately, our research shows fewer than half of leaders feel they are effective in most of these skills. Rounding out the top priorities, leaders will need to quickly get up to speed in building a strategic vision for a new future. They also need to learn to influence others to ensure success as one unified team.
To face new and unknown issues generated by our growing agile and complex world, organizations will need not only formal leaders, but also informal leaders to lead teams. Leading with genuine leadership, without necessarily counting on a formal title is not easy. This is why individual contributors, the future generation of leaders, need strong soft skills to engage and influence others to make necessary changes happen. The sooner in their career they can develop those, the better. The more they wait, the harder it will be for these essential skills to become natural.
Considerations for Identifying and Developing the Next Generation of Leaders
Given the emphasis on work/life balance and the non-inspirational leadership models they might have experienced or observed so far as direct reports, there may be some reluctance to take on leadership roles, or an aspiration to embrace leadership differently. How should you encourage young people to pursue leadership roles?
How do they know they want to be part of the next generation of leaders?
Do I want to be a future leader? How do I know? These are not easy questions to answer when you have not been a leader before. You don't know what to expect.
But what does it take to be a leader? Does my personality fit leadership? Will I be able to do it? How can I still be myself while taking on this responsibility?
In our research, we've found that Generation Z is keen on experimenting. They are also open to virtual experiences and crave feedback and guidance. And as CEO, an executive, or HR professional, you want to scout as largely as possible within the organization to create a diverse talent pool.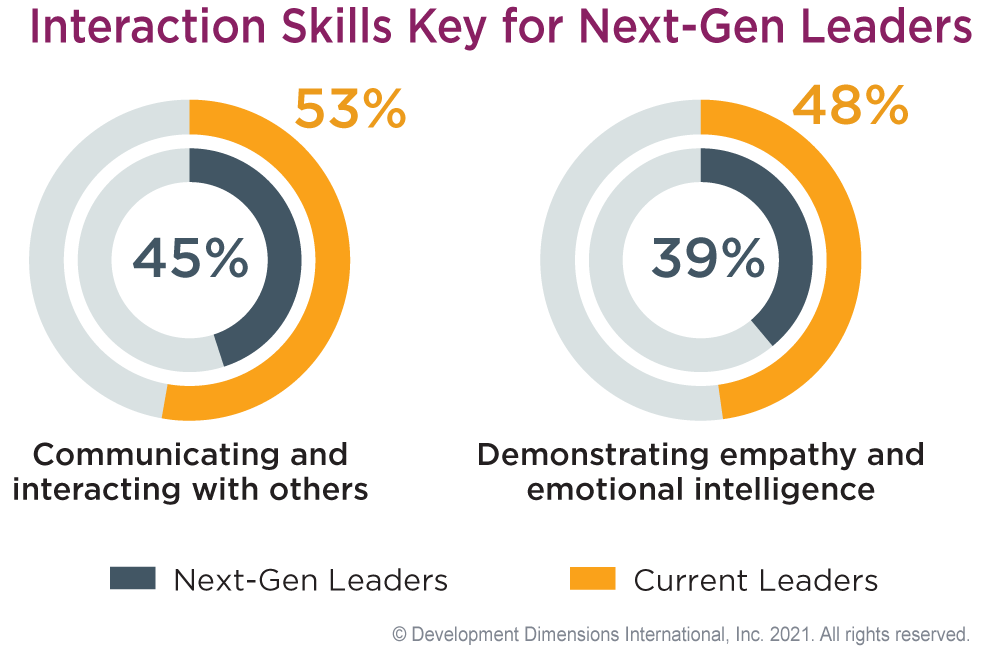 Also during the selection phase, assess your candidates' deep aspirations, motivations, and understand the "golden nuggets" of skills and personality already present within the individual to become a leader. But how can you recognize the aptitude for learning essential leadership skills? Simulations combined with inventories and high-quality feedback about the results can give you the data and insights you need to make the right decisions. And keeping the process fair and unbiased will certainly be appreciated by your internal candidates.
Your potential next generation of leaders will get a glimpse of what a leadership role may be like. If it is something they want to pursue, they will get a clear report showing what they need to work on to get there. They will also get tools for development planning and next steps.
How Should You Prepare the Next Generation of Leaders?
At the organizational level, ensuring there is room for the next generation of leaders' acceleration at the strategic table is key. But how high is this topic on your company's list of priorities? And are your senior leaders ready to support the next generation of leaders?
Accelerate the professional development of your next generation of leaders by offering them opportunities to strongly contribute to visible strategic projects. And give them the chance to be part of meaningful assignments that contribute to environment and social stakes, as much as business stakes.
Upskill their managers so that this next generation of leaders has a better chance to receive factual, balanced, and just-in-time feedback and coaching. Flexible work conditions, along with a high sense of accountability will help in retaining them, but the sense of meaningfulness, accomplishment, and having an impact might be even stronger factors.
In more advanced organizations, coaching works two ways: the next generation of leaders are coached by more senior leaders, and then senior leaders benefit from "reverse coaching." This happens when the next generation of leaders share with senior leaders their knowledge and experience. For example, giving insight on what it will take to lead Generation Z or digital skills.
Personalization Is Key for Next-Gen Leadership Development
When developing the next generation of leaders, keep in mind that every individual is different and might have a different level of readiness, skills-wise. Therefore, preparation should start by identifying individual skills gaps and strength areas. These are areas where they will need to focus on and the strengths they want to leverage.
They might be ready to invest in a full online immersive experience that will propel them into their future role, similar to how a flight simulator works. Or, they may prefer a 15-minute online questionnaire with engaging, varied questions about whether they agree or disagree with certain statements to get an immediate diagnostic about their level of confidence displaying key leadership skills. What matters is they have raised their level of awareness of the leadership behaviors they need to focus on to accelerate their development.
Back to Maïcha. She believes that personalized learning will be more efficient to accelerate her own growth. She prefers experimenting to reading articles or connecting to e-learning courses on her own. And she much prefers sharing insights and receiving feedback from her peers, while experimenting.
But what about that "angel" on her shoulder she wished would be available on demand to coach and help her in real-time? What Maïcha was really asking for was personalized leadership development. And with it, she actually becomes her own angel, taking development into her own hands. She knows just where to go to get the development help she needs. And she also knows when it's best to use her boss and peers as development resources. But she is not the exception with the development she prefers.
Similarly, this is what 15,000 leaders around the world told us in our Global Leadership Forecast 2018 about what they want when it comes to their development: "I want variety, different modalities, and length. Anytime, anywhere, when I can allocate time. I want to have both individual and collective experiences."
But what's not a surprise? According to LinkedIn Learning, leaders say that time is the number-one barrier holding them back from development.
Don't Wait to Develop Next-Gen Leaders
If your organization wants to be in existence 10 years from now, you have to look at how well you are developing the next generation of leaders, now.
The sooner you start using these best practices to create the next generation of leaders, the better. Delaying, with the belief you will have the time or there are more urgent priorities, you run the risk of having a poor or not ready leadership pipeline when external market pressures impose a rapid shift.
Explore DDI's leadership development subscriptions.
Based in DDI's Paris office, Laurence Pintenat works with international companies. She accompanies them in defining and implementing their leadership strategy through solutions that support both the business and human aspects. Outside of work, she has a passion for contemporary dance, performing on stage inside or outside, as the pandemic allows. One of her mottos: "Movement is life" (whether fast or slow, large or small, physical or intellectual). If you have questions or would like to exchange ideas for setting your leaders or managers in motion to support your strategic and cultural priorities, contact her: laurence.pintenat@ddiworld.com or on LinkedIn